While modern electronic data interchange (EDI) solutions can offer significant benefits to businesses, from time and cost savings to reduced risk and an increased competitive advantage, many businesses still persevere with outdated and inefficient B2B message exchange systems. One reason for this is the sheer number of options available to decision makers today, from local EDI converters and partially managed EDI solutions to cloud based solutions that are handled completely externally. Another key reason is a lack of awareness of what exactly the best modern EDI solutions can offer.
Thankfully, however, in recent years more and more businesses are recognising the benefits of modern EDI systems and are making the decision to implement more sophisticated solutions. In particular, fully managed EDI solutions, in which everything from initial setup to ongoing operation is handled by an external provider in the cloud, are proving remarkably popular.
In this article we'll look briefly at this recent trend and explore how such a solution works.
Modern EDI – the shift towards full external management
Most modern companies rely on the use of Enterprise Resource Planning (ERP) systems to conduct everyday operations, from processing sales orders to issuing invoices. It is in these systems too that data intended to be exchanged with other companies is created and consumed.
As every business is different, for most companies the best ERP system is one that is flexible. As a result, forward facing businesses are increasingly adopting flexible ERP solutions, where a core or base ERP system is extended with more tailored system packages from independent providers. These are known as 'postmodern' ERP systems.
As the image below shows, one of these specially tailored system packages is fully managed EDI. These modern EDI solutions can seamlessly integrate with on-premise or cloud-based ERP systems.
Fully managed EDI can be broken down into three distinct, yet mutually supportive elements. Together, these allow for the most comprehensive and successful EDI solution possible (i.e. ecosio's).
The two foundational elements are the technical platform and the B2B network. The technical platform provides the necessary EDI features such as mapping or connecting suppliers via Web EDI. The B2B network, on the other hand, provides the means for reaching business partners – whether this is via a direct connection or via third-party networks or Value Added Networks (VANs).
In modern EDI solutions the third and final element – planning, execution and management – is arguably the most important of all, as it not only ensures that the entire EDI project is delivered turn-key ready, but that it will continue to function successfully after go-live. Significantly it is this part of the puzzle that is neglected by most EDI solutions. In such solutions it is the internal teams who must do the heavy lifting to transform the foundational technical elements into a reliable, future-proof solution.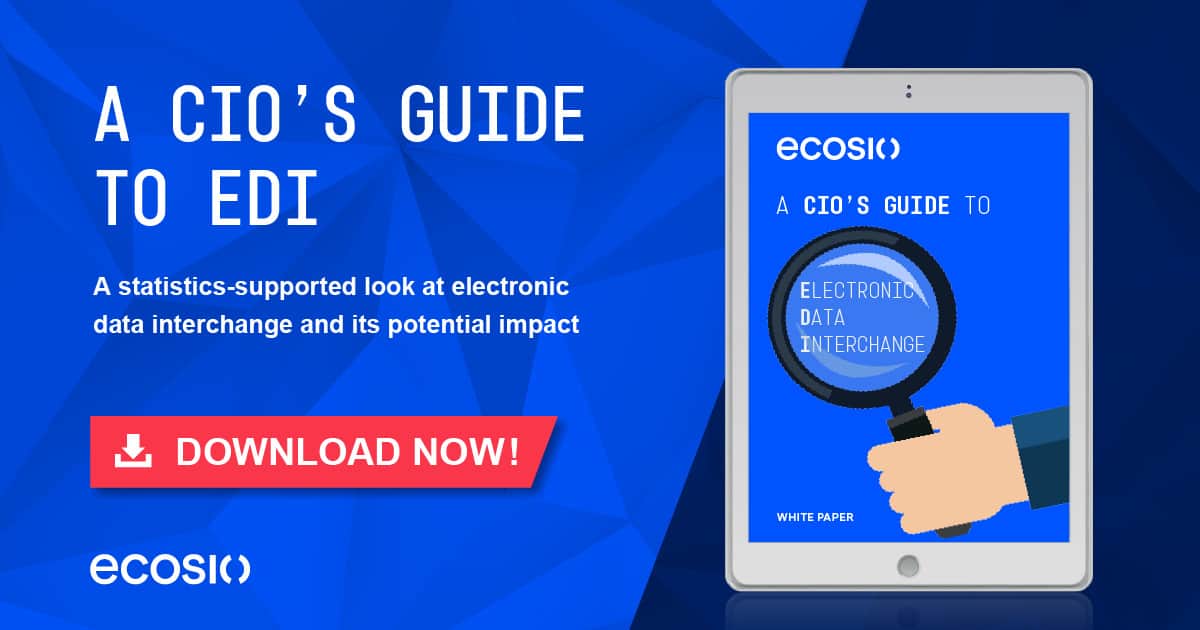 How fully managed EDI works… at a glance
With a fully managed EDI solution your service provider takes over all EDI related tasks and enables not only your internal IT teams, but your entire company to experience a wide range of benefits. A sustainable IT strategy should be closely tied to a comprehensive, modern EDI solution in which mission critical EDI processes are fully managed. Placing all EDI related tasks such as partner onboardings, EDI message monitoring and proactive error resolution in the hands of a trusted EDI service provider not only relieves internal teams from everyday EDI tasks, but also positively impacts your overall business goals, as revenue is largely dependent on trading goods via EDI.
Significantly, at ecosio we offer an API-based integration, which ensues EDI processes become an integral part of the ERP system. As a result, in ecosio's solution message delivery statuses are directly visible on the ERP document (e.g. the customer invoice). This visibility provides reassurance to internal teams that EDI processes are working correctly. Further, if an error does occur, the respective document can be found easily, via a sophisticated full-text search feature.
For more information on how fully managed EDI works and the benefits it offers, see our more comprehensive article on this subject here…
Find out more
This article is taken from our white paper "A CIO's Guide to Electronic Data Interchange". In this white paper we also explore the how modern EDI can benefit your business, the simple steps you can take to ensure you select the right solution, and the three most common EDI pitfalls.
To download your free copy, simply click here and enter your details.
Alternatively, if you have any questions about your particular situation or anything else EDI related, please do not hesitate to get in touch! We are always happy to help however we can.