Electronic data interchange has long been used by companies to increase the reliability and cost efficiency of B2B message exchange (i.e. the exchange of everyday business documents such as invoices and delivery notes). Given the resources and technical expertise required to set up and operate an EDI solution, for years only the very largest companies were able to experience the benefits of EDI. Thankfully, however, the emergence of fully managed EDI (also known as full service EDI) over the past decade has changed this.
But what exactly is fully managed / full service EDI, how does it differ from more traditional EDI solutions, and how can it benefit you? In this article we aim to answer these questions and give a brief overview of what the future of EDI is likely to look like.
First, though, let's look at the basics of EDI and what its main advantages and disadvantages are…
The basics of EDI
Electronic data interchange offers businesses a means of exchanging key business documents with partners automatically – i.e. with minimal human intervention. The data from commonly exchanged documents such as invoices, order confirmations and delivery notes are translated into computer-readable formats and sent to business partners via standardised EDI protocols.
This method of exchanging data removes the need for manual data input/extraction, thereby minimising errors and improving the speed, cost and efficiency of B2B document exchange. A good EDI system also offers businesses flexibility and scalability, as automated processes require less internal work than manual ones.
In short, EDI allows your business to operate more smoothly as connections with partners are streamlined and reliable.
(for more basic EDI info see our introductory video here)
Common issues with existing EDI solutions
Despite the compelling benefits of EDI, many EDI systems sadly fall short of offering users the full potential of the technology. This is due to a number of issues with commonly implemented solutions…
1) They require too much in-house effort/expertise
This is undoubtedly the most common issue encountered by EDI users. In addition to expertise being necessary to set up an EDI solution, ongoing operation also requires effort (e.g. monitoring message exchange and resolving errors). Unfortunately, such tasks are often not considered when selecting a solution, however. As a result, many businesses end up with a solution that requires substantial in-house expertise/resources.
While this may be fine for those businesses who have extensive in-house EDI expertise, for those that don't it stops employees from focussing on more value-adding tasks. Similarly, even if your team is able to cope with current requirements, handling EDI in-house limits scalability. Further, handling EDI in-house can also lead to an reliance on individual employees, which can lead to issues come illness or departure.
2) They offer poor support
Another key frustration for those with substandard EDI solutions is the difficulty of getting hold of someone to help you when issues arise (e.g. if a message is stuck somewhere and has not reached your partner for some reason). Given the significance of the documents being exchanged via EDI and the pace of modern supply chains, this can have a significant knock-on effect on revenue and business relationships.
3) They may inhibit your business's flexibility through "price cliffs" or limited technical scope
While all EDI solutions should enable you to exchange automated messages with your partners, different providers offer very different packages. In particular, some solutions may be extremely rigid in terms of the technical capabilities offered, meaning you may not be able to adapt your solution as needs change (e.g. should you want to send messages via a new protocol or introduce a Web EDI platform for smaller partners). Likewise, the flexibility of your system may be limited thanks to a solution's pricing structure, with some providers charging extortionate amounts for even minor changes to solution functionality.
What is fully managed EDI?
A fully managed / full service EDI solution, such as that offered by ecosio, is one in which the EDI provider handles all EDI tasks, from technical setup and message testing etc. right through to ongoing operational tasks such as message monitoring and error handling. It is for this reason that full service EDI providers are known as fully managed EDI providers – they manage everything for you! Just how much of the work required to set up and run a successful EDI solution is handled by a fully managed EDI provider compared to other providers can be seen in our helpful infographic on this subject here.
Fully managed EDI solutions also typically offer much better support and more flexibility than other EDI solutions, and may even be able to offer better data transparency too. Crucially these qualities allow businesses to avoid the common issues listed above.
But the fully managed EDI is able to do much more than simply help businesses avoid these three common issues…
The benefits of fully managed EDI
From a business perspective, the most compelling benefits of fully managed EDI can be usefully condensed into four categories…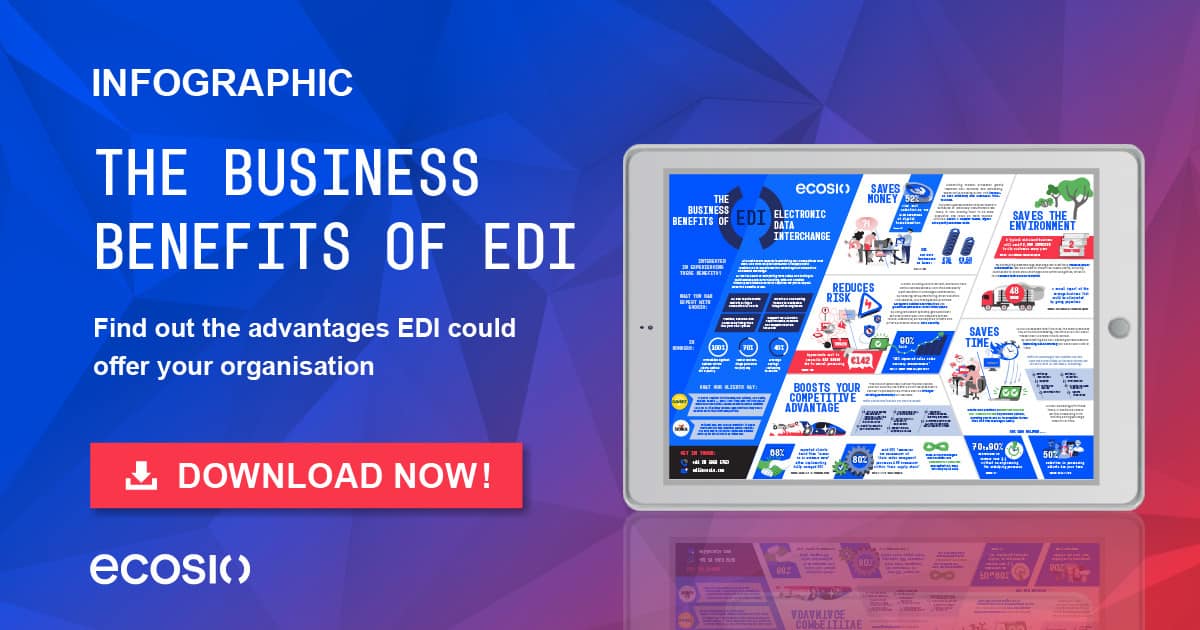 Why not also check out our stat-packed infographic on this topic!
1) Fully managed EDI saves you time
While all EDI is capable of saving users time through minimising manual processes and increasing data accuracy, fully managed EDI enables businesses to multiply these savings further by…
Allowing internal teams to focus on core competencies, as all EDI tasks are handled by your solution provider
Reducing time required for partner onboardings through external project management and use of intelligent tooling such as automated testing
Shortening error resolution time through deep ERP integration and full-text search across all EDI messages, which enables delivery errors to be spotted quickly
Freeing up internal teams from EDI onboarding and support tasks, allowing them to concentrate on more value-adding activities
2) Fully managed EDI saves you money
Arguably the clearest and most convincing benefit of fully managed EDI is its capacity to save businesses money. Fully managed / full service EDI enables users to…
Reduce the total cost of ownership (TCO) of B2B processing, as EDI is offered as a scalable service on a pay-per-use-basis
Experience flexible, cost-efficient growth, as new features and connection types can be added in modular fashion without prohibitive "price cliffs"
Minimise cost-intensive manual tasks by getting EDI connections to a working state faster, since onboarding tasks are handled by specialised external teams
Note: While on-premise and partially managed EDI solutions may initially appear cheaper, when CAPEX, OPEX and other indirect costs are all taken into account, fully managed / full service EDI almost always offers superior value.
3) Fully managed EDI reduces your operational risk
In addition to helping businesses save money, fully managed / full service EDI providers such as ecosio also serve to reduce risk by…
Ensuring the highest possible level of availability through the operation of multiple redundant servers
Ensuring your solution is always cutting-edge through regular, automatic installation of software/security updates
Making sure your solution's success isn't dependent on individuals, as message exchange is overseen by dedicated experts
Detecting potential message delivery errors and resolving them as quickly as possible thanks to continuous monitoring
As a result, businesses that opt for a fully managed EDI solution need not worry about issues such as damaged partner relationships, fines, deterioration of solution efficiency or catastrophic data loss. Fully managed EDI ensures that no matter what, your electronic processes stay up and running.
4) Fully managed EDI increases your competitive advantage
As well as making life easier for internal teams, fully managed / full service EDI also places businesses using such solutions at a distinct advantage compared to their partners. This is due to the fact that fully managed EDI helps you…
Focus on your core business while supporting EDI tasks are taken care of by a specialised service provider
Stay competitive in the long-run, as fully managed solutions can easily be adapted to suit changing requirements (e.g. introducing a Web EDI platform or fulfilling country-specific e-invoice requirements)
Boost business relationships, as partners' EDI requirements can be met faster and more accurately
What's more, fully managed EDI also boosts the attractiveness of the business in question to prospective partners, with benefits such as fast onboarding and round-the-clock message monitoring/error resolution, likely to be particularly appealing.
Why fully managed EDI is the future of B2B integration
Given the benefits of fully managed EDI it's no wonder that more and more businesses are adopting this approach. In fact, fully managed EDI is set to become the new norm in the coming years.
Far from being replaced by new technologies (as has been wrongly predicted by many over the years), EDI is now more crucial than ever to business processes. While large industry players demand ever more detailed data from suppliers, many businesses are also looking to extend B2B message exchange automation across as much of their supply chain as possible, with Web EDI platforms now allowing even the smallest suppliers to send documents via EDI. In many countries, too, the use of EDI – particularly e-invoicing – is now being actively encouraged and even mandated by governments. Meanwhile the Covid-19 crisis has prompted many businesses to step up B2B integration efforts in order to improve supply chain sustainability.
As the scope and popularity of EDI has grown, however, so has the effort and expertise required to set up and operate a successful EDI solution. As a result, while handling EDI in-house may still be possible for those businesses with a wealth of internal EDI expertise, for most organisations a full service approach via the cloud offers a more logical and futureproof solution.
Just as we no longer have to think about how our phone calls are connected to the person on the other end (thanks to our network providers sorting this for us), so modern businesses are recognising that they no longer have to concern themselves with the technical intricacies of EDI document formats and protocols. By offering businesses security, flexibility and (perhaps most notably) the freedom to focus on what they do best, full service EDI is undoubtedly the future of B2B integration.
For more info on what the future of EDI might hold, see our article on the five top trends in EDI here. Alternatively, a more detailed exploration of how EDI is likely to evolve in the coming years can be found here.
Learn more
If you're interested in learning more about fully managed EDI (aka full service EDI) why not check out our resources section, where you can find all sorts of useful assets, from articles and infographics to white papers and webinars. Our detailed case studies also provide a helpful overview of both the process and the impact of implementing a fully managed EDI solution.
Get in touch
If you'd like to learn more about ecosio's fully managed, full service EDI solution, contact us today! We are always happy to help and answer any questions you may have.