If you want to be able to exchange automated messages with your business partners you'll need an EDI platform. Unfortunately, knowing what platform is best for you can be difficult as there are several different types to choose from.
In this article we explore exactly what an EDI platform is, how platforms differ from one another and what the best platforms can deliver.
What is an EDI platform?
While "EDI platform" is often used interchangeably with "EDI solution", it is important to note that these terms mean different things. As the image below illustrates, an EDI solution refers to the entire mechanism of exchanging B2B messages automatically – including all relevant technologies and processes. An EDI platform, by contrast, constitutes one of the main technical elements of the solution.
An easy way to think of it is to picture a successful EDI solution as a pie with three equal slices…
Platform – An EDI platform provides the technical tools to achieve routing and mapping of messages. Good platforms may also offer Web EDI (which allows you to conduct automated communication with smaller suppliers) and deep ERP integration.
Network – An EDI network connects you to business partners via a direct connection, third-party networks or VANs (Value Added Networks) as required.
Service – In addition to powerful technology, experience and effort is required to plan and execute an EDI project – as well as to provide ongoing monitoring and maintenance. For businesses with minimal in-house EDI expertise, this is usually best left to an external provider.
How EDI platforms differ from one another
Flexibility
As your EDI needs are likely to change over time, having a platform that can accommodate new requirements quickly is important. However, not all EDI platforms are flexible. With on-premise systems, for example, adding the ability to exchange messages via a new protocol or standard can take time. On the other hand, such changes can be implemented quickly with cloud-based platforms. Typically, providers of cloud-based platforms will have set up thousands of EDI connections across all major formats and protocols, meaning engineers can often take advantage of existing EDI document mappings to implement changes very quickly.
At ecosio we also map via a canonical core EDI format, which further improves setup speed and flexibility.
Reliability
While it is obviously important that your EDI platform performs well before go-live, it is even more important that it remains efficient moving forward. This is something some platforms are far more able to offer than others. Crucially, for example, many platforms do not operate with a redundant infrastructure, meaning they leave users vulnerable to catastrophic data loss in the event of system failure.
Similarly, many platforms will not be updated automatically, which can lead to the erosion of efficiency over time. Even in those cases where updates are offered by the platform provider, often these will not be implemented automatically. Further, depending on the platform and provider, when updates are installed they can sometimes interrupt ongoing operations.
Data visibility
Another clear way in which EDI platforms differ is the extent of data visibility they offer users. With most platforms, visibility is limited to one side of the exchange (i.e. you can only see whether your messages have been sent or not). However, thanks to the benefits of API integration, with modern cloud-based solutions it is possible to achieve end-to-end message visibility, meaning you can see whether your partner has received a message in real time. Plus, in the case of message failure, the sender can see exactly where the failure happened, which in turn makes error resolution much faster and more efficient.
Setup, operation and maintenance
Even when two EDI platforms share the exact same technical capacity, it's likely they will differ from one another when it comes to how much internal effort is required to set them up, operate them and maintain them. For example, with on-premise EDI platforms and platform as a service (PaaS) solutions, tasks such as testing connections, setting up mappings and monitoring message exchange are largely your responsibility. By contrast, with an EDI as a Service solution, all tasks relating to the setup, operation and maintenance of your EDI platform are handled for you by your provider.
For a detailed breakdown of how different EDI solutions compare in terms of the amount of internal effort they require, please see our infographic on this subject here.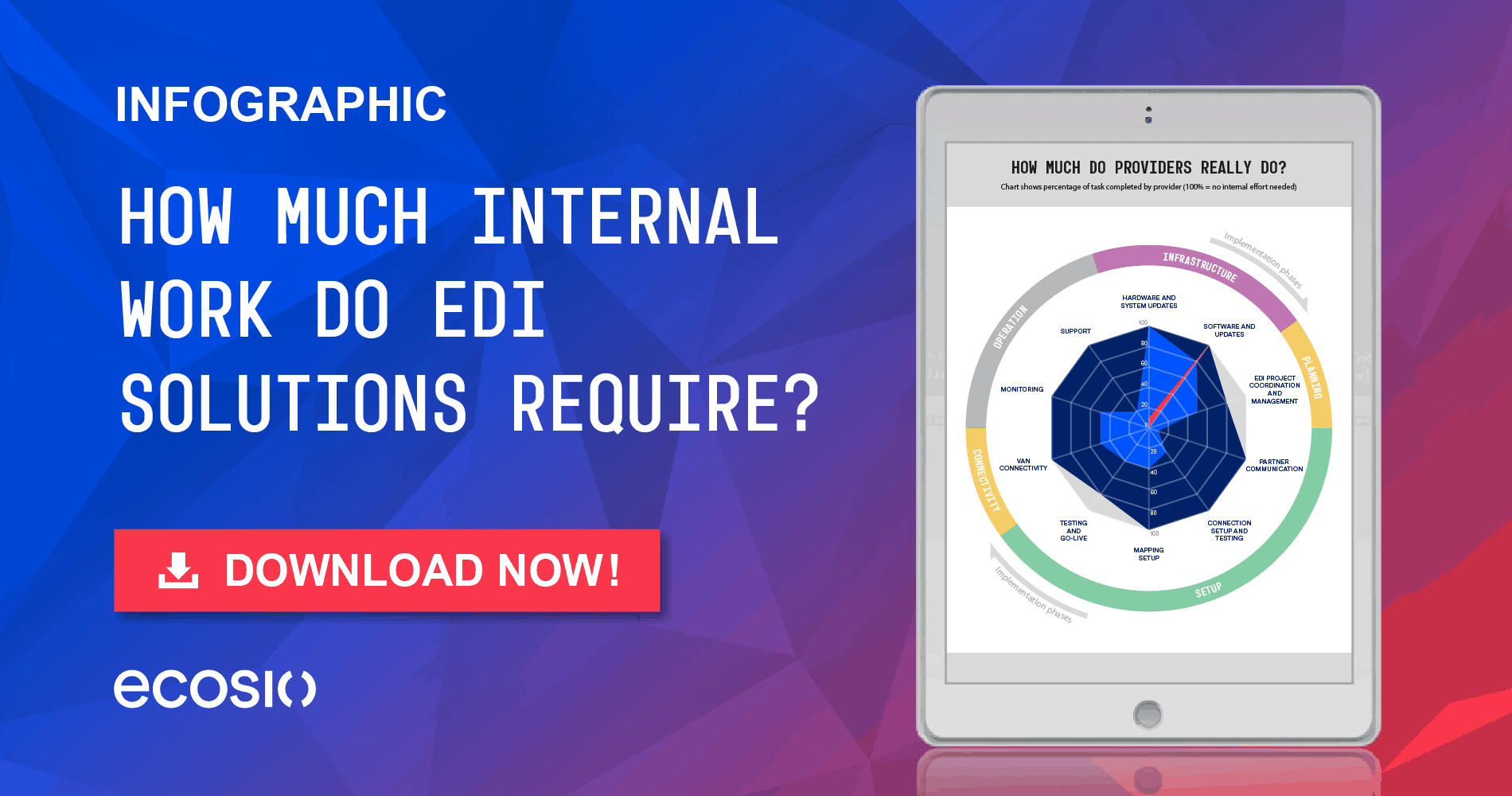 What a good EDI platform can do for you
Save you time – A good platform can shorten error resolution time by offering deep ERP integration and full-text search across all EDI messages. This allows delivery errors to be spotted quickly. Intelligent tooling and automated testing can also prove very helpful in making partner onboardings faster and more efficient.
Save you money – A good EDI platform will reduce the cost of manual tasks by enabling you to get your EDI connections to a working state faster. Flexible, cloud-based platforms can also support cost-efficient growth, as new features and connection types can be added in modular fashion without prohibitive "price cliffs".
Reduce risk – Successful EDI platforms will utilise redundant infrastructure to ensure the highest possible level of availability. The best platform providers will also implement updates proactively and may even offer continuous monitoring so that potential message delivery errors can be found and resolved.
Increase competitive advantage – An efficient EDI platform allows partner requirements to be met both quickly and accurately, which in turn boosts business relationships. The platforms offered by EDI as a Service solutions also allow you to stay flexible in the long-run, as your platform can be easily adapted to suit changing requirements (e.g. introducing a Web EDI platform or fulfilling country-specific e-invoice requirements).
For a statistics-supported breakdown of the benefits of EDI more generally, please see our printable infographic here.
How ecosio's EDI platform works
At ecosio our powerful EDI platform is connected directly to your ERP system via our unique API. As a result, not only are you able to send automated messages to partners via any protocol and in any EDI format, you also benefit from access to the real-time delivery status of all incoming and outgoing EDI messages in your existing ERP user interface.
Significantly, our platform is only one element of our EDI solution, which also includes our extensive network and comprehensive service. By providing these three elements as part of a single solution, we are able to offer customers EDI as a Service.
EDI as a Service involves facilitating automated B2B communication between business partners and providing flexible and futureproof EDI services via a single fully managed connection to the cloud. By taking care of everything from the initial partner approach to ongoing operation, we enable you to experience maximum automation of document exchange processes with minimum internal effort.
The sustainable, cloud-based design of our Integration Hub, which is constantly being improved, enables us to optimise our solutions for flexibility, reliability and user experience. Meanwhile, our outstanding support and round-the-clock monitoring means you can be sure your commerce-critical data is in safe hands – leaving you to concentrate on what your business does best.
Want to learn more?
At ecosio EDI is who we are. With our unique EDI as a Service solution we've helped hundreds of businesses to experience the significant benefits of automated message exchange… and we can do the same for you too!
If you would like to learn more about our approach and the specifics of our EDI platform, get in touch today. We look forward to helping you turn EDI from a hurdle into a hero.