In modern commerce, messaging automation is becoming increasingly crucial. Not only are order turnaround times shrinking year on year, there is now also a growing expectation that the parties involved in an interaction should have full visibility of the process, from the initial order right through to fulfilment.
As we'll explore in this article, central to enabling the streamlining of essential business processes is EDI (Electronic Data Interchange) integration – and particularly cloud-based integration, with Gartner recently noting that "there is no business strategy without a cloud strategy".
But before we look at the different ways integration can be handled, let's look at what EDI integration is…
What is EDI integration?
EDI integration is the means by which business partners' ERP systems are able to exchange business critical messages (e.g. purchase orders or invoices) with one another automatically.
Once EDI integration has been set up, effectively the ERP systems of the companies involved can talk directly to one another via the common EDI language that has been agreed. Unlike sending/receiving an order via email or post, which involves many steps, including waiting for the message to be delivered, opening it, extracting the relevant information and inputting it elsewhere (also referred to as a media break), with EDI integration all this is done instantly and automatically.
Below is a diagram showing a typical EDI integration landscape. Electronic business documents are exchanged between various business partners using certain electronic protocols. Usually the business partners in an EDI transaction are along the value chain of a company – suppliers on the procurement side and customers on the distribution side. Other partners include logistic service providers, banks, etc. Another growing trend concerns governmental institutions demanding the transmission of electronic invoices via a centralised system – e.g. FatturaPA in Italy or NAV in Hungary.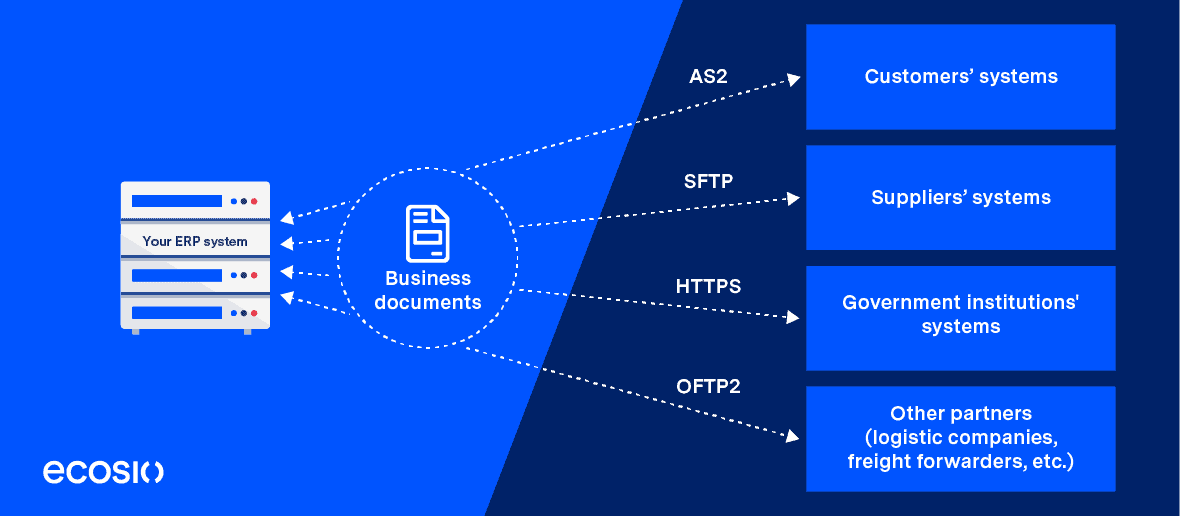 What's involved in setting up EDI integration?
From a technical perspective, for EDI integration to work, both parties must first agree on the transmission protocol to be used and the format of the messages. Both parties must also be able to export messages from their ERP system and convert them to the EDI message format. Vice versa a conversion from the EDI format to the ERP system's import format and the automated import into the ERP system must also be possible..
The image below shows a technical breakdown of a typical EDI connection between a supplier and customer.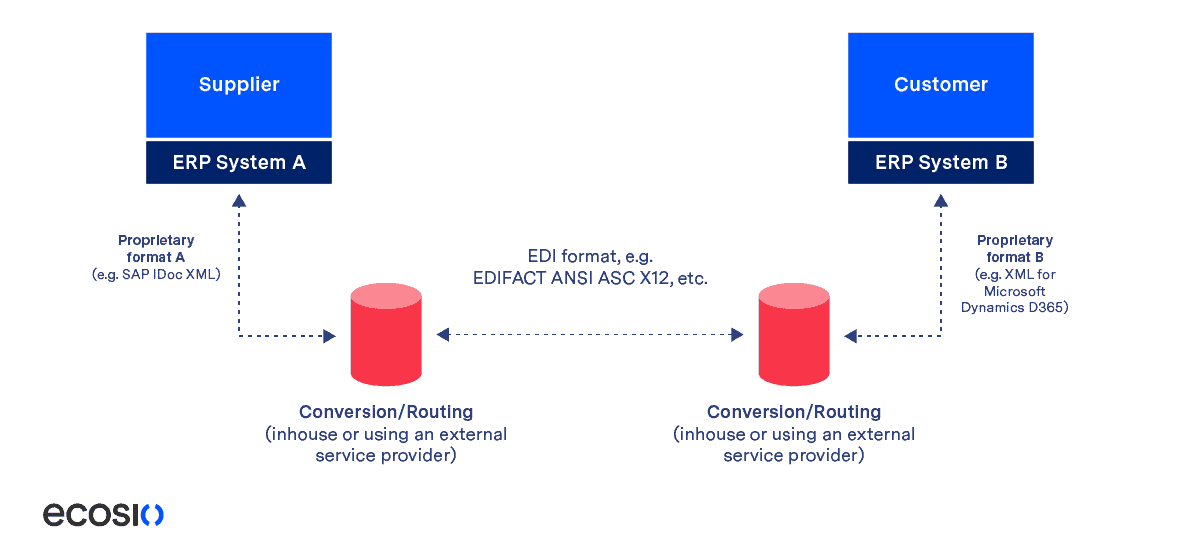 Practically, an EDI integration project involves five stages:
Assessing your requirements – Before selecting a solution you first need to work out which processes you want to automate, what the technical parameters of your ERP system are, how much internal capacity you have, who your EDI partners are, what document formats might be needed, and what volume of messages you expect to be exchanging.
Choosing your EDI provider – Armed with the knowledge of your requirements and internal capacity you are in a good position to choose an EDI provider. During this stage it is important to think about future growth and to investigate what providers are really offering – particularly when it comes to support and pricing.
Planning implementation – This step involves drawing up a project plan with clear priorities and timelines. For example, a key task during this stage is to agree in what order partners should be onboarded.
The technical implementation – This stage involves agreeing transmission channels, protocols and message formats with partners. It also involves organising and overseeing testing, parallel operation of EDI and existing processes (e.g. based on paper), and then go-live. The extent to which you are responsible for these steps depends on which approach you opt for (as we shall explore in the next section).
Ongoing operation – Once your system is up and running, it needs to be monitored constantly to make sure any errors that occur aren't allowed to escalate. Your solution may also need to be updated and adjusted as needs change.
If you would like a more comprehensive breakdown of what the EDI implementation process involves, you can find one here.
How can EDI integration be achieved?
There are three main routes businesses can take when it comes to achieving EDI integration. These are…
1) Use a local EDI software (aka EDI converter)
For companies with a substantial amount of EDI expertise and sufficient internal resources, using local EDI software can be a viable solution. Essentially this is an additional piece of software that enables your business to transform messages into whichever different structured formats are required and to route them to your business partners via different transmission protocols.
It is important to note that this approach requires all EDI tasks to be undertaken in-house, however. Setup, testing, onboarding, mapping, routing, monitoring, error resolution and updates – all of which take time, effort and technical knowledge – must all be handled by your business.
Typically such EDI software solutions are also not integrated into your ERP system directly, meaning that access to EDI information requires a separate login and is often limited to IT teams. Thus, there is no end-to-end message visibility directly in the ERP system (i.e. being able to see whether or not your messages have been received or where sending has failed).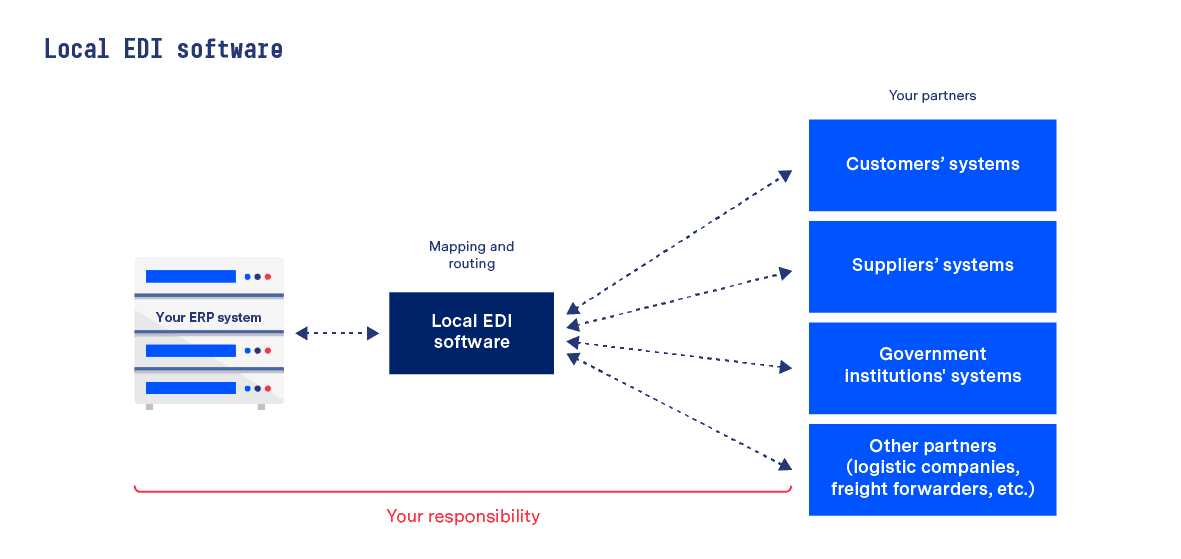 2) Use an integration platform as a service solution
Using an EDI integration platform as a service approach enables you to retain full control of all EDI aspects such as routing and mapping. Technically, the solution is similar to a local EDI converter, with the major difference being that an integration platform as a service solution offers the capabilities of an EDI converter in the cloud. As with using a local EDI converter, however, this solution still requires substantial internal input and expertise.
Similar to local converter approaches, internal teams need to balance partner onboarding and testing etc. with existing work. Likewise, while the platform may come with some out-of-the-box features, the ongoing operation and connection maintenance again falls to you alone.
The major advantage of an integration platform as a service solution compared to a local converter is the fact that the integration platform as a service solution is constantly updated. Thus, the underlying technology doesn't age, as is the case with local converters if they aren't regularly updated (which usually comes with a price tag).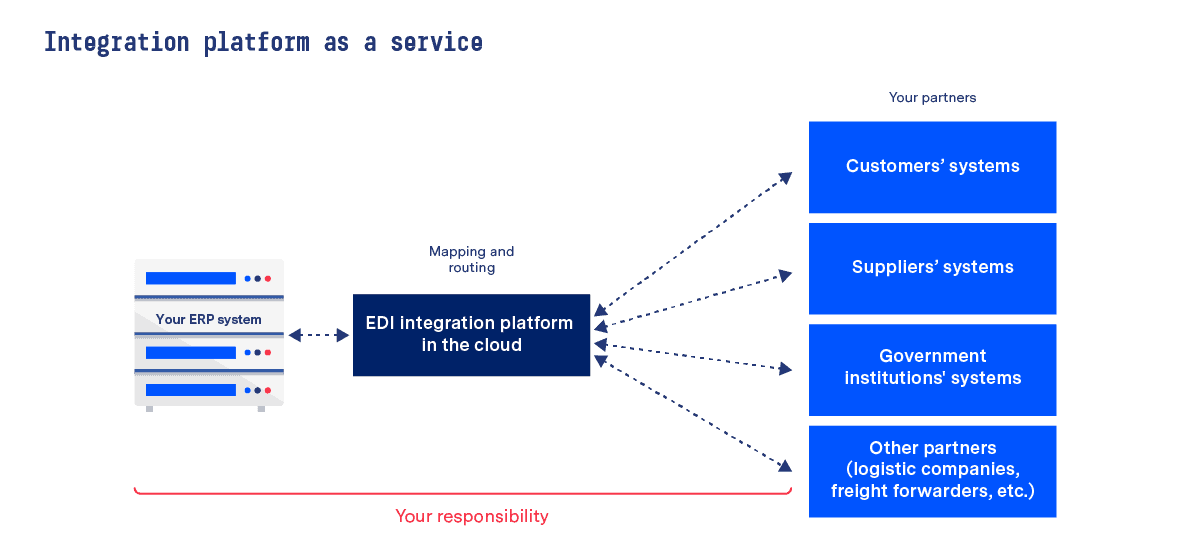 3) Use EDI as a Service
For businesses without extensive internal resources, opting for an EDI as a Service approach typically represents the most logical choice. In this option all of the EDI work is taken over by your provider via the cloud – from project management and technical setup right through to ongoing monitoring and support. Essentially EDI as a Service turns EDI from something that requires a lot of internal time, effort and expertise to something that simply works quietly in the background without you needing to worry about it.
Crucially, too, this option is also much more future-proof, as EDI as a Service solutions can respond quickly to any changes in your requirements – something that is tricky when some/all EDI tasks are handled in-house.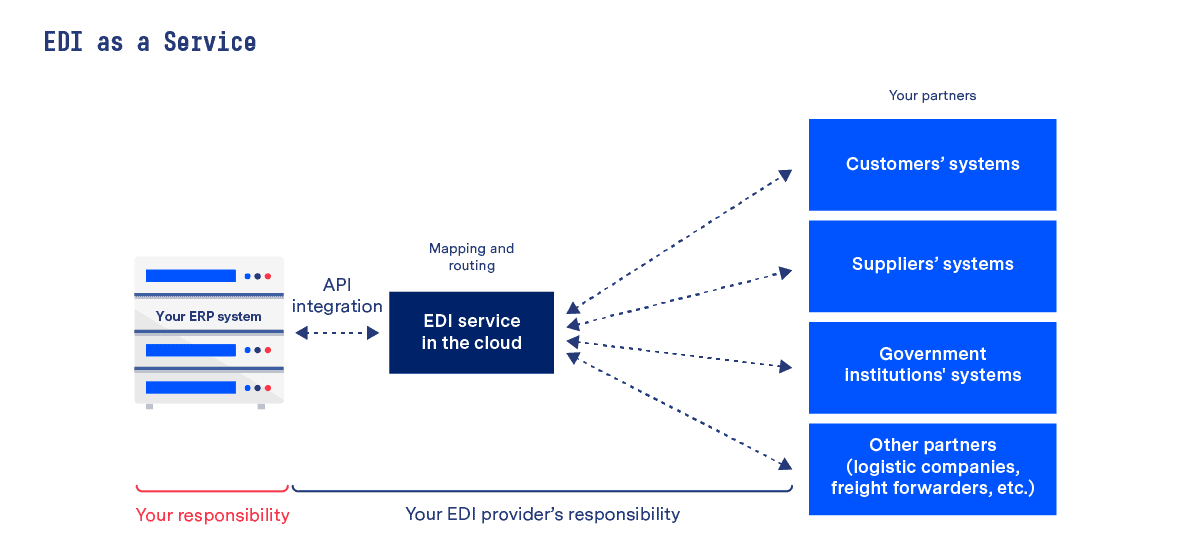 What benefits can efficient EDI integration offer my business?
By enabling you to exchange automated messages with your business partners and eliminate manual processes, EDI offers huge benefits to companies. For example, according to research conducted by GS1, the UK grocery sector saved over £650 million in one year alone through the use of EDI!
However, the extent of the benefits offered by EDI is dependent on which type of solution is opted for. For the purposes of this article we will look at the potential additional benefits for businesses that opt for an EDI as a Service model, as this offers the most advantages. With such a solution, in addition to experiencing the advantages of automated B2B message exchange, businesses can…
Save time
As well as reducing the time needed for partner onboardings through external project management and use of intelligent tooling, the best EDI integration solutions also shorten error resolution time by offering deep ERP integration and full-text search across all EDI messages. Additionally, in solutions where the majority of EDI tasks are handled externally, internal teams are able to focus more on core competencies.
Save money
EDI solutions that offer EDI on a pay-per-use basis can reduce total cost of ownership (TCO) of B2B processing. Similarly, being able to hand time-intensive EDI tasks such as partner onboarding to your provider can save you money. Plus, choosing a solution that is flexible and that can grow as your requirements change will ensure you continue to reap the benefits of EDI into the future, without encountering prohibitive "price cliffs".
Reduce risk
While all EDI minimises the potential for human error, the best EDI solutions go further, offering round-the-clock monitoring of the technical infrastructure to ensure errors are detected and resolved as quickly as possible. Good EDI providers will also offer a redundant infrastructure to safeguard you from any severe data loss. EDI as a Service solutions will also proactively update your solution on a regular basis so it is always performing at optimum level.
Gain a competitive advantage
When all EDI tasks are undertaken by external experts businesses are able to focus on their core business. Meanwhile the ability to meet partner requirements faster and more accurately also boosts business relationships

External management of EDI also allows companies to stay flexible in the long-run, as changes such as fulfilling country-specific e-invoicing requirements can be met easily whenever the need arises.
For more information on the benefits that EDI can deliver, why not download our printable, stat-filled infographic.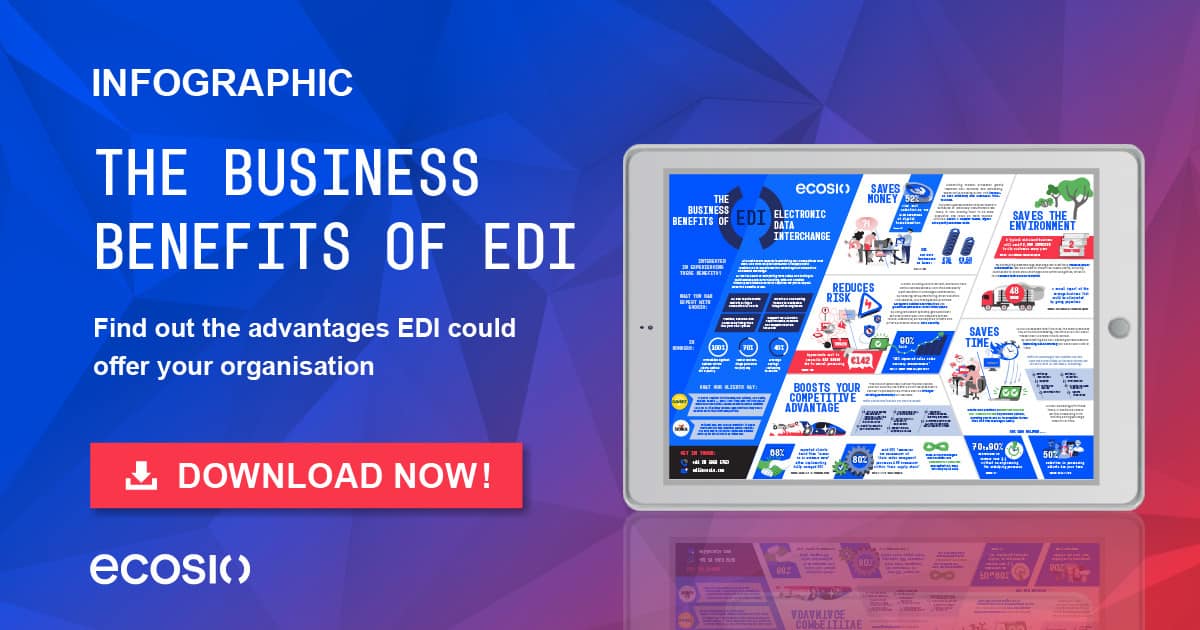 Interested in seeing how EDI integration could benefit you?
At ecosio we are experts in EDI integration and offer a solution that provides full EDI capability within your existing ERP system. What's more, as we offer an EDI as a Service approach, there is virtually no work required from you to set up, test and monitor your solution.
If you would like to know more about how streamlined EDI integration with ecosio could transform your B2B processes and benefit your business, get in touch today. We are always happy to help!