Due to the rapid and consistent rise in globalisation and ecommerce over the past decade, there's never been more pressure on supply chain organisations to meet demands, nor has the difficulty of achieving efficient supplier relationship management ever been higher.
For no industry is this truer than for retail. Whilst retail has always been an intensely competitive marketplace, new pressures have been added thanks to the recent shift in customers' behaviour and expectations, particularly regarding ease of ordering and delivery speed. As well as expecting to receive items within one or two days, consumers increasingly rely on efficient returns as more and more people over-order to try on at home. What's more, it has never been easier or more impactful for customers to write a negative review if they experience issues regarding an order.
For years retail supply chains were optimised for high-street stores, with online sales considered a subsidiary stream. Consequently, many retail supply chains today suffer from legacy issues related to inefficient logistics processes and poor cross-channel coordination as they struggle to adapt their processes to enable them to meet current demands whilst simultaneously preparing them for the future.
In this article we explore six key things you can do to improve the efficiency of your retail supply chain:
1 – Set out your plan
It may sound simple, but writing down your objectives and how you aim to achieve them is always the most effective starting point. However you seek to tackle the issues you've identified, be it through updating your distribution strategy, staff training, outsourcing logistics processes or an increased focus on supplier relationship management (SRM), creating a clear and detailed plan will help to ensure that you are constantly moving towards the outcome you want.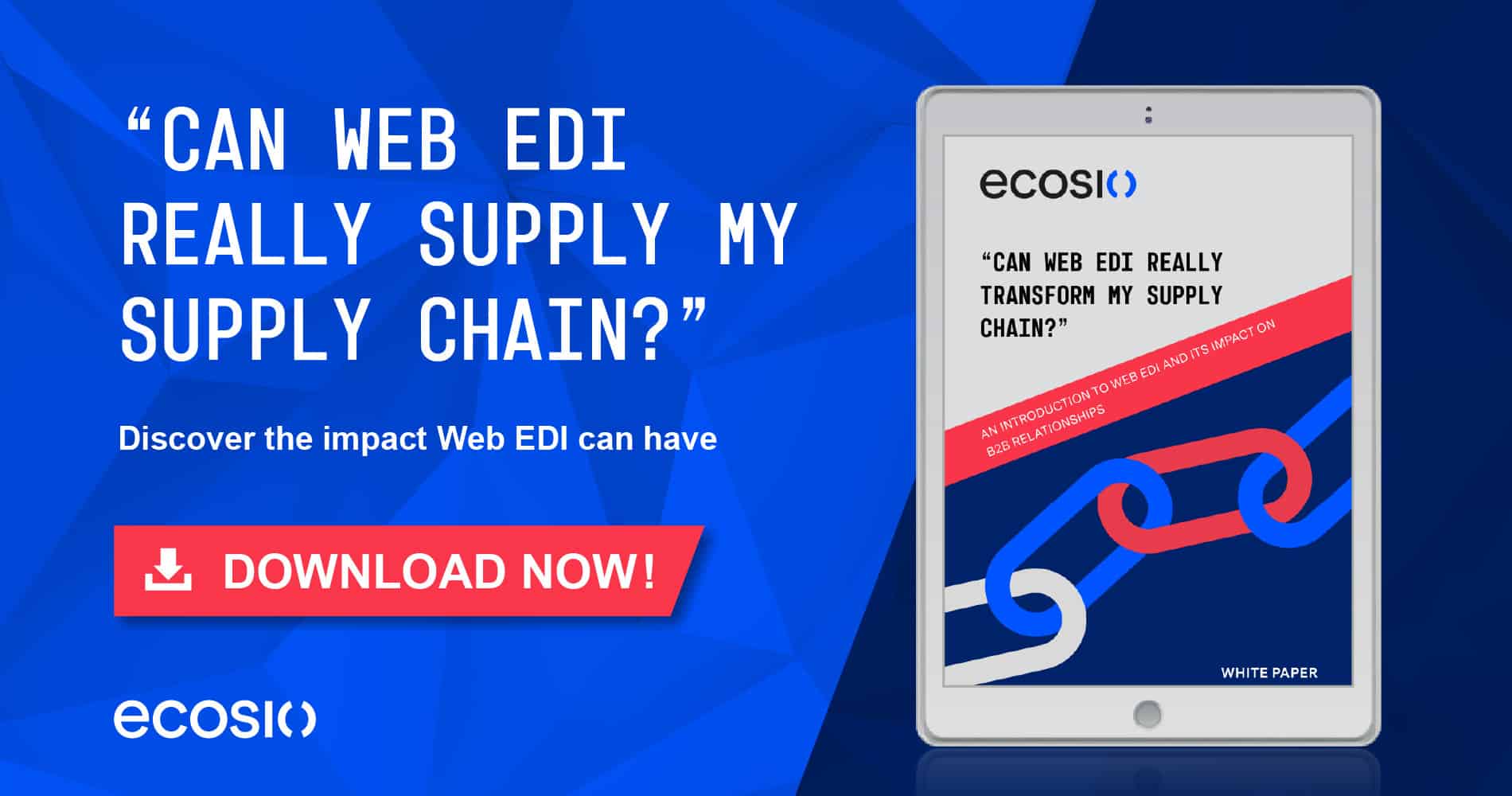 2 – Automate, automate, automate!
Changing logistics and data processes can seem like a daunting task, which is why so many retail supply chain businesses retain outdated systems and struggle to process in an effective manner the numerous different message types (sent via various protocols) received daily from partners. Yet handled correctly, not only is process automation a simple process, it is one which can transform your business.
Key benefits of effective process automation include:
Time and cost-saving – Arguably the most easily identifiable benefit of automating data exchange, logistics and procurement processes is the time (and resultant money) it can save, from elimination of manual data tasks, to quick and easy data monitoring, in turn enabling easy identification of further areas for process improvement.
Accuracy and reduction in human error – With a streamlined electronic data interchange (EDI) system in place human errors are all but eliminated, resulting in reliable information exchange and dependable output.
Collection of useful data – In addition to ensuring the accuracy of the data being exchanged between you and your partners, an efficient B2B integration system can provide useful analytics relating to information such as orders, inventory levels and supplier performance.
In short, as we move towards e-procurement or electronic buying processes, retaining a non-automated system (no matter how attractive that option may seem now) will become increasingly untenable, especially in the fast-moving world of retail. The faster you seek to automate key business processes, the less chance you have of being left behind!
3 – Improve supplier relationships
Healthy supplier relationships form the backbone of a successful retail supply chain. The best relationships are not simply transactional connections, but more like alliances. By enhancing your B2B integration you can boost supplier relationship management through accurate data forecasting, automated deadline reminders and improved workflows, in turn relieving procurement teams and minimising costly errors and oversights.
Help your suppliers to help you!
With a future-proof electronic data interchange (EDI) system in place not only will you and your partners be speaking the same data language, the resulting improvement in supply chain visibility will allow them to see key inventory information, ensuring they are better positioned to fill future orders. Thanks to web-based EDI portals, today even partners who don't currently have an EDI system can be connected to enable these advantages across your entire network.
4 – Monitor supplier performance
As we've already established, good supplier relationship management is key to retail supply chain success. In addition to improving the efficiency of your supplier relationships by streamlining data transfer, implementing an efficient B2B integration system can also provide access to easy-to-digest information regarding supplier performance. With quick access to key performance indicators (KPIs) such as partners' fill rates and order accuracy, identification of areas for improvement becomes simple. In addition, you may want, if possible, to set targets for your partners to make sure they are aware of what is expected of them and allow both parties to track task progress. Ideally, performance can then be tracked directly through your B2B integration hub via supplier audits and quality management reports.
5 – Maintain data transparency
Unfortunately, no matter how streamlined your supplier relationship management processes are, things will inevitably go wrong from time to time, be it a delayed shipment or a misjudged demand. What's important when this happens is to catch the issue quickly and identify where things went wrong so as to ensure that it doesn't happen again. When it comes to data exchange processes, maintaining transparency in the form of full-text searchability across all documents and messages is extremely valuable and allows for issues to be spotted before they can escalate.
6 – Don't try to do it all yourself!
Just because you know your business better than anyone else, it doesn't mean you are best placed to implement, manage and monitor day-to-day data processes. The in-house resources required to ensure the success of commerce-critical data exchange can be significant. Plus the difficulty of in-house teams staying on top of day-to-day data routing and mapping tasks alone often means that little to no time is devoted to process improvement and future-proofing key business processes – something that is key in an industry as competitive and dynamic as retail.
By moving to a future-forward, managed EDI service the ongoing hassle of managing logistics and procurement processes is removed. Further, this enhanced B2B integration can also be accompanied by SRM capabilities such as delivery performance and audit management modules, with in-house resources in turn redirected to forward-thinking process improvement.
Find out more
For more information about supplier relationship management and how digitisation of supplier processes could help streamline your supply chain click here.
Alternatively, if you have questions about your specific situation please contact us or use our chat – we are happy to help!