Successful implementation of an electronic data interchange (EDI) solution is the goal for any organisation looking to achieve automation across their supply chain. Central to achieving such an outcome is having a tried and tested supplier EDI onboarding procedure. Unfortunately, as with information relating to the amount of internal work different EDI solution providers really do, details concerning what supplier onboarding involves can be hard to find.
With this in mind, in this article we will take you chronologically through a thorough supplier EDI onboarding process, from kick-off to go-live – looking at what's needed from you and your suppliers along the way. Hopefully by the end you will know exactly what a successful project involves and be more confident in making the right choice of solution.
Step 1 – Kick off and definition of EDI requirements
Unsurprisingly the first step in any supplier onboarding project is for your provider to identify exactly what it is that you want. Though there is no one way to achieve this, it is generally best if both you and your EDI provider have a clear point of contact, as this will increase the project's speed and efficiency.
Once your internal team has been agreed, your provider will liaise with them to find out what your requirements are. This involves discussing:
Processes

– How are orders, deliveries and invoices handled?

Document types

– What document types need to be realised? For example, are you looking to trade invoices only, or do you also want to exchange other common document types, such as orders and despatch advices (aka INVOIC, ORDER and DESADV for EDIFACT messages and 810, 850 and 856 for X12 messages, for example). More sophisticated EDI integrations will also enable automated transmission of sales data reports (SLSRPT / 818), inventory reports (INVRPT / 846) and receiving advice messages (RECADV / 861).

Message data granularity

– Which data elements do you want to be included in each message? In addition to the basics (price, quantity, article number) do you require additional information, such as descriptions or best-before dates?

Message / process semantics – What is the structure and content of your exchange messages? Usually the ERP system has a preferred (data model) exchange format. This needs to be communicated to the EDI provider for the creation of the data mapping.
Message protocols – How is your EDI data exchanged with your back-end system? This can be handled via a number of different protocols, such as API, SFTP and HTTPs.
It is tough to give an estimate of how long this process will take given the bespoke nature of the process, but if you are aware of your requirements in advance and have assigned a dedicated project leader internally, this step can take as little as a couple of days. Usually the process will take longer than this, however, and typically involves a fair amount of back and forth.
Step 2 – Creation of Message Implementation Guide (MIG)
Having completed the fact-finding step, your EDI provider will then create your message implementation guide (or MIG). A MIG is basically a 'how to' guide for your partners which details your business's EDI requirements and the specifics of your preferred message formats etc. This normally takes around two days of work per MIG to complete.
As the success of this step has a knock-on impact on the success of the rest of the EDI onboarding process, it is particularly important that this is completed carefully. To ensure the reliability of the MIG, fully managed EDI providers, such as ecosio, will send sample messages to your system. They may even enlist the help of one of your close suppliers to conduct a parallel phase to check everything is functioning correctly. All that is required on your side is to check the messages and flag if anything needs altering.
Sadly, with non fully-managed EDI solutions this phase is often rushed, with little or no testing conducted, leading to errors further down the line.
Step 3 – Creation of Web EDI platform
If you are looking to automate as much as possible of your supply chain's document exchange, you may also intend to connect suppliers who do not have EDI capability using Web EDI (see our white paper for more information on Web EDI and how it can benefit you).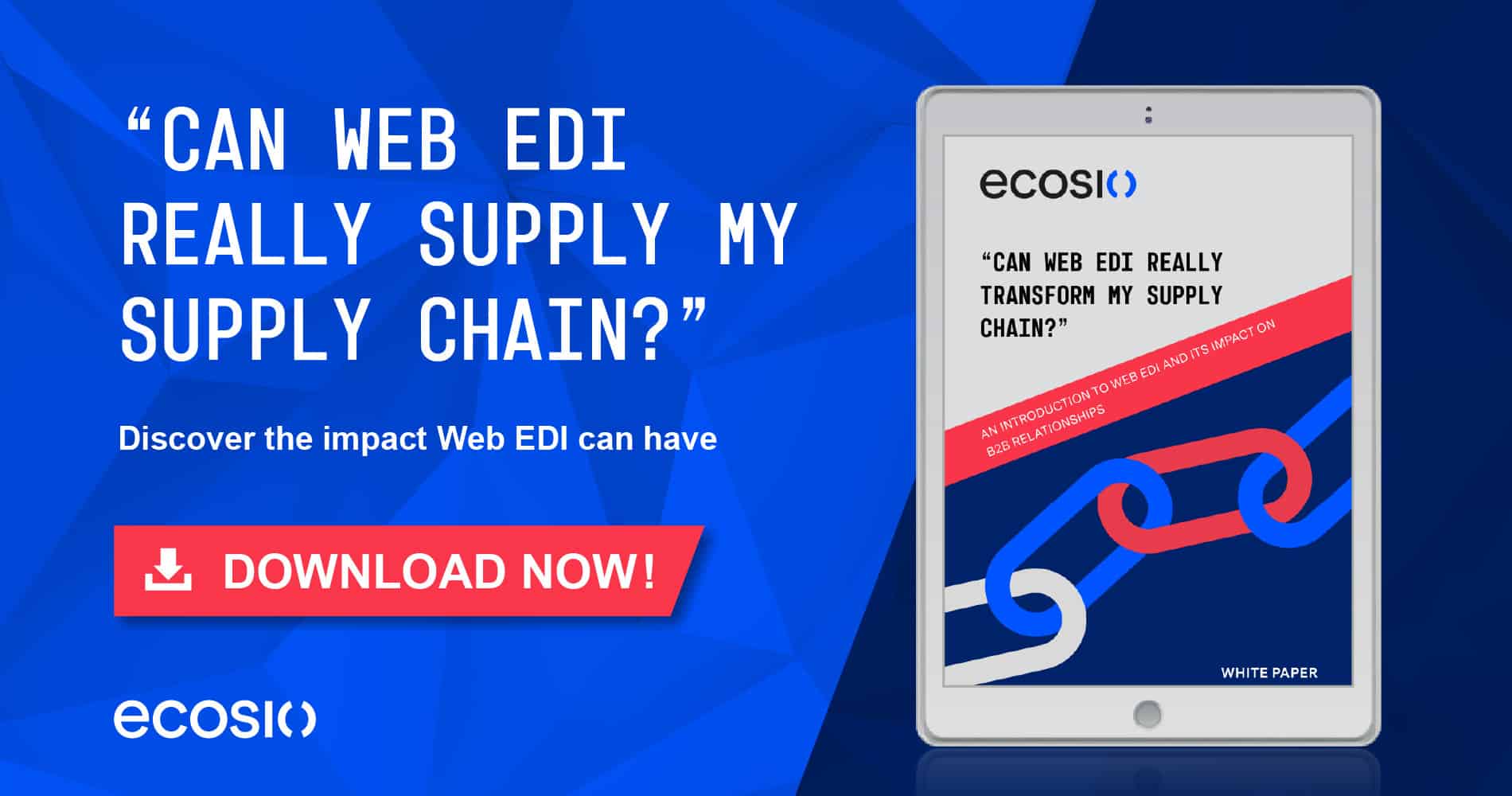 If this is the case, it is important that the scope of your Web EDI platform matches the scope of message types used with suppliers via "classic" integrated EDI. For example, you may need to exchange non-mainstream documents such as SLSRPT, INVRPT or RECADV in addition to orders, despatch advices and invoices – in which case care should be taken to select a provider, such as ecosio, that can support this (as this functionality is rare).
Your Web EDI platform will be built in parallel with the creation of your MIG(s). This process involves a one-time connection of the EDI solution to your ERP system and subsequent configuring of the platform to meet your requirements. Your supplier should be able to send test documents via the platform according to your MIG (for you to then check). As with the creation of the MIG, you may also want to enlist the help of a close supplier to help test the platform before wider rollout.
As Web EDI requires suppliers to put in manual effort in order for you to experience full automation, platforms are not always hugely popular with suppliers. As a result, selecting a Web EDI system, like ecosio's, which is able to minimise effort on your suppliers' side through features such as semi-automatic document creation, PDF printing and batch support can greatly increase take-up across your supply chain.
Step 4 – Prioritising / approaching your partners
Once your MIG and Web EDI platform have been created it is time to begin onboarding your partners. Before approaching them, however, it is important to agree a strategy with your EDI provider. With large supply chains, it can take a while for partners to be onboarded. As such it makes sense to prioritise onboarding certain partners first so you get maximum benefit from your new system. For example, you may wish to prioritise your biggest suppliers, or those with whom you are closest. As your EDI solution provider will have handled similar projects many times before, they should be able to offer valuable input here.
Once the supplier EDI onboarding strategy has been agreed, your provider should approach each supplier to clarify details such as identifiers (e.g. GLN number), current capabilities (e.g. what types of documents they can exchange via EDI) and which type of connection they would prefer (e.g. AS2, X.400, VAN etc.).
During this process your EDI provider should also share your new message guidelines with your suppliers, allowing them to know what your system requires and how to create valid outgoing documents, which brings us on to…
Step 5 – Message exchange testing / validation
The testing phase involves your provider sending your supplier documents in order for them to send back the necessary responses (e.g. an Order and Order Response).
If your supplier returns an incorrect message they should be informed by your provider what the errors are, enabling them to be corrected. This is known as validation.
Validation can be done manually by checking the message against the MIG. This is a tedious and error-prone method, however. Instead, validation is better handled automatically, by employing in-built validation checks on the integration software, or semi-automatically, by using external software capable of checking message syntax.
Automatic checks (such as those completed by ecosio's Integration Hub) can immediately return error reports via email or web portal to the document issuer. Manual checks, on the other hand, involve much more effort, meaning more time until the error report is ready
Once any errors have been corrected and your supplier is able to send a response that conforms to your MIG, the message will be sent to your internal team to check. If a fully managed provider is opted for, this checking should be the extent of the input required from you.
Step 6 – Go-live
When you are happy with the responses from your supplier the connection can be put live. In some cases you may wish to run a parallel phase (alongside a continuation of your previous message exchange method), for several months to ensure that everything is functioning smoothly.
With suppliers being connected via Web EDI the process is even simpler, as they simply need to be activated on the platform. If your Web EDI portal is sufficiently intuitive / user-friendly, training may not even be needed. Alternatively it can be provided in the form of pre-recorded videos / documentation.
Step 7 – Post go-live
Whilst go-live might well signal the end of the EDI onboarding process, it is far from the end of the work when it comes to ongoing document exchange with your partners. For example, your supplier may conduct (as ecosio does) ongoing validation mapping checks to ensure that message details match the requirements of your MIG – thus avoiding the complications associated with incorrect details being transmitted to your ERP.
In order to benefit from a successful and future-proof system, processes also need to be in place covering message monitoring and error handling. Significantly, with many solutions go-live effectively signals the end of your EDI partner's active involvement, meaning these responsibilities fall to internal teams. However, this is not the case if a fully managed EDI provider such as ecosio is opted for.
Ideally your EDI provider will continue to oversee your business's EDI connections, acting as a point of contact for your suppliers (both those using classic EDI and Web EDI) and working proactively to correct errors and ensure connections are functioning at maximum efficiency. This way you benefit from both more reliable EDI and the time and cost savings associated with less pressure on internal teams.
As your needs are likely to change over time, it also makes sense to consider investing in a solution that can adapt alongside your business. For example, clients of ecosio are able to add additional Supplier Relationship Management (SRM) modules as required.
Discover a fully managed approach to EDI onboarding with ecosio
As every supply chain is different, every business faces unique challenges when it comes to connecting to suppliers. To be successful, electronic data interchange requires not only technical expertise during set-up and onboardings, but also ongoing time and effort in the form of message monitoring, error handling and installation of updates etc. after go-live. Simply put, each of the steps we have covered is crucial to the lasting health and reliability of your EDI connections.
At ecosio we understand the effort involved in establishing and maintaining efficient EDI, which is why we aim to help businesses avoid the time and stress it can cause by minimising internal effort. As well as making sure connections are as secure as possible through conducting thorough testing, ecosio's experts manage the entire EDI onboarding process, from kick-off to ongoing operation (unlike other providers). Essentially we do the work so you don't have to! The upshot is a more cost-effective outcome, faster connections and peace of mind.
To find out more about ecosio's fully managed solution and how we can help you benefit from simple, efficient and intelligent EDI, contact us today! We are always happy to answer your questions.