For any supply chain business serious about streamlining B2B processes and reducing costs, a Web EDI system is a hugely important tool. By enabling those of your suppliers that lack EDI capability to receive, read, create and transmit structured electronic messages via a simple web portal, a good Web EDI solution can transform your business, allowing you to achieve automation across much more of your partner network.
To help you understand exactly how a Web EDI system works, in this article we'll look at the steps involved in a typical interaction with a Web EDI portal (from the perspective of your suppliers) – namely receiving a purchase order and purchase order changes and returning the relevant documents. First, though, it is important to understand why user experience is important when it comes to Web EDI systems…
[If you would like a more basic introduction to Web EDI before continuing, you may find our video on this topic helpful]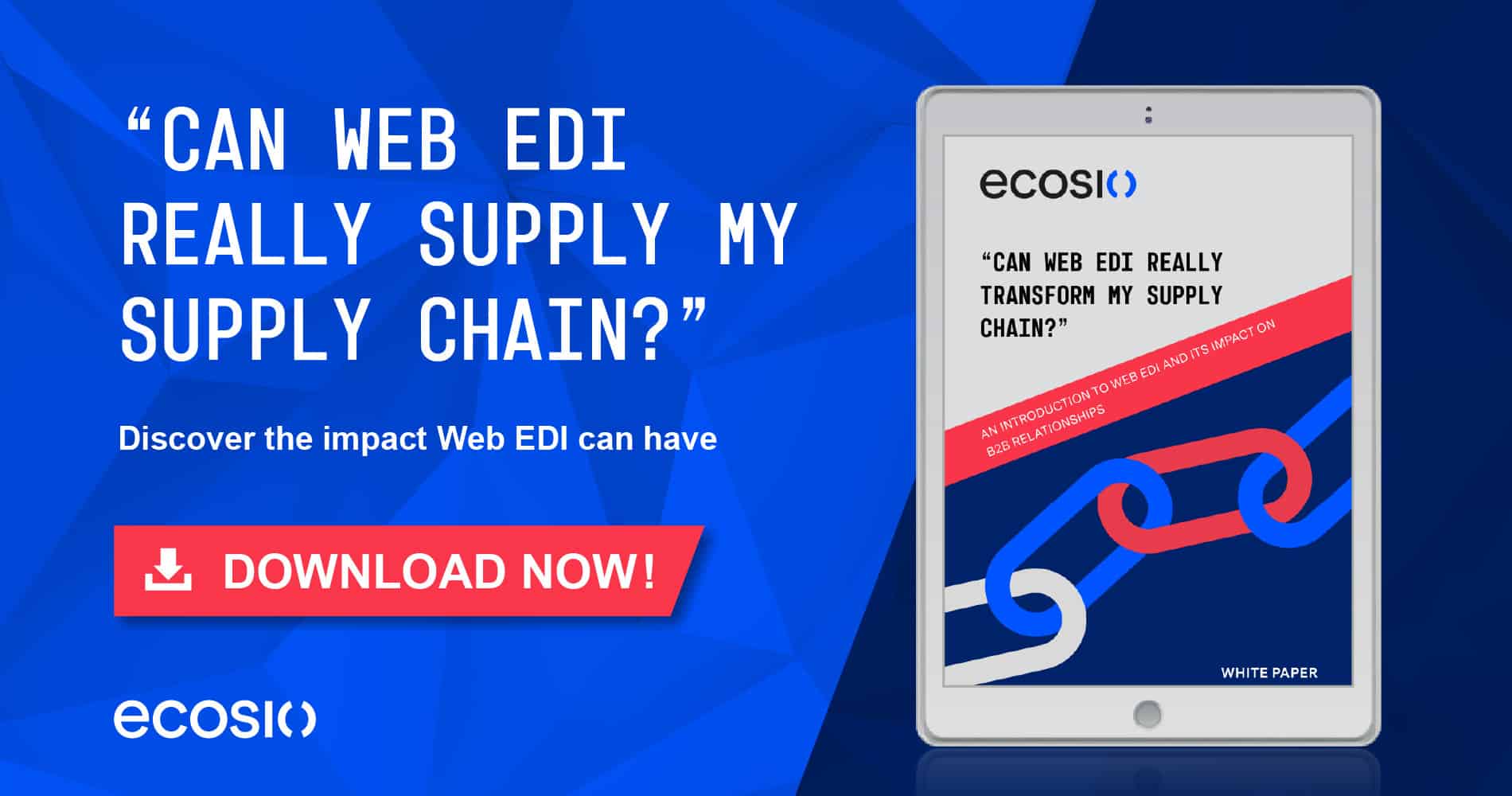 Why supplier experience is important
Although the usability of your Web EDI portal may not seem like a key concern as you won't be using it yourself, it is important to note that a poor user experience can impact on the quality of the output you get via it from your partners.
The less information your supplier needs to enter, the fewer errors they are likely to make. If your portal is able to streamline the turnaround process by semi-populating key documents automatically for your suppliers, meaning all that is required is for them to check the information and send, there is little chance of errors occuring. In addition, a good system (such as ecosio's) should enable the customer to determine which fields their suppliers can edit and offer validation to ensure only correctly formatted messages can be transmitted.
The simpler your Web EDI is to learn how to use, the faster new onboardings can be completed, and the happier your suppliers are likely to be with your relationship moving forward.
Admittedly, no matter how user friendly the portal is, Web EDI will never be as smooth as classic EDI for the supplier given the fact that manual data entry is still required to some extent. Therefore, if orders with a certain supplier increase substantially, they may wish to transition to doing traditional EDI to reduce manual effort on their side. As a fully managed service provider, ecosio can handle this transition from start to finish with zero disruption to you and your partners.
Now let's look at an example of what a good system looks like from a supplier's perspective…
Example – responding to a purchase order
When an order comes in, the individual can access their portal and select the new order from the overview screen. Users will also receive a notification email containing a direct link to the new order.



When the order in question is clicked on (highlighted in the above image), only the most up-to-date information is displayed (see image below).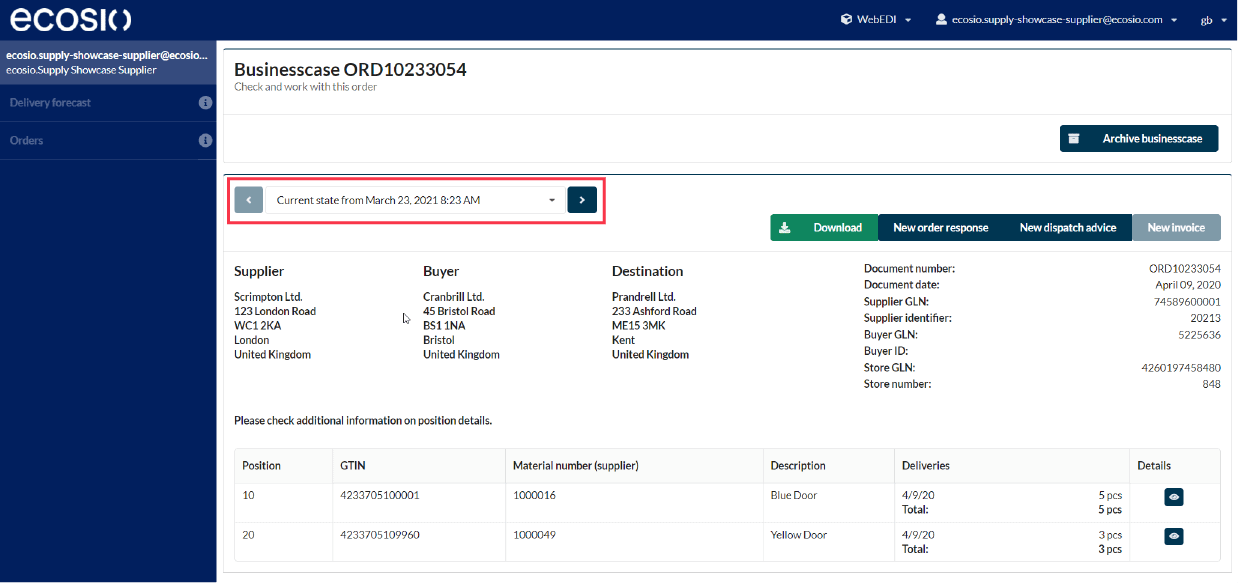 Clicking the dropdown menu highlighted in the above image shows a chronological list of order changes and amendments (shown below).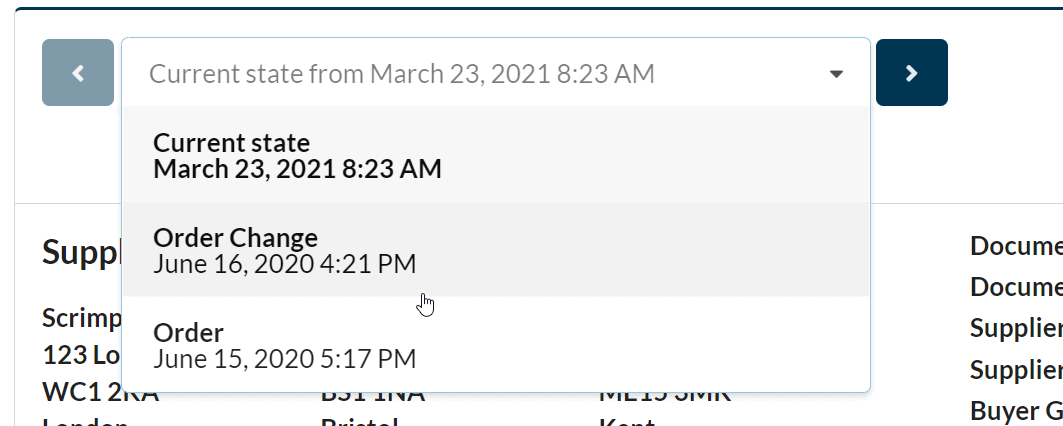 Sending the order response simply requires the user to click "New order response". This then takes them to the below screen where they are able to edit or amend the details if necessary (for example if the supplier needs to confirm delivery of a reduced number of goods) – though this of course requires customer consent first. Once everything has been checked, the user just needs to click the "Send order response" button.
The same simple process applies for both an invoice and a dispatch advice.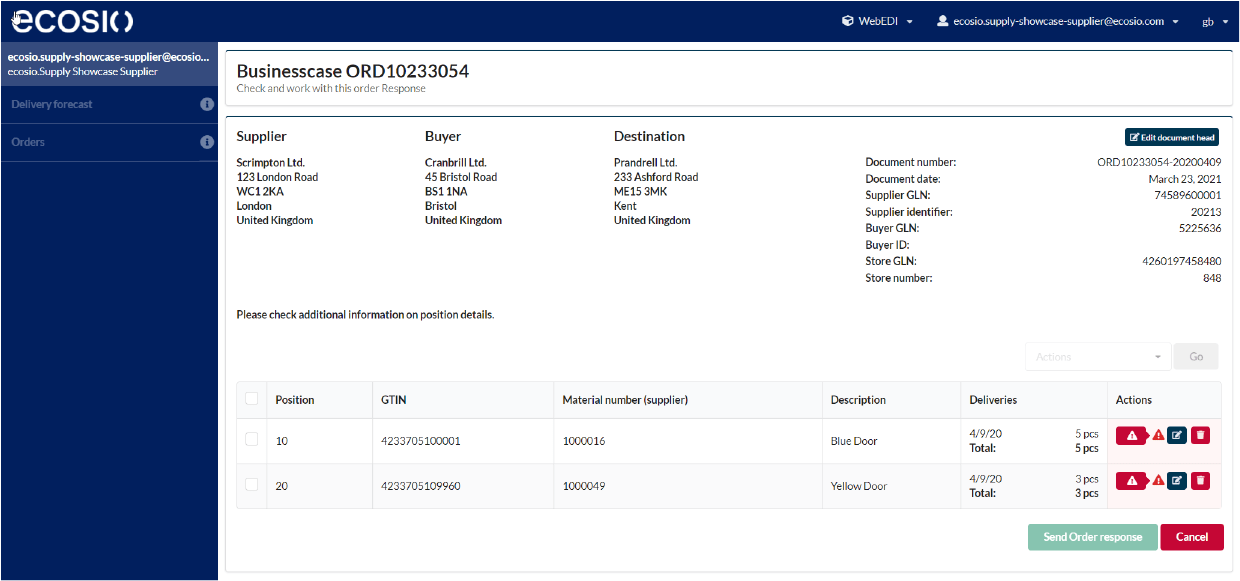 Once sent, order responses are visible at the bottom of the order detail page. Meanwhile an icon also appears on the order overview screen.
Want more information?
This article is based on our white paper "Can Web EDI Really Transform My Supply Chain?". In this comprehensive white paper we look in detail at what Web EDI is, the challenges of Web EDI systems, how partners are connected, and what makes a good system.
To download your copy, simply click here and submit your details.
Alternatively, if you have any questions about your particular situation or anything else EDI related, feel free to get in touch! We are always happy to help!