Ostensibly Web EDI solutions have only one key function – to allow smaller suppliers to trade automated, structured messages with you (with "you" here typically being a larger business partner).
However, underneath this overarching requirement are three key challenges that successful Web EDI solutions must overcome to provide maximum benefit to customers…
[Need a reminder of the basics of Web EDI first? Check out our video on this topic!]
1) Providing access to real-time information for everyone
In order for a partner connection to function at maximum efficiency, suppliers must have access to up-to-date purchase order information, including purchase order changes (e.g. resulting from a shift in demand from the end customer). Suppliers should also be given the opportunity to send electronic purchase order responses as well as dispatch advices and invoices. Compared to traditional paper-based exchange processes, such a system produces vastly improved data visibility for all parties.
With ecosio's solution purchase order changes are automatically reconciled with the original purchase order. Thus, the supplier always has the most recent information at hand.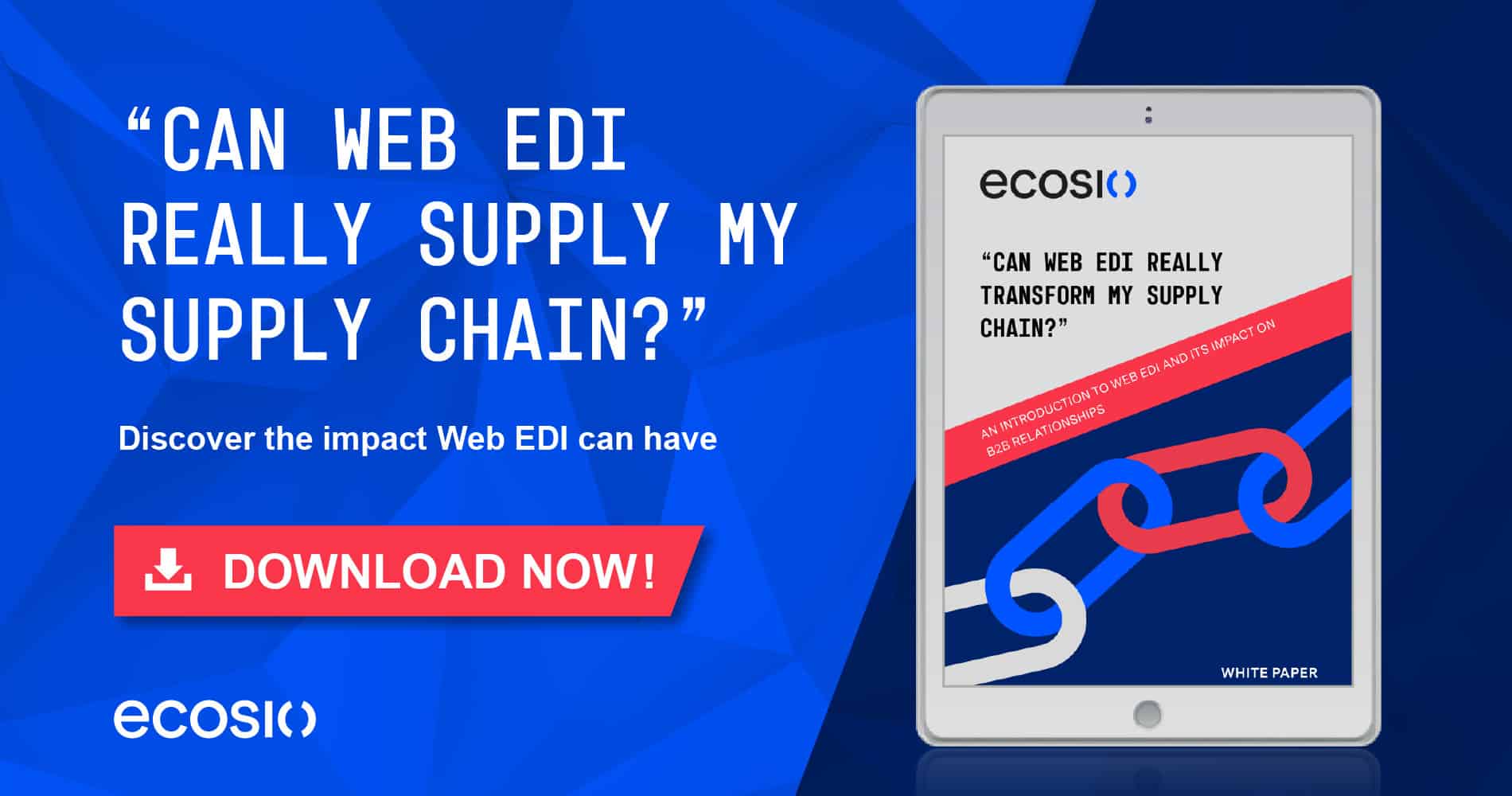 2) Minimising partner effort
Although most businesses' main concern when investing in a Web EDI solution is minimising manual effort on their own end, it is also important that the portal is as useful as possible for your partners, as this will result in better takeup.
By semi-automatically generating purchase order responses, dispatch advices and invoices where possible, the likelihood of errors being introduced through manual input is virtually eliminated.
ecosio's Web EDI solution aims to reuse as much information as possible from the original purchase order to maximise efficiency. Consequently, a purchase order response may be created based on the data from the underlying purchase order; a dispatch advice may be created from the data from the underlying purchase order or the purchase order response; and an invoice may be created from the underlying despatch advice (or from the purchase order if no despatch advice is being used). Meanwhile ecosio's sleek and clean user interface allows for easy data processing.
3) Flexibility of Web EDI solutions
The third key challenge for Web EDI solutions is flexibility. For example, if a supplier using your Web EDI wants to switch to classic EDI your solution should be able to cope. Similarly, if new document types (e.g. DELFOR for delivery forecasts) are required, integration of these should be possible.
You may also want to bolster your solution moving forward by adding Supplier Relationship Management (SRM) features such as audit management or supplier self-assessment modules. This is made much simpler if you have an EDI solution that can grow as your needs evolve.
ecosio's Web EDI solution is capable of being supplemented by many key SRM features – each of which can be purchased and combined in modular fashion as required. This means that no matter how much your requirements change over time, your solution can be adapted accordingly, ensuring it stays as efficient and valuable to your business as possible.
Want more information?
This article is taken from our white paper "Can Web EDI Really Transform My Supply Chain?". In this white paper we also explore the benefits of Web EDI, how partners are connected, what a good system includes, and the importance of considering future needs. For those interested in seeing what a Web EDI system looks like in practice, we also provide a breakdown of a typical action including screenshots.
To download your free copy, simply click here and enter your details.
Alternatively, if you have any questions about your particular situation or anything else EDI related, please do not hesitate to get in touch! We are always happy to help however we can.