Cut costs
At first sight, managing your own EDI may seem like the cheaper option compared to outsourcing to a cloud-based service, keeping up with the wide range of software, hardware and compliance necessities. But this can quickly become expensive.
Specialist software, dedicated staff, regular updates, maintenance and scaling, all add up and remain ongoing expenses, even once your system is up and running.
Outsourcing your EDI management eliminates many of these expenditures, allowing for lower-cost EDI deployment and operation than on-premise hosting.
Boost performance and agility
Purchased software solutions may offer some customization in terms of functionality, but they are predominantly one-size-fits-all and it's unlikely that any will suit your business precisely.
An outsourced cloud-based solution can be tailored to your needs and easily updated — with no additional effort on your part — to meet additional document types, partners and protocols as your business expands or shifts direction.
Additionally, unlike in-house hosting where you are restrained by the limits of your hardware and software, cloud-based solutions are flexible and perfect for higher traffic loads.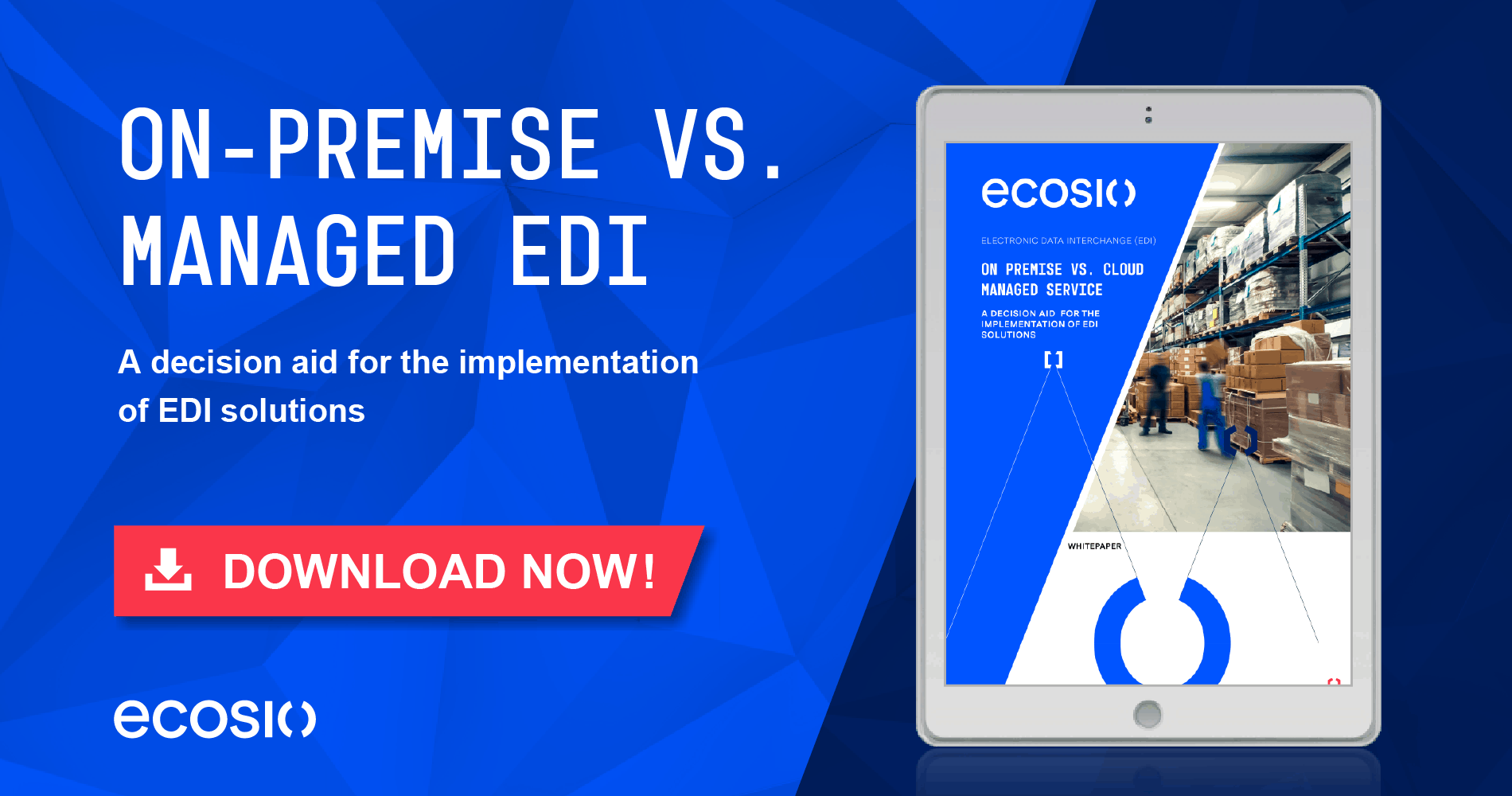 Our decision guide compares on-premise v cloud managed EDI services in detail
Free up your staff with cloud-based EDI
Operating EDI management systems takes significant specialist knowledge, which your IT team may not possess, and a large number of daily tasks to ensure optimal operation. This often means that you'll have to hire new IT members, pay for expensive training, and reduce the amount of time that your IT team spends on other essential, or more strategic, activities for your business.
Adopting a cloud-based EDI solution gives you immediate access to trained and highly competent experts, saving your business on staff costs and your IT team on valuable time and resources to work on other key projects.
For a detailed breakdown of how much work is done by different EDI solution types, download our infographic on this topic.
Stay safe and secure
While you may have some concerns about the security of cloud-based EDI systems, they are actually highly secure,featuring sophisticated encryption and monitoring. In fact, we monitor our EDI traffic 24/7, allowing one of our specialists to intervene immediately in the event of any sort of breach and disruption.
Even better, because your precious data is being stored on the cloud, it's also safe from unexpected catastrophes such as hardware and software failures. That means your business can still keep on track, even in the event of a crisis.
Get in touch
Despite all of these positive aspects, moving to a cloud-based EDI service is a big step for many businesses. In fact, over 70% of companies are still holding back from embracing cloud-first EDI providers and we understand the reasons. After all, you're handing over a huge aspect of your business into someone else's hands.
At Ecosio, we're here to help. We're experts at providing bespoke EDI solutions to businesses of all shapes and sizes. Talk to us today to find out how you can cut your overheads, unlock resources and empower your business for the future with an EDI technology partner you can trust to deliver.
Any questions?
Do you have questions or would you like to implement an EDI based process? Please contact us – we look forward to hearing from you!