With such a large number of EDI solution providers out there, all of whom offer slightly different products and services, assessing the value of different packages can be a long and complex process. From where the solution will be hosted, to what functionality is included in your package, there are a multitude of factors to consider when selecting the best EDI solution for your business.
One of the most important decisions that businesses must make at this crucial point is the extent to which they want their provider to manage their EDI solution (from set-up and operation to monitoring and error resolution). Unfortunately, however, the term 'managed EDI' is used to mean different things by different providers and is therefore frequently misunderstood by those selecting a solution. In turn, this can lead to huge expense further down the line as in-house teams struggle to run their new system efficiently in conjunction with the unexpectedly minimal support offered by their provider.
In order to help you to avoid experiencing such a situation, in this article we'll examine the full breadth of what providers mean when they talk about 'managed EDI', looking in detail at the areas where some providers' supposed management is often lacking.
First, though, let's look at the three options when it comes to cloud-based applications…
The three main cloud-based solution types
Cloud-based solutions generally fall into one of the following three categories: Infrastructure as a Service (IaaS), Platform as a Service (PaaS), or Software as a Service (SaaS).
1) IaaS
IaaS relieves users of the need to purchase the physical equipment (e.g. servers). IaaS solutions may also provide operating system, disk storage and messaging resources. By opting for an IaaS system rather than an in-house solution, businesses avoid the considerable upfront costs associated with on-premise setup and remove the dangers associated with a single point of failure system.
Although an IaaS model offers customers substantial control, users are also responsible for installing and running their own software systems and must conduct all necessary maintenance/upgrades themselves.
2) PaaS
PaaS models provide a framework for in-house developers, on which they can build custom applications as required. PaaS systems do not allow for the direct use of software via the internet, but instead provide access to a platform where the necessary software applications can be created.
3) SaaS
SaaS offers access to cloud-based software. This removes the need for applications to be built or for software to be downloaded and installed on every machine. This solution model is highly scalable and is much faster to set up than IaaS and PaaS, which both require substantial internal effort.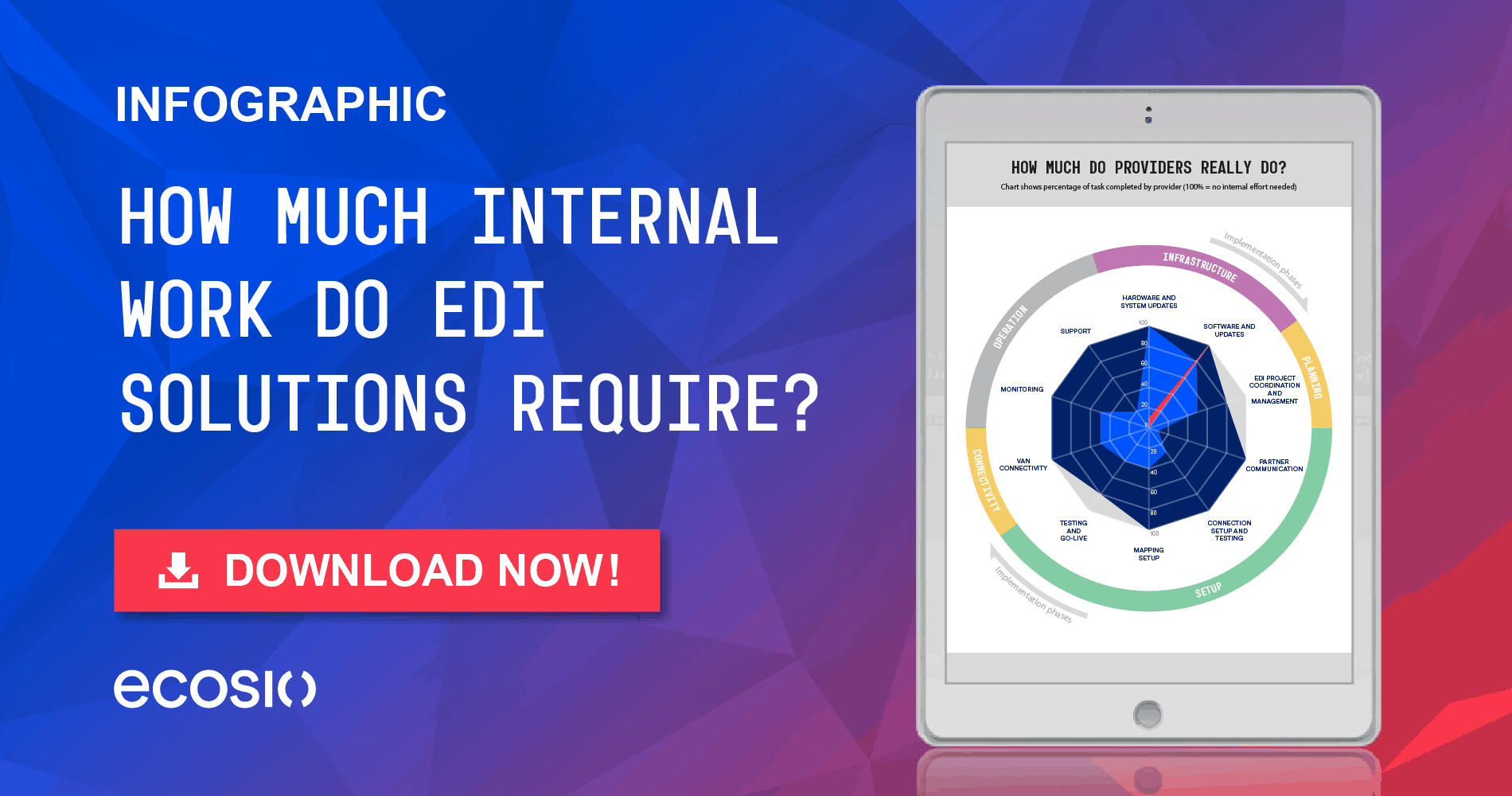 Managed platform or a managed EDI service?
Of these three cloud-based models, SaaS is the only one which does not require considerable internal work, with the EDI partner instead providing all the necessary IT elements for a successful EDI solution. As a result, IaaS and PaaS are referred to as managed platforms, while an SaaS solution is generally referred to as a managed service model.
However, as we shall explore, not all SaaS EDI solutions are born equal. As anyone familiar with EDI will know, there is much more to successful EDI than simply setting up the basic functionality. While many SaaS EDI solutions are described as 'managed', this often refers purely to the fact that they provide the elements necessary for EDI to be conducted via the cloud; significantly it does not necessarily mean that they offer any help when it comes to the key EDI areas where businesses experience the most issues, such as partner onboarding or message monitoring. Those solutions that offer valuable assistance regarding the setup, operation and maintenance of EDI systems in order to lighten the load on internal teams are more accurately referred to as fully managed EDI solutions.
While they may sound similar (and both differ from on-premise solutions), managed and fully managed EDI solutions are very different and should not be confused.
The table below illustrates the considerable differences between the three types of solution over the life cycle of an EDI project:

The three key areas where managed EDI differs from fully managed EDI
While, as the table above clearly illustrates, there are many ways in which managed and fully managed EDI solutions differ in terms of what the provider is able to do, there are three main differences that it is worth exploring in more detail…
1) Partner onboarding
Partner onboarding is arguably the area where there is the biggest disparity between fully managed EDI solutions and those that claim to offer managed EDI. As those who have onboarded EDI partners before will know, the process can take a frustratingly long time if a proactive approach is not taken.
…with 'managed EDI' solutions
Unfortunately, it is common for 'managed' solution providers to complete only the basic initial mapping and pass the responsibility for testing the connection to their customer. In this scenario, the purchaser of the EDI solution has to chase their partners for whatever data or documents are required. As well as being a time-consuming exercise, when issues are discovered that require mapping to be adjusted, the solution purchaser then has to act as a middleman between their partner and their EDI solution provider. In turn, this further increases the time of the project and the likelihood of errors and oversights occurring.
It is important during this phase to test all possible message exchanges, including all variations of a document (e.g. invoices with and without VAT). However, as many supply chain organisations are unaware of what thorough testing involves, their testing is often far from comprehensive. Having received no help during the testing phase from their 'managed' solution provider, businesses in this situation are then likely to experience many errors following go-live. Depending on the number of partners and exchanges involved, this can be extremely expensive to fix!
…with fully managed EDI solutions
With a fully managed EDI solution such as ecosio's, virtually all of the internal effort is removed. These solutions will provide businesses with a dedicated integration engineer whose job it is to chase down information from partners and ensure that testing is conducted as thoroughly as possible, preventing issues further down the line. Not only does this have a dramatic impact on the time in which partner onboardings can be completed, as EDI integration engineers have a wealth of testing experience, clients can be sure that their connections will be extremely reliable before going live.
For a comprehensive rundown of the steps involved in supplier EDI onboarding, our article on this can be found here.
2) Message monitoring
While establishing connections may be the most technical aspect of implementing an EDI solution, effort is also required to ensure the solution is operating correctly from day to day.
…with 'managed EDI' solutions
With the average 'managed' EDI solution day-to-day message monitoring is handled exclusively by the client. This involves regular checking to ensure no messages are stuck and that there are no errors with incoming or outgoing documents.
…with fully managed EDI solutions
With a fully managed EDI solution the pressure of checking message statuses and delivery / error notifications is removed. Instead, your provider will oversee the smooth running of the system, which should include setting up automated alerts and flags for different occurrences.
Further, providers offering a comprehensive service may also be able to offer clients a depth of data visibility simply not possible in less complete solutions. For example, as it is directly integrated into clients' systems via API, ecosio's Integration Hub provides users with unparallelled data visibility, allowing users to see information on every stage of message exchange. What's more, this information is all visible within their existing ERP user interface!
3) Support + error handling
No matter how much care is taken during system setup to avoid errors, the nebulous nature of EDI standards, formats and protocols is such that they are inevitable from time to time. With this in mind, and given the hugely detrimental impact errors can have on profits and partner relationships, it is important to have reliable processes in place to deal with errors when they occur. This includes not only error identification, but also resolution.
…with 'managed EDI' solutions
With most 'managed' EDI services, the provider's error handling is reactive at best. Generally the responsibility for identifying errors lies solely with the solution purchaser. It is then the purchaser's responsibility to notify their provider of the issue and chase until it has been resolved.
As the level of support offered by 'managed' solution providers varies, however, this can be a frustrating process. Despite the business critical nature of EDI, customers often find it difficult to get through to someone with sufficient knowledge of the situation to help them resolve the issue. In some cases the 'support' offered by providers is simply a generic support email address, with customers left in the dark as to when they can expect to hear back.
…with fully managed EDI solutions
With fully managed solutions error handling and support is proactive, not reactive. A good solution should be able to spot errors quickly and instantly start the process of resolving them. Ideally this process should be so smooth that errors can be resolved before they are even noticed by anyone else.
For example, if an incoming order fails, there is no need for the client to spot this and notify their provider. Instead, as they are responsible for monitoring message flow, the provider should spot this and contact the sender directly to ensure the necessary amendments are made to enable the message to be sent successfully. Nothing is required from the client!
When it comes to support, fully managed solutions also offer far higher quality. Clients should have a dedicated integration engineer who they can contact who understands their business and knows their partners, and is therefore well positioned to resolve any issues quickly.
Conclusion
As you should now recognise, managed and fully managed EDI are by no means the same. Whilst not all managed solutions offer the same exact services and some offer more than others, none can compete with fully managed solutions in terms of the extent to which they relieve pressure on internal teams.
Unfortunately, as providers often veil the limited nature of the service they provide, many businesses find themselves stuck in contracts they can't get out of with solutions that require more resources and expertise to maintain than are available. Given that EDI contracts are usually fairly long, this commonly results in either the business in question having to pay over the odds for additional support from their provider or external consultants, or struggling to handle complicated processes in-house.
To avoid these situations it is extremely important to select a provider whose services fit your requirements. With a better understanding of the differences between managed and fully managed EDI, hopefully you are now more aware of what questions to ask prospective providers to establish the extent of their offering and make the right choice.
Looking to experience the benefits of EDI with minimal internal effort?
Efficient EDI is essential for ambitious supply chain organisations. However, integrating, running and maintaining a successful solution takes time and expertise. As these are commodities that few supply chain organisations have at their disposal, at ecosio we offer a fully managed service.
Over the years we've connected thousands of companies and understand exactly what effective EDI involves. With a single connection to our powerful Integration Hub, our partners benefit from unparallelled end-to-end data visibility. Meanwhile, our experienced integration engineers and EDI experts oversee every connection so you don't have to.
In short, we take care of all your EDI needs, from mapping and testing to message monitoring and error resolution… and everything in between, leaving you to concentrate on whatever it is your business does best.
For more information, contact us today!