For businesses with large internal teams and a great deal of electronic data interchange (EDI) expertise, handling EDI in-house may well constitute a logical decision. Realistically, however, this solution only makes sense for very few businesses.
So how do you know if this approach is right for you? The key to answering this lies in asking the right questions and understanding what handling EDI in-house really involves.
Let's start by looking at some crucial questions anyone considering handling EDI in-house should ask before making a decision…
Four key questions to ask
1 – Will managing EDI in-house actually save me money?
Ironically many CIOs invest in local EDI converter software (as opposed to a fully externally-managed EDI solution) in an attempt to save money. However, when the time and resource costs relating to document mapping, message monitoring, partner communication, update installation, error handling etc. are factored in, in-house solutions generally work out to be far more expensive than fully managed solutions.
2 – Does my IT team have the necessary know-how?
Unfortunately EDI expertise is rare. As a result, EDI tasks are often assigned to individuals for whom EDI is not their main area of expertise. What's more these individuals also typically have to juggle EDI tasks with their other responsibilities. With time, such a situation can lead to a deterioration in efficiency.
3 – Can my team cope with the workload?
Even if your team IS very experienced in EDI, changing requirements can still result in workloads increasing rapidly, which reduces the speed of potential growth and multiplies the likelihood of errors occurring.
4 – Could staff be adding more value elsewhere?
By having to focus on time-intensive EDI tasks such as mapping and error resolution, internal teams are also prevented from focussing on more value-adding activities. Moreover, with internal solutions the responsibility for successful message exchange lies completely with the company in question.
What does handling EDI in-house actually involve?
In order to be able to answer some of the above questions, it is first necessary to understand exactly what is required of internal teams to operate an in-house system…
With an in-house solution, responsibility for the continued success and operation of EDI lies entirely with internal teams (as pictured below).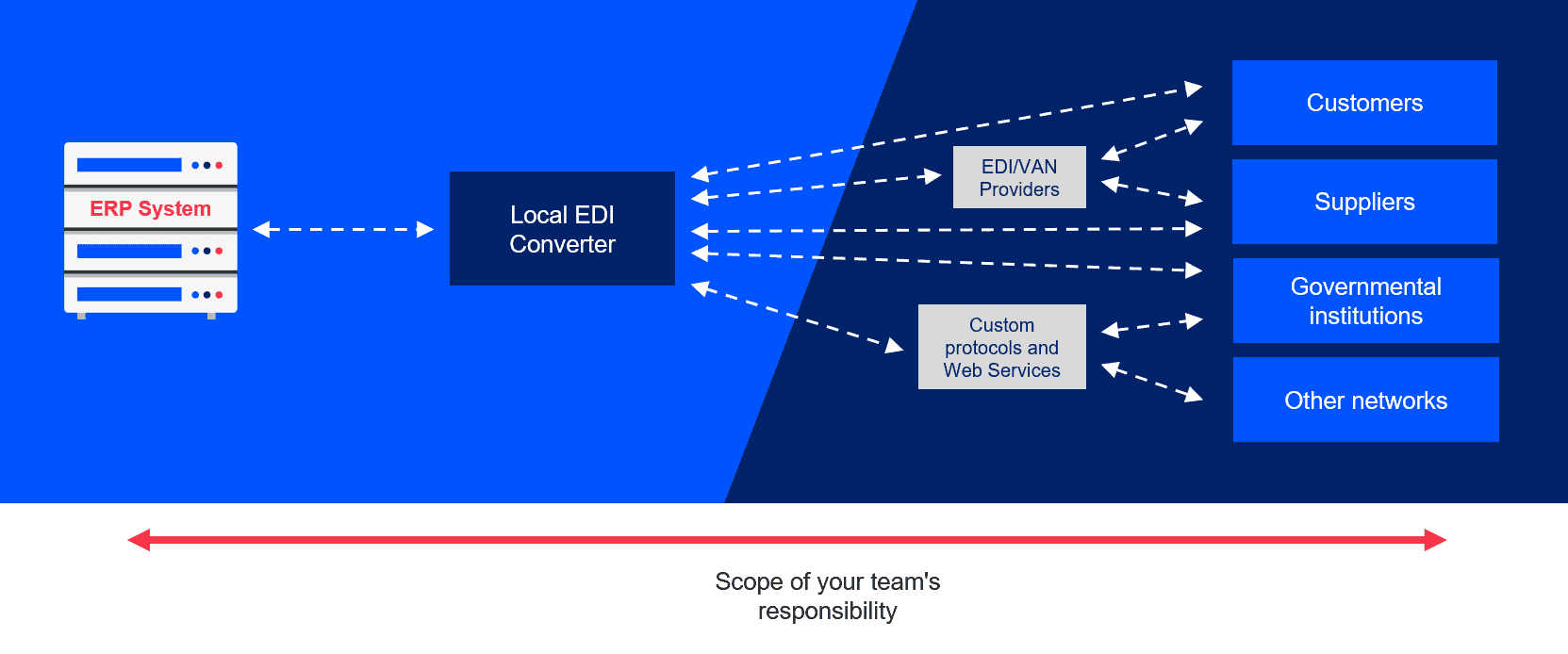 The main tasks
From a coarse-grained perspective, the main EDI tasks when handling EDI in-house are:
Handling data correctly between the ERP system and the local EDI converter. In the case of SAP ERP systems for instance this means ensuring correct IDoc processing, both inbound and outbound.
Setting up mappings between your in-house ERP format and your business partners' formats.
Operating the local EDI converter. EDI connections must be set up and maintained and the entire onboarding/maintenance communication with the various business partners and their EDI/VAN providers must be handled. Exchanged EDI data must also be monitored 24/7.
Chasing and resolving errors with your business partners and their EDI or VAN providers.
Don't forget redundancy!
Another key aspect of handling such business-critical and data-heavy IT processes in-house is safeguarding your business against system failure and data loss.
Worryingly most organisations handling EDI in-house neglect to invest in redundant servers to back up message exchange. By doing so businesses risk severe financial losses should total system failure occur, as such an event can impact an entire supply chain.
Of course, when managing EDI in-house, maintaining redundant servers does come with additional costs, however.
Have you considered fully managed EDI?
Because of the numerous complications associated with running EDI in-house, more and more businesses are turning to fully managed EDI, as it offers a simpler and more cost-effective solution.
Unlike in-house scenarios, with fully managed EDI the responsibility of internal teams is limited to the ERP system only. As shown in the image below (and in even more detail in our helpful infographic comparing EDI solution types), all other EDI tasks are taken over by the fully managed EDI service provider. From connecting partners and resolving errors, to keeping on track of new regulations and installing updates, your provider takes care of everything, leaving existing teams free to focus on more value adding activities.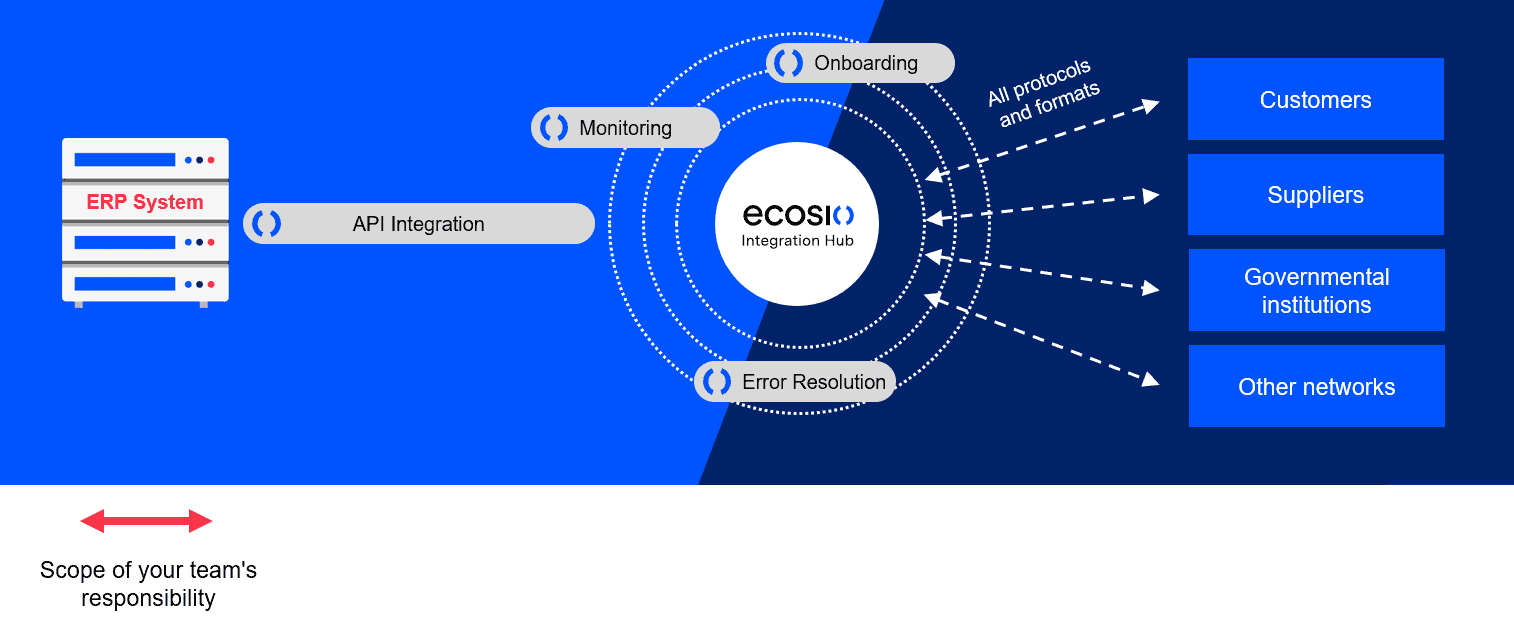 Fully managed EDI also offers flexibility and scalability, as your solution can be extended and adapted as necessary if and when requirements change.
Although not offered by every provider, the best EDI solutions (such as ecosio's) also offer deep integration in your ERP system via an API connection. This connection provides full visibility of all processes, directly in your ERP's user interface.
For a detailed comparison of what different EDI providers actually offer, please see our helpful infographic on this subject…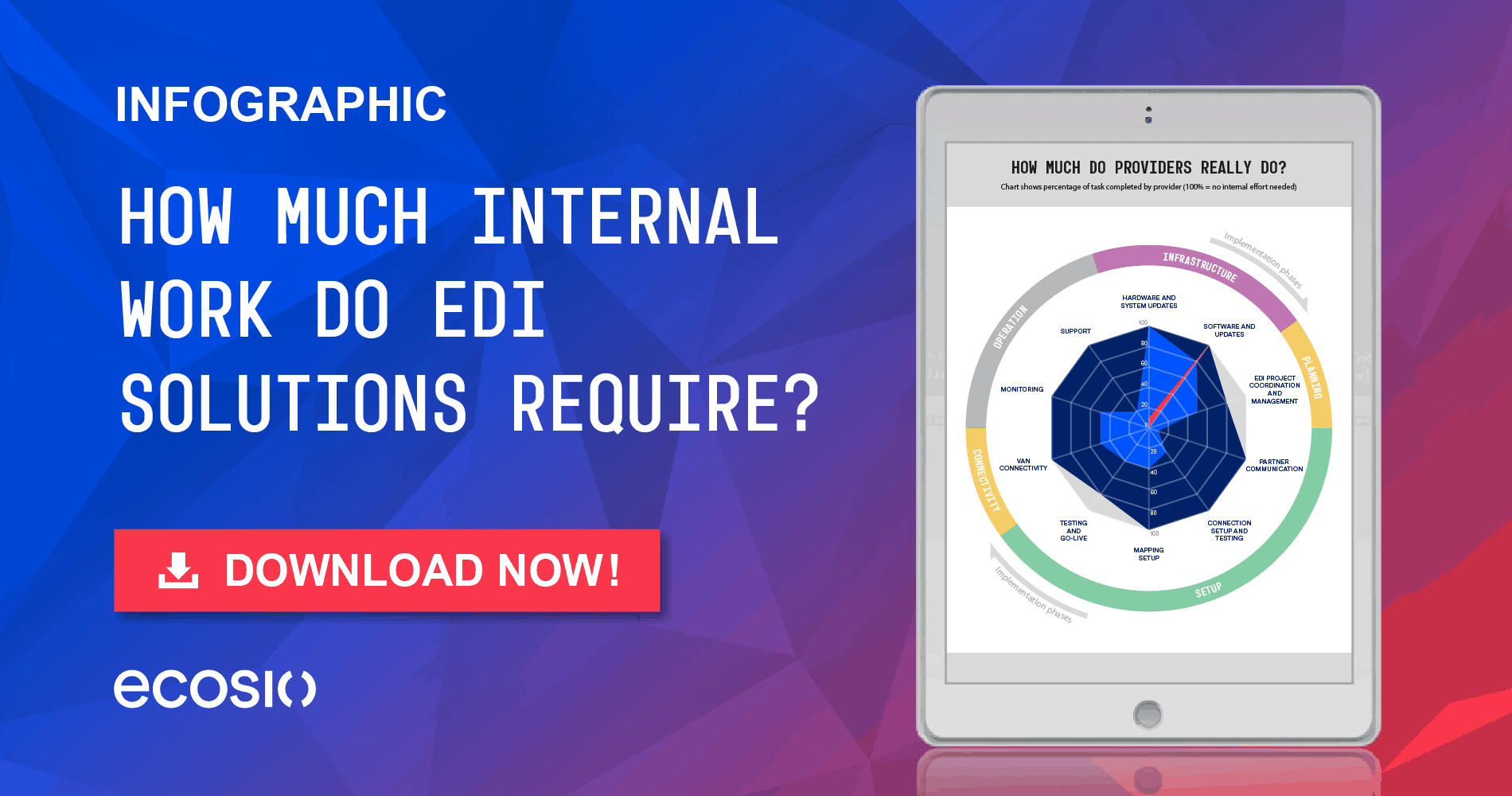 Want to maintain your local converter?
As we have already touched on, some companies do have specialised internal teams that are capable of operating and maintaining large scale EDI solutions. Nevertheless, the management of the hundreds of different EDI connections via a local converter solution in such cases still remains a huge challenge. In such cases a fully managed EDI service provider can help by taking over all routing tasks – the mappings still remain on the side of the local EDI converter.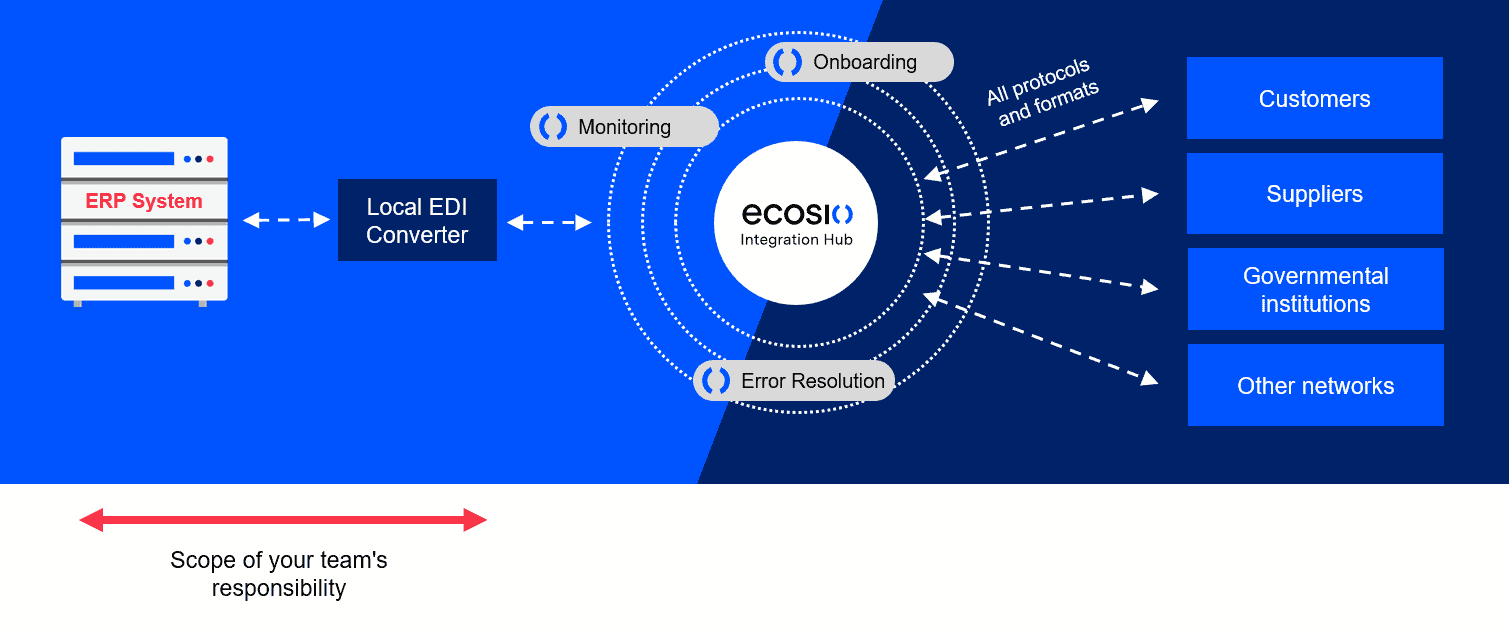 Want more information on what EDI solution suits your business best?
At ecosio we have handled EDI integrations for thousands of businesses across all industries and in a wide range of different ERP systems. As a result, we know exactly what works best when it comes to establishing reliable and future-proof EDI systems.
If you would like to discuss your particular situation with one of our EDI experts (with no obligation), get in touch today! We are more than happy to help you take the right next step.
Alternatively, check out our many helpful resources for more detailed information on everything from fully managed EDI to EDI integration in specific ERP systems.