Despite having been based mainly in Northern England until the early 2000s, Morissons stores are now a familiar sight across the UK. With over 11 million weekly customers and a market share of around 10% Morissons has the potential to provide a significant boost to any supplier's business. As they require partners to be able to exchange key business documents via electronic data exchange (EDI), however, prospective trading partners will need EDI capability to start a relationship. In this article we explore what setting up an EDI connection involves.
Morrisons at a glance
Over 120 years old (founded in 1899)

Bought Safeway in 2004 to boost presence in South England, Scotland and Wales

Annual revenue of around £17 billion

Around 500 large UK stores
Morissons EDI – Where to start?
There are basically three key things you need to know to begin EDI with Morissons: what their supplier onboarding process is, which exchange protocols they use and their preferred EDI document types
What is Morrisons' onboarding process?
A direct contact with Morrisons' EDI team is established. You will also receive access to a testing portal.




A direct connection to Morissons via AS2 communication protocol is set up.

Then comes the test phase – referred to by Morissons as "Supplier Onboarding Verification". This phase involves sending and receiving EDIFACT messages to verify functionality.
The so-called "live-proving" phase comes last. During this phase suppliers need to confirm they will be able to receive and process orders in their live system as well as providing the turnaround messages.
What are Morrisons' document exchange requirements?
As illustrated in the image below (which can be expanded by clicking on it), Morrisons trade the following documents via EDI: purchase orders, purchase order amendments, invoices, credit/debit memos and advanced shipment notifications.
Morrisons EDI requirements have also recently changed. Although they previously required partners to send documents in TRADACOMS formats, they are now using the EDIFACT D96A standard. ecosio is able to connect to Morrisons old TRADACOMS interface or their new EDIFACT interface.


Click to enlarge
* for "fresh" warehouses
Setting up an exchange channel to trade with Morissons
Setting up an exchange channel (utilising the required EDI protocol) is an essential step of establishing an EDI connection with Morrisons.
As Morrisons' EDI provider is OpenText, suppliers will need to connect to OpenText's TRADANET platform before being able to exchange EDI with Morissons. Because ecosio's Integration Hub already offers integration with TRADANET, suppliers can satisfy all requirements with one connection to ecosio. Consequently, no connection to OpenText's TRADANET is necessary for suppliers.
How long will it take?
This is a tough question to answer accurately, as it will be different for each supplier depending on their unique routing and mapping needs and the means by which they choose to establish a connection (e.g. in-house or via a managed EDI provider).
In order to ensure a fast, efficient and secure connection it is advisable to use a managed EDI provider. The best EDI solution providers will not only assign a specific project manager to your business to the speed and success of onboarding, but may also offer round-the-clock support and monitoring.
The basic process is shown in the diagram below.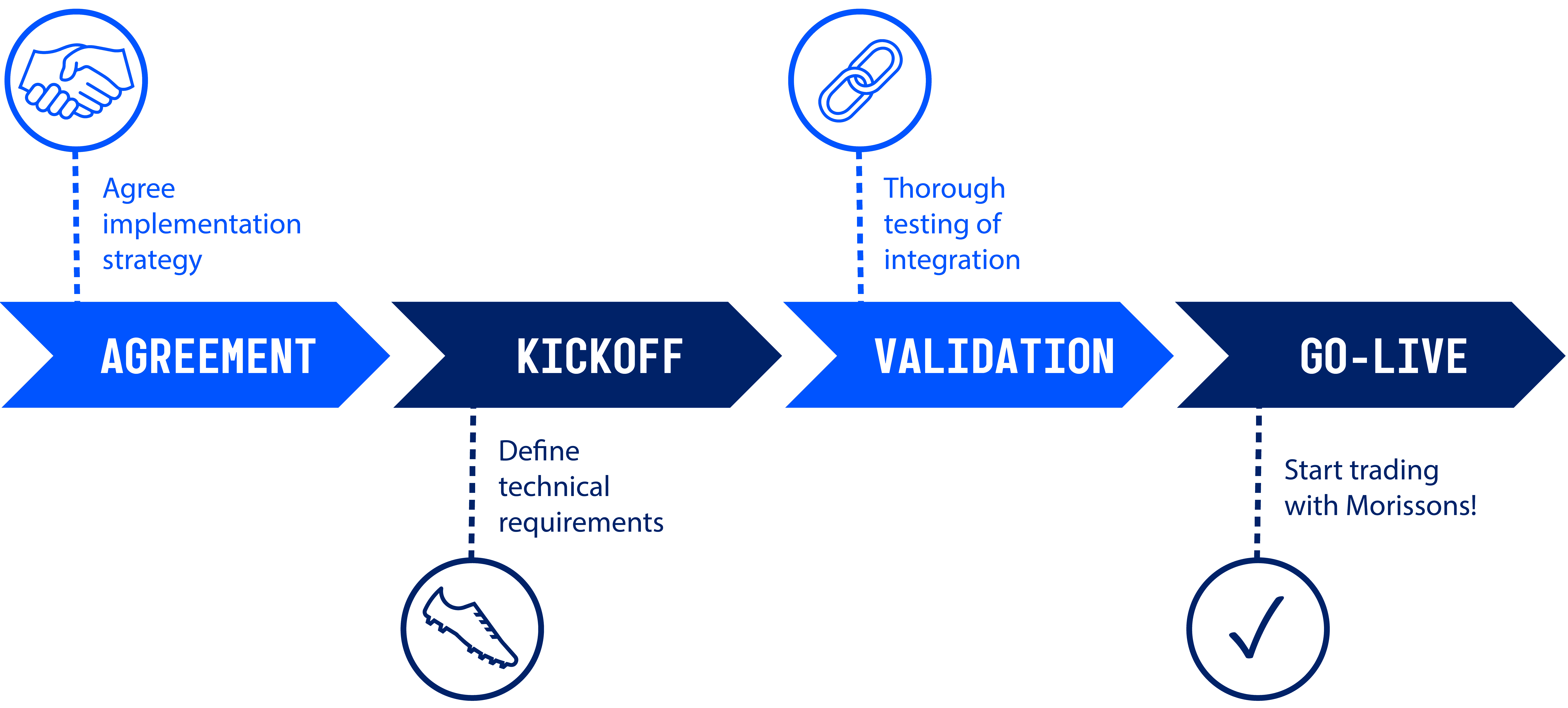 How ecosio can help
ecosio will take the stress out of doing EDI with your partner network.
With our team of EDI experts on your side there's no need to worry about any document exchange issues. Our flexible and affordable managed solutions will enable you to concentrate on growing your business, safe in the knowledge that key supply chain processes are functioning at optimum level.
Benefits at a glance
All key B2B document exchange requirements met via one platform

Zero EDI expertise required

Translation to all document formats and over all exchange protocols

Swift partner onboarding

Unparalleled supply chain data visibility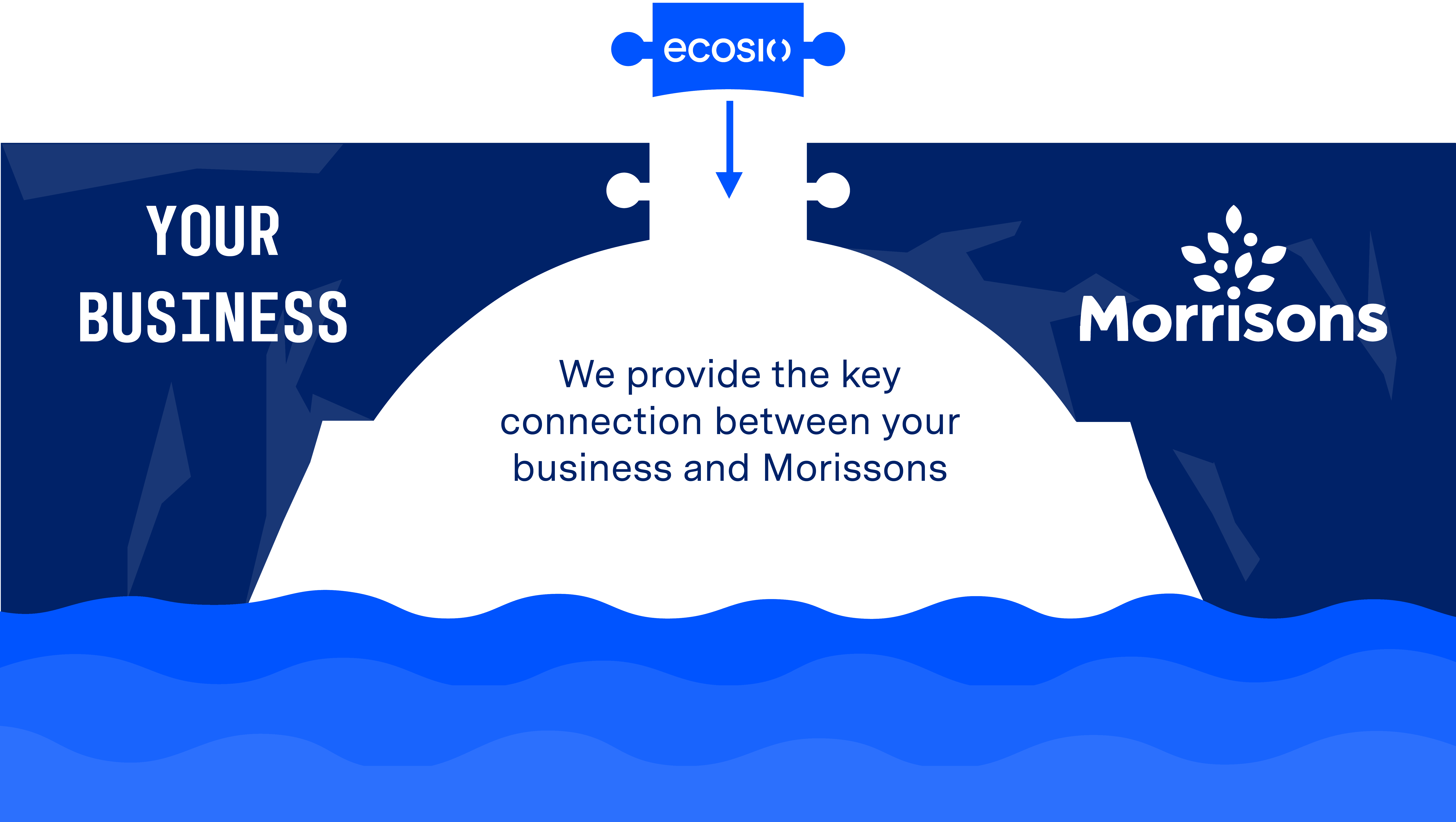 Get in touch!
Want help or advice on setting up an EDI connection to Morissons? Feel free to contact us, we'd love to help!
Please also see our other articles for the EDI requirements of similar retailers including ASDA, Boots, Iceland, M&S, Ocado, Sainsbury's, Tesco and Waitrose.