Marks & Spencer's size makes it a potentially key trading partner for suppliers. However, for suppliers without in-house electronic data interchange (EDI) expertise, setting up EDI with M&S can be a confusing process. This article provides a simple summary of the steps involved in establishing an EDI connection between M&S and your business.
M&S at a glance
For well over a century Marks & Spencer has been a staple of the UK high street. As well as being the first British retailer to make a pre-tax profit exceeding £1 billion in the late 90s, in 2007 M&S was one of the first large retailers to introduce a major sustainability plan. Despite a recent shift in the concentration of their business away from clothing and towards food, M&S remains a giant of the retail world with over 1,400 stores today.
Setting up an EDI connection with Marks & Spencer as a supplier
Suppliers looking to start electronic data interchange (EDI) with Marks & Spencer need to consider the following three important aspects: the onboarding process, document formats and exchange protocols…
M&S supplier onboarding process

Marks & Spencer's EDI team will work with your EDI service provider to help you set up the EDI connection.

After the necessary EDI document mappings have been set up on your side, Marks & Spencer will provide you with EDI test orders. You will then need to send back the necessary documents, e.g. order responses and invoices. Marks & Spencer's onboarding team will also execute various test cases, covering the different aspects of your business relationship to Marks & Spencer, e.g., different types of deliveries.




After the test phase has been completed successfully, your EDI process will be put into production and your company will start to exchange EDI messages with Marks & Spencer.
What EDI standards and document types does M&S use?
The below table shows the different document types and formats used by M&S: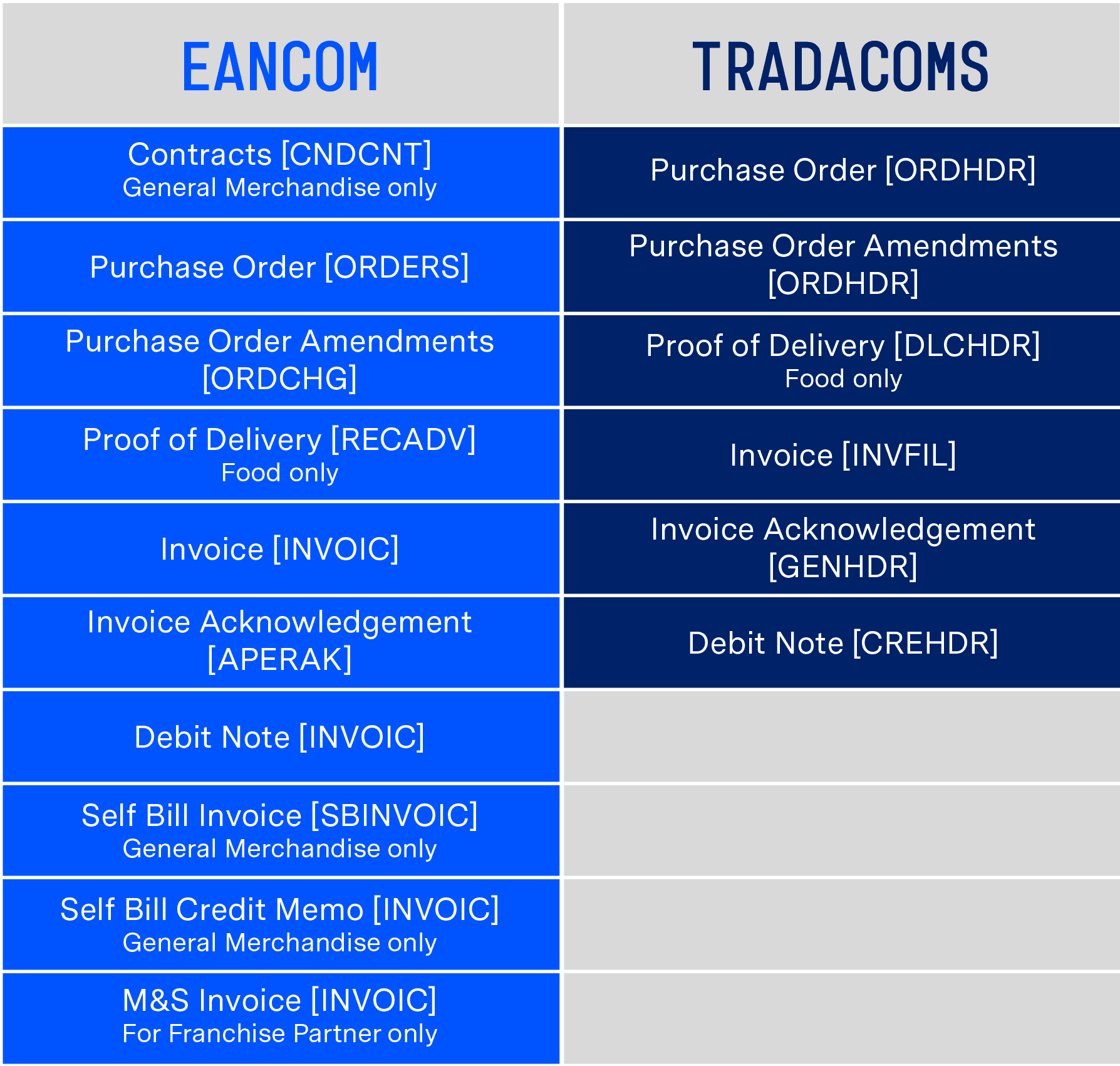 Setting up the connection with M&S (exchange protocols)
To allow for an exchange of EDI documents with Marks & Spencer, an exchange channel using an EDI protocol must be set up.
As M&S uses OpenText as its EDI provider, prospective suppliers require a connection to OpenText Business Network to be able to exchange messages. ecosio's Integration Hub already offers integration with OpenText Business Network, meaning a connection from your ERP system to our Integration Hub would fulfil all exchange protocol requirements.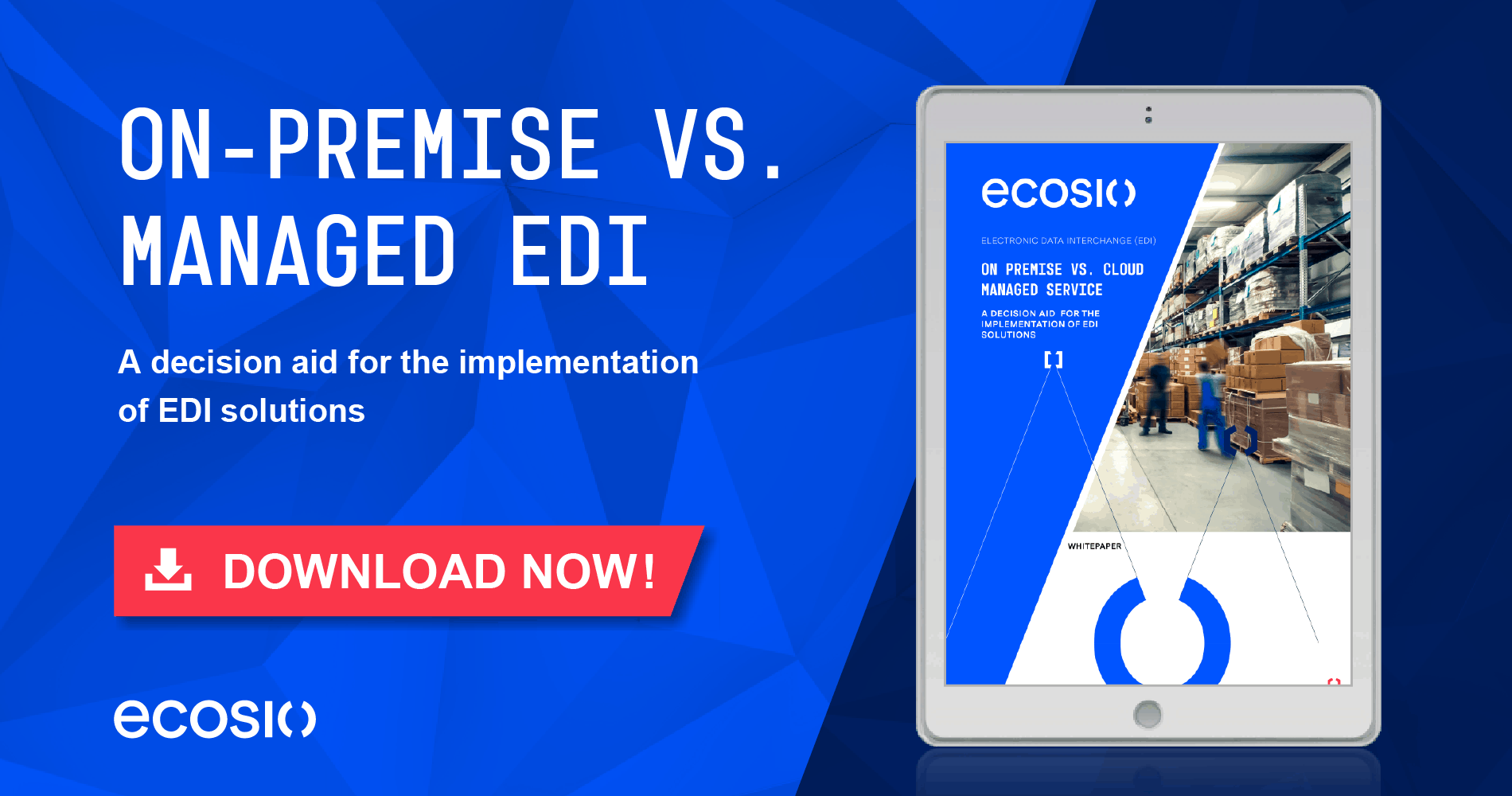 Our decision guide compares on-premise v cloud managed EDI services in detail
Connection timeline
The time needed to complete a connection to Marks & Spencer will depend entirely on your individual situation and the amount and complexity of mapping and routing required. The fastest and most efficient way to establish a connection with M&S is to use an experienced B2B integration partner who is able to provide a dedicated project manager to oversee the connection from first contact to go-live (and even handle monitoring afterwards).
Below is a view of the steps involved in setting up your connection to trade with M&S.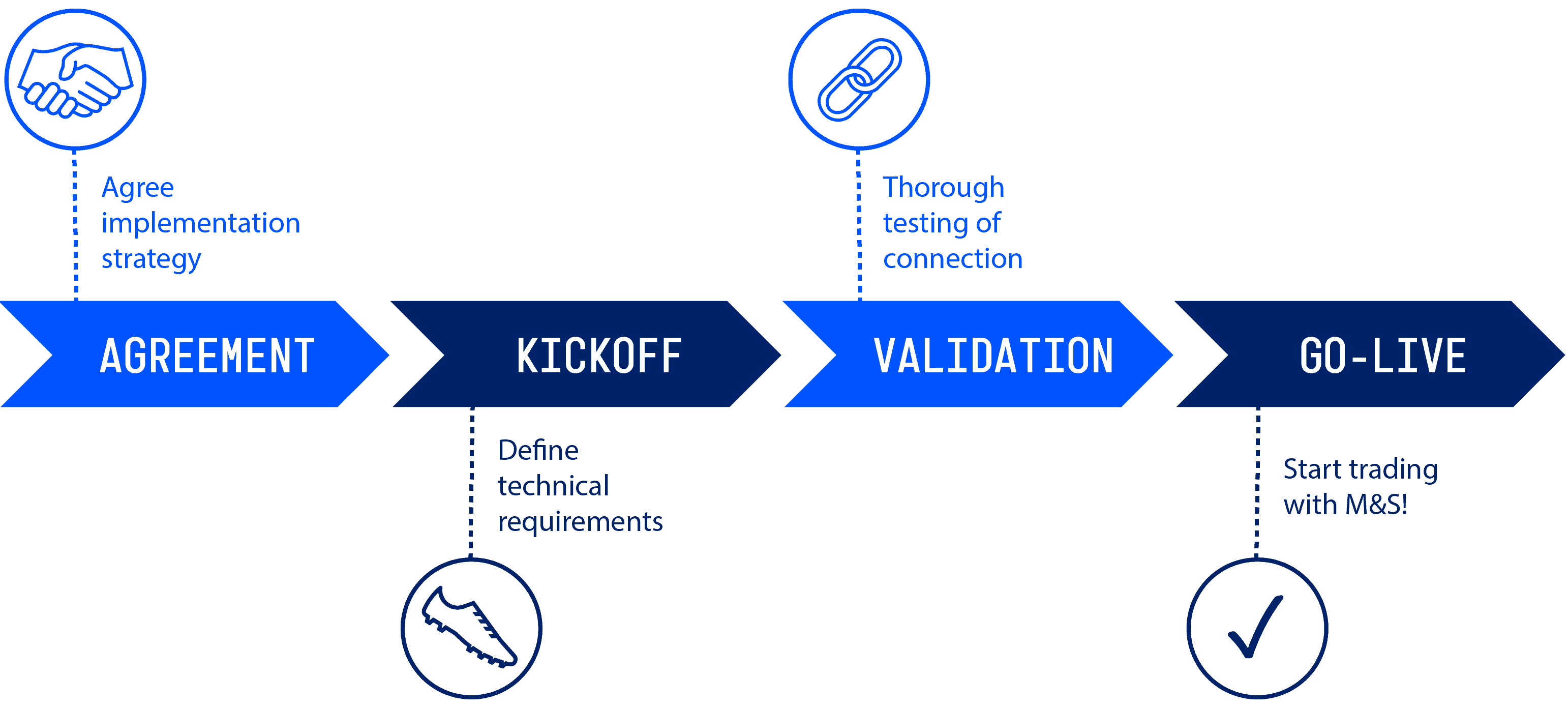 How ecosio can help
ecosio will ensure that setting up an EDI connection with M&S is a fast and hassle-free process.
As a managed service we support all commonly used, secure EDI protocols and EDI formats – there is no need to worry about document types or formats. With a connection to our Integration Hub messages will automatically be exchanged with M&S over the correct exchange protocol and received by both parties in the necessary format.
Unlike managed connections offered by other providers, ecosio's solution is embedded directly in your ERP system as a native feature. Through the integration of our API in your ERP system, EDI processes are seamlessly integrated into your system's user interface, enabling end-to-end monitoring.
Benefits at a glance
All your EDI requirements met via a central connection to ecosio's Integration Hub

No special EDI know-how needed within your business

All commonly used EDI protocols and EDI formats supported

Worry-free EDI partner connection from first contact to monitoring

Direct integration in your ERP system, so the delivery status of messages can be viewed via your ERP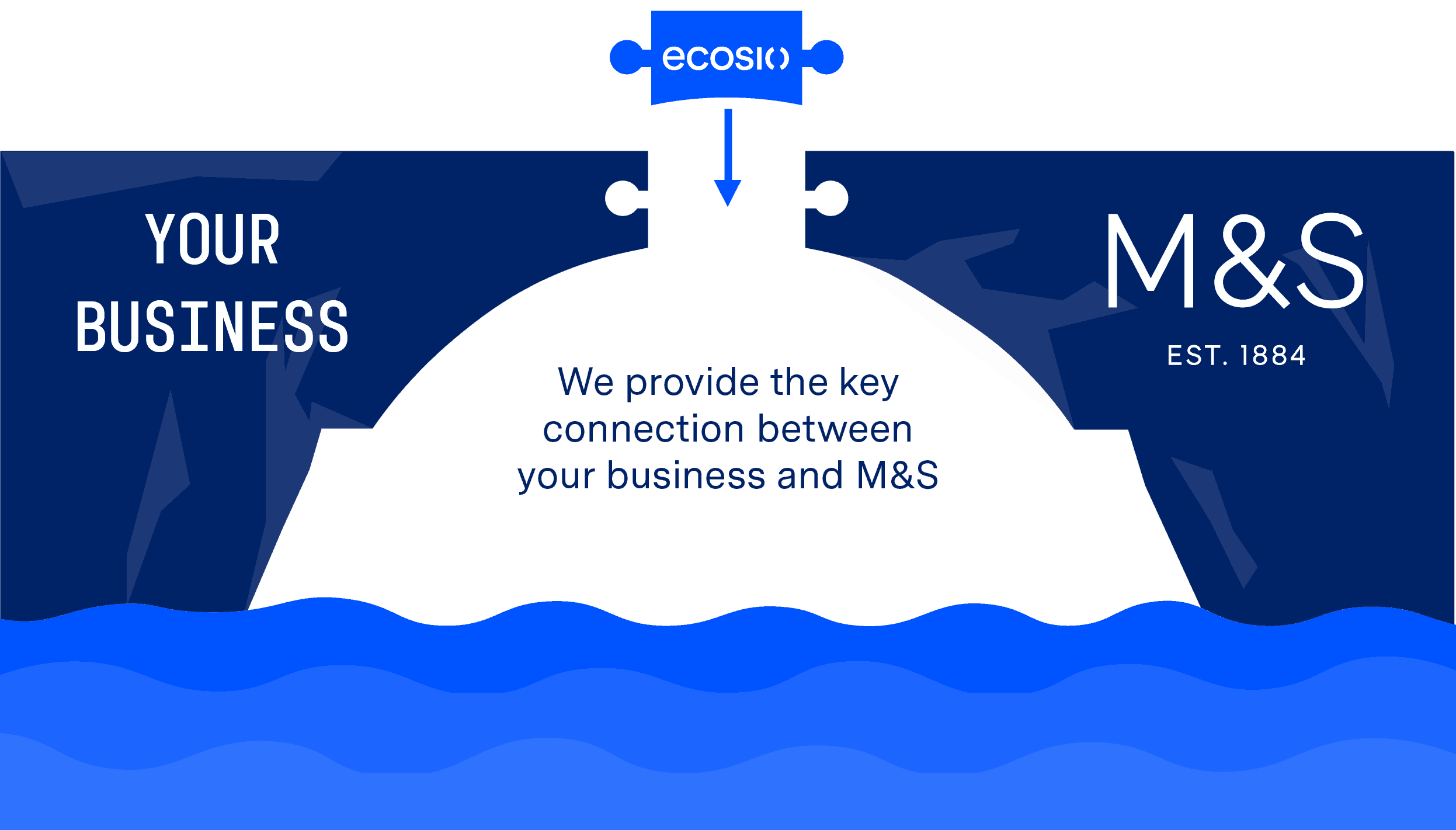 Do you have any questions?
Still have questions about setting up an EDI connection with Marks & Spencer? Feel free to contact us, we'd love to help!