With a shop on virtually every UK high street and a wide product range, Boots represents a very attractive prospect for potential suppliers. Given the size of their supply chain, however, Boots requires all partners to be able to exchange business documents via electronic data interchange (EDI). For those lacking experience with EDI, however, understanding how to start EDI with Boots can be hard. This article aims to break the process down and show exactly what needs to be done for you to become a trading partner.
Boots at a glance
Founded in 1849, Boots recently celebrated its 170 year anniversary

The UK's largest chain of pharmacies

Merged with Walgreens in late 2014

Presence in Asia and the West Indies

Over 2,500 stores in the UK and Ireland
EDI with Boots
Before being able to trade with Boots via EDI, you will first need to understand their partner onboarding process and know the exchange protocols and document types they use…
Boots supplier onboarding process
A connection is setup through a VAN mailbox or directly through Boots' EDI providers.

The connection is tested by sending generic files between the supplier and Boots.

Test documents for all relevant message types are exchanged and verified via the connection.

Before full go-live EDI orders will be exchanged in parallel with those sent via email to ensure everything is working correctly.

Following successful testing your connection will go live. The exact date will be agreed between you and your Boots contact.
What EDI standards and document types do Boots use?
As illustrated below, Boots requires partners to be able to exchange orders, advanced shipping notifications, invoices, credit notes and remittance advice messages via EANCOM and TRADACOM standards.
Suppliers should be aware that there is a difference in the mappings required for retail and pharmacy mappings, whilst credit notes are only necessary for pharmacy suppliers.


Click to enlarge
Setting up an EDI connection to Boots
In order to exchange commerce critical data with Boots via EDI an exchange channel using the necessary EDI protocol first needs to be set up.
Boots uses OpenText as its EDI provider, meaning a connection to their platform TRADANET must be set up in order for you to exchange EDI messages with Boots. ecosio already offers integration with TRADANET, meaning a single connection from your ERP system to ecosio's Integration Hub will fulfil all exchange protocol requirements.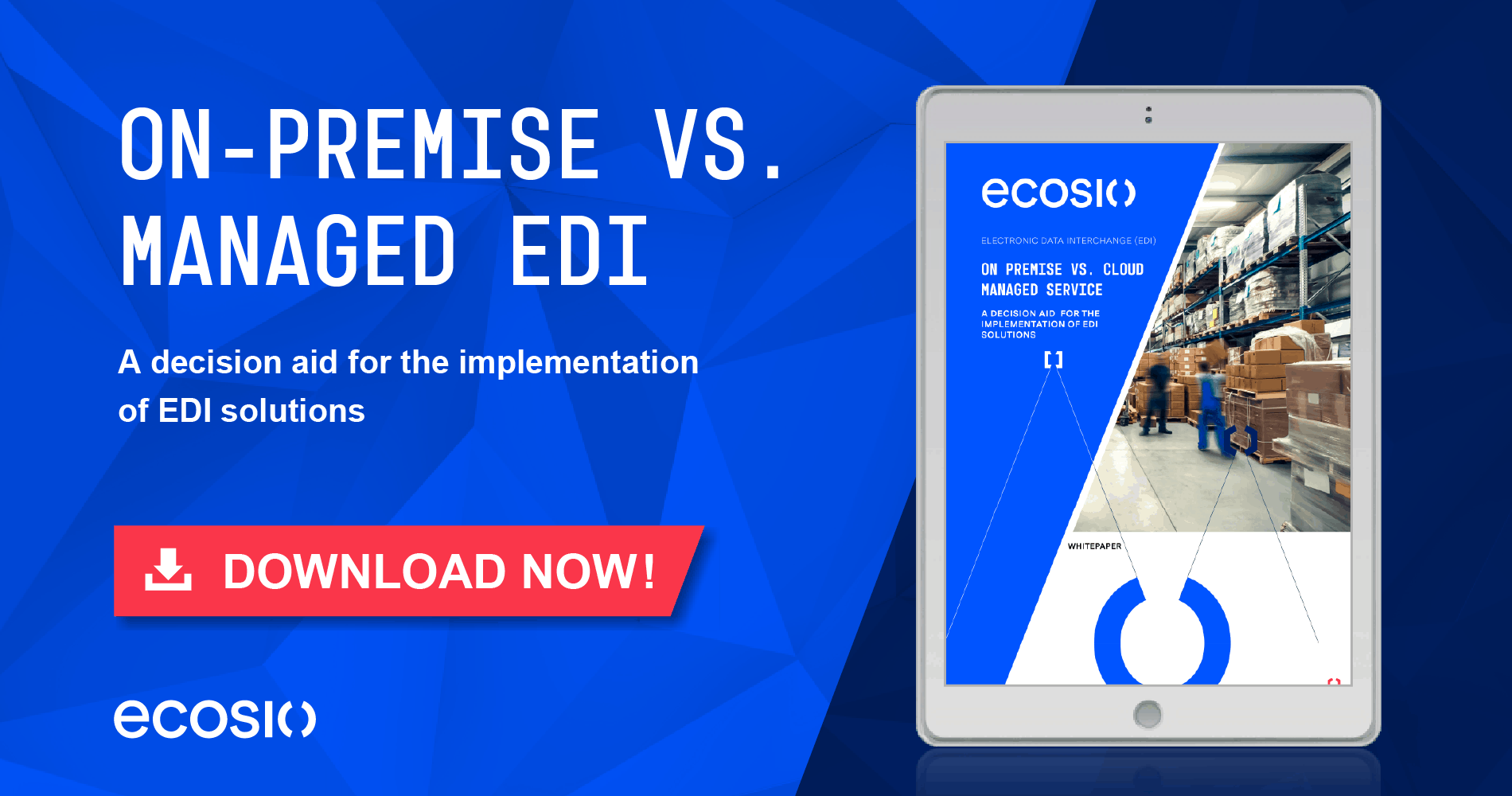 Our decision guide compares on-premise v cloud managed EDI services in detail
Connection timeline
Whilst Boots aims for all connections to go live within two months, they acknowledge that this process may take longer if issues are encountered during testing.
Generally speaking it is hard to predict exactly how long establishing a secure connection will take, as every business is different and will have different routing and mapping requirements.
Undoubtedly the fastest way to connect to Boots is to enlist the help of a managed EDI provider, and ideally one that is able to provide a dedicated project manager to oversee the onboarding from start to go-live. A good managed EDI service should also include 24/7 monitoring to ensure any errors are caught and resolved as soon as possible.
Below is a simple diagram showing the connection process.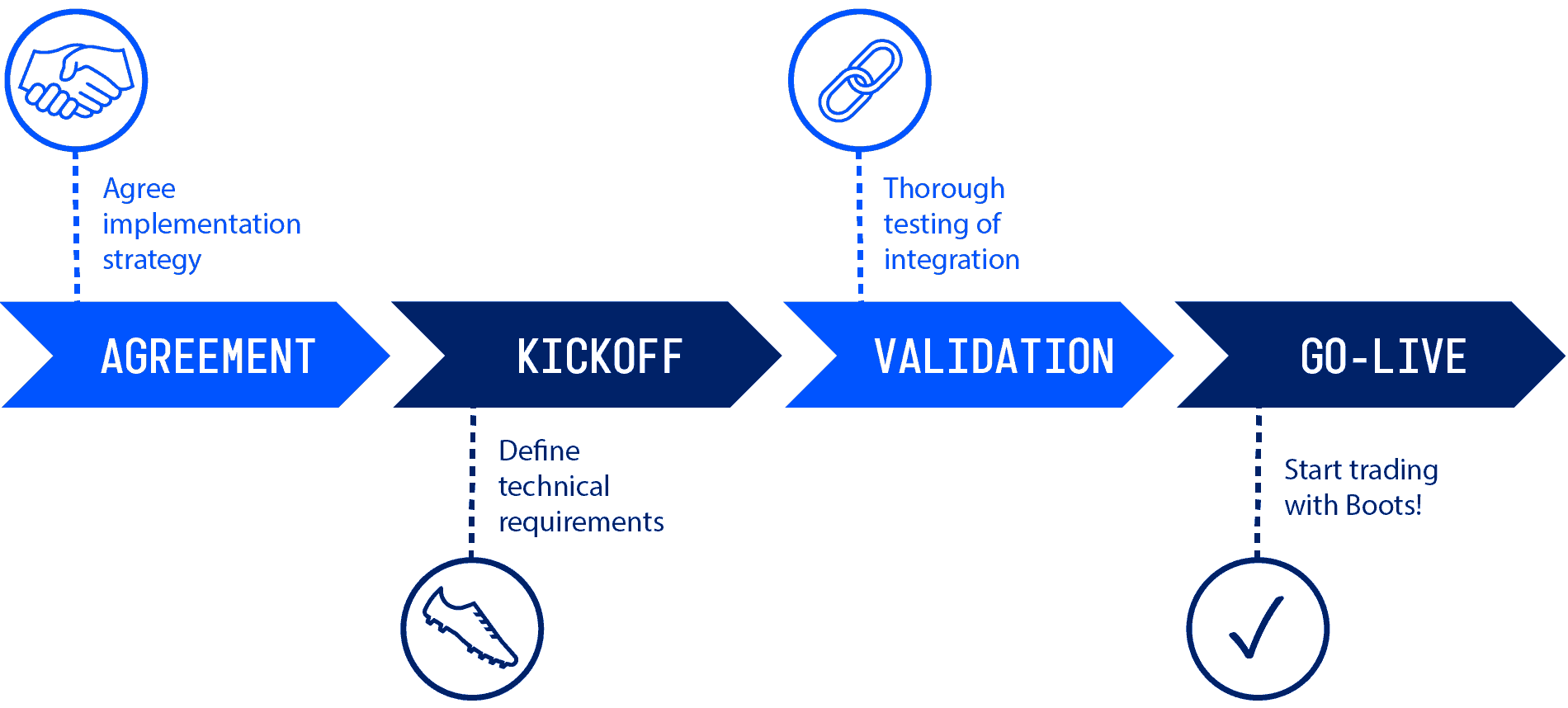 How ecosio can help
ecosio can ensure your business is doing EDI with Boots in no time!
With our flexible managed EDI services there's no need to worry about time-consuming and resource-heavy mapping, routing and monitoring of data. Achieve peace of mind regarding critical data exchange with a single connection to our unique Integration Hub.
Benefits at a glance
All EDI needs handled via one managed connection

No need for EDI experience

Translation to all common EDI formats and via all protocols

Fast onboarding of trading partners

End-to-end data monitoring in your ERP system


Get in touch!
Still have questions about doing EDI with Boots? Feel free to contact us, we'd love to help!
Please also see our other articles for the EDI requirements of similar retailers including ASDA, Iceland, M&S, Morrisons, Ocado, Sainsbury's, Tesco and Waitrose.