A giant of UK retail, ASDA represents a promising trading partner for any food, homeware and clothing suppliers. However, for businesses who don't have internal experience in electronic data interchange (EDI), identifying how to go about setting up an EDI connection with ASDA can be confusing. In this guide we simplify the process and explain what you need to do to begin EDI with ASDA.
ASDA at a glance
Founded in 1949, ASDA is currently the UK's second largest supermarket chain, with over 600 locations and 160,000 staff. In 2018 a proposed merger with Sainsbury's (which would have given the company control of almost a third of the market) was blocked by UK regulators. Today, however ASDA alone holds over a 15% share in the supermarket sector and thus represents an exciting connection for suppliers.
Starting EDI with ASDA as a supplier
In order to set up an EDI connection with ASDA, it is first necessary to consider the following three things: ASDA's onboarding process, their preferred document formats and what exchange protocols they use.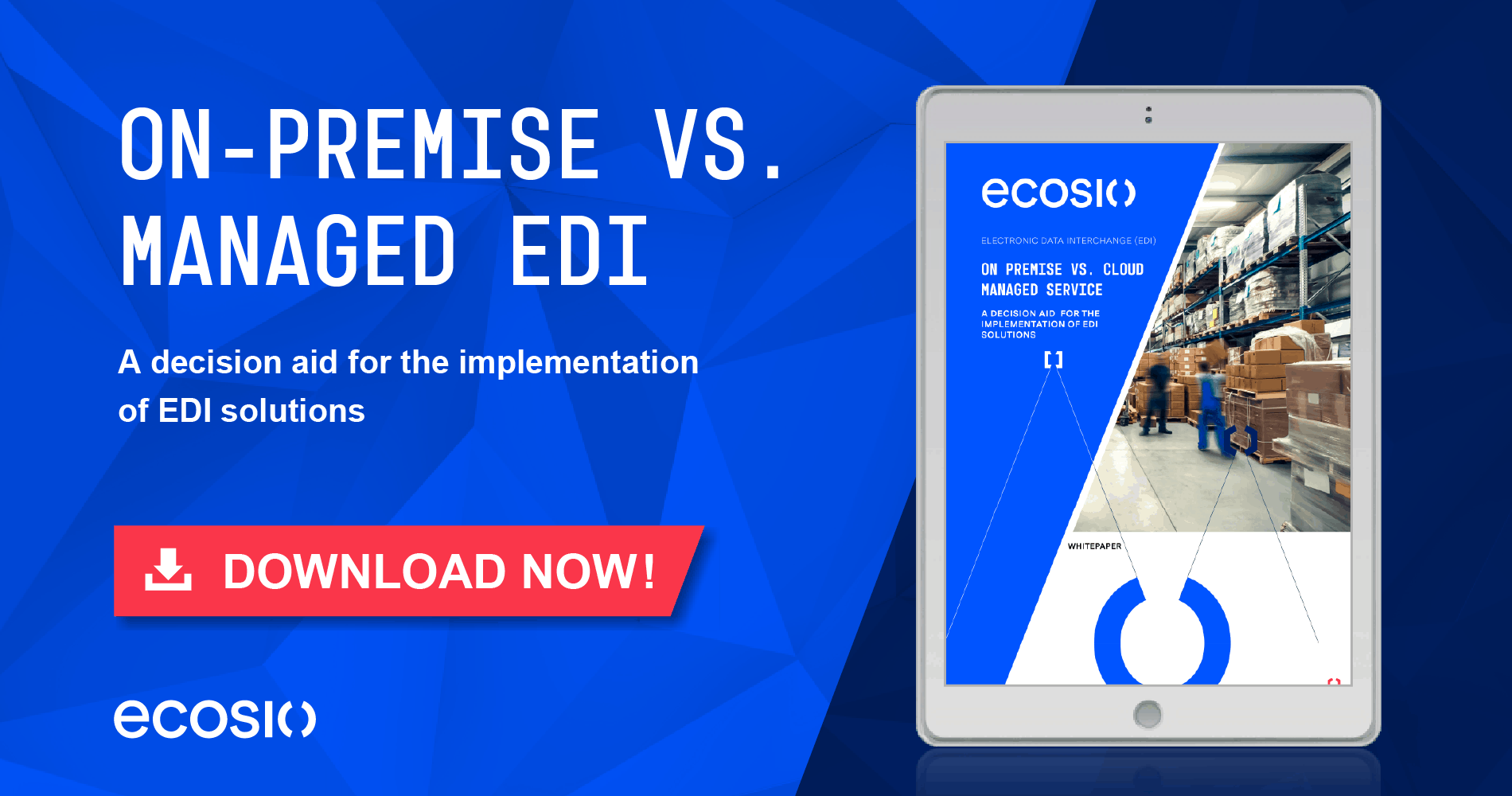 Our decision guide compares on-premise v cloud managed EDI services in detail
ASDA's supplier setup process
ASDA's EDI representatives will send over a supplier form which should be completed and returned.

Once a mailbox has been set up, ASDA's implementation team will grant you access to their web self-testing portal 'Retail Link'

.

On this portal you will be able to upload relevant documents to test transmission accuracy. If you are handling this without any external help, it is very important to test all possible EDI interactions between ASDA and your business (e.g. invoices with surcharges, allowances, and including and excluding tax etc.).

Following the testing phase, the connection will go live and your business will be prepared for EDI with ASDA.
ASDA'S preferred EDI standards and document types
ASDA supports the TRADACOMS standard and requires suppliers to be able to exchange orders, invoices/credit notes and remittance advices over the AS2 communication protocol, as illustrated below.




Click to enlarge
Setting up an EDI connection to ASDA
In order to be able to do EDI with ASDA, an exchange channel using an EDI protocol must first be set up.
As ASDA was acquired by Walmart in 1999, they use Walmart's EDI supplier platform Retail Link. Via Retail Link suppliers can apply for an AS2 connection. To trade with ASDA suppliers are expected to maintain a consistent AS2 connection and provide notifications regarding document transmission status.
As ecosio's Integration Hub is compatible with Retail Link, all exchange protocol requirements can be fulfilled via a connection between ecosio and your ERP system.
EDI connection timeline
It is difficult to say exactly how long connection will take, as this is dependent on your business's specific situation and how much mapping and routing is required. However, ASDA does require testing to take less than six weeks (and predict testing should take around two weeks for most companies with sufficient in-house EDI capability). If this stage takes longer than six weeks "the supplier may be removed from EDI testing for non-compliance".
To ensure a smooth and efficient connection it is advisable to use an experienced B2B integration partner. Ideally, they should be able to provide a dedicated person to oversee the connection process from start to finish. They may also be able to handle monitoring after go-live too.
Below is a summary of the steps involved.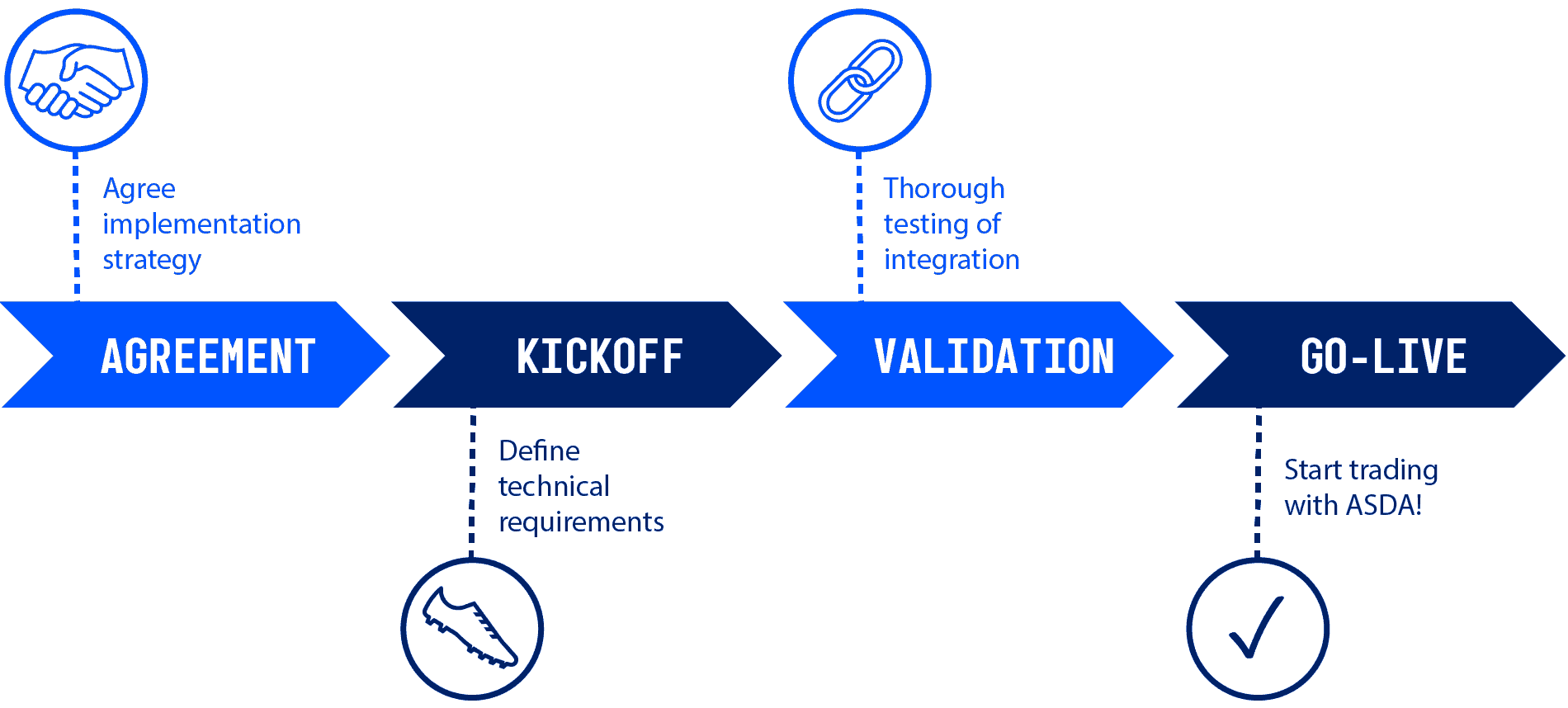 How ecosio can help
Setting up an EDI connection with ASDA is simple with ecosio.
ecosio's cloud-based EDI service supports all EDI formats and protocols. We handle all routing and mapping so you can focus on what your business does best! Via one connection to our Integration Hub information will be automatically exchanged with ASDA via the correct exchange protocol and in the desired format.
Unlike other providers, ecosio offers a uniquely deep ERP connection. Following our API being embedded directly into their ERP system, users benefit from improved visibility, as EDI processes are seamlessly integrated into your system's user interface.
Benefits at a glance
All your EDI needs met via a single connection to our

Integration Hub

No internal EDI experience required

Supports all common EDI formats and protocols

Hassle-free partner onboarding

Increased visibility thanks to deep API-ERP integration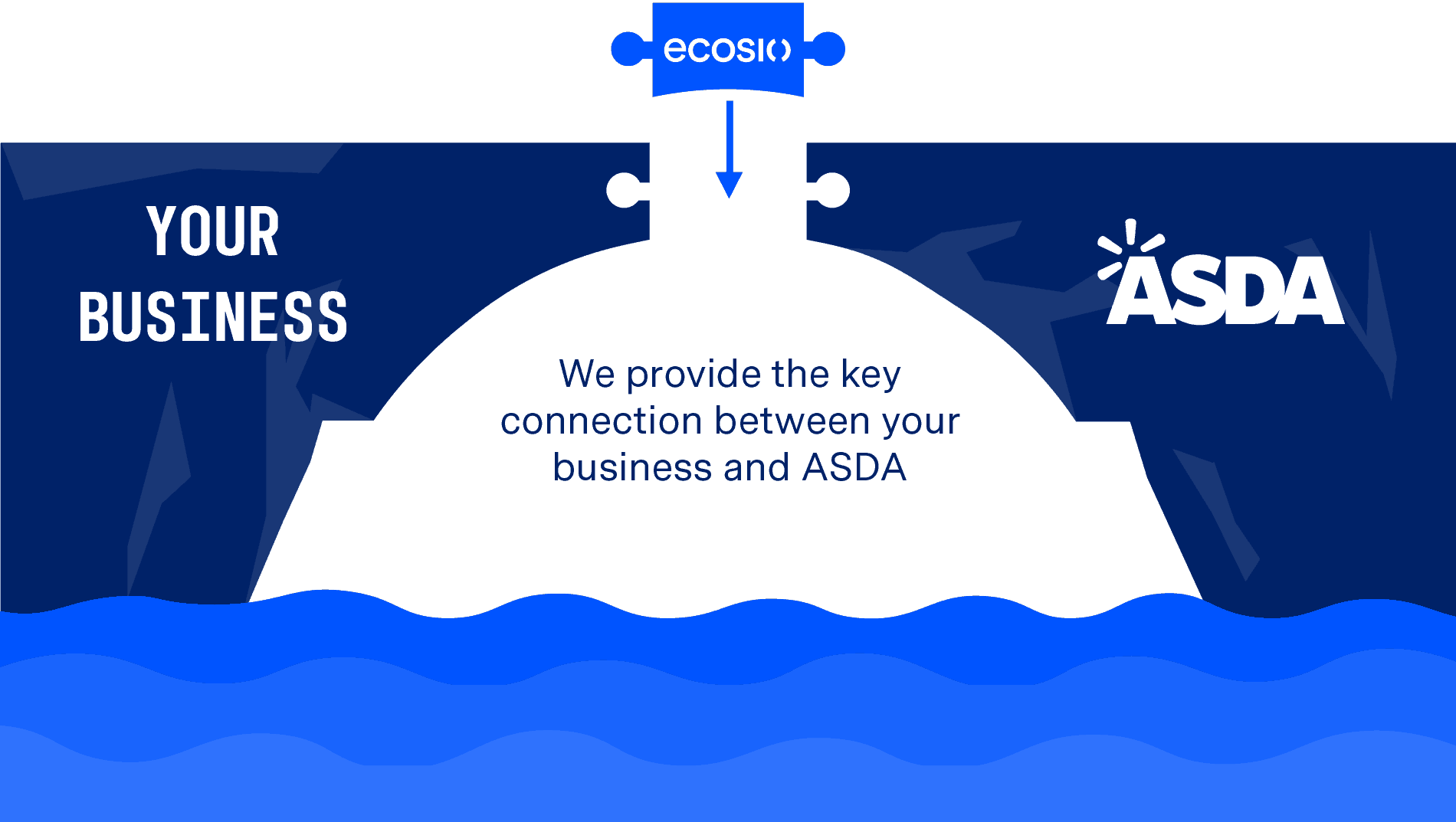 Get in touch!
Still have questions concerning setting up an EDI connection with ASDA? Feel free to contact us, we'd love to help!