As one of the most recognisable UK brands, Tesco constitutes a potentially lucrative connection for many suppliers. In order to become a trading partner, however, businesses first need the ability to conduct electronic data interchange (EDI). Unfortunately, for businesses without EDI experience, setting up this connection can be a confusing process. In this article we aim to simplify the process and explain exactly what's involved in doing EDI with Tesco.
Tesco at a glance
Founded in 1919, Tesco recently celebrated its 100 year anniversary

One of the UK's largest supermarket chains

A presence in several other countries across Europe and Asia

Over 6,500 stores worldwide

An expected centenary year revenue of over £60 billion
EDI with Tesco
Before you are able to start EDI with Tesco, the following three things should first be considered: Tesco's partner/supplier onboarding process, what exchange protocols they use, and which document formats they require.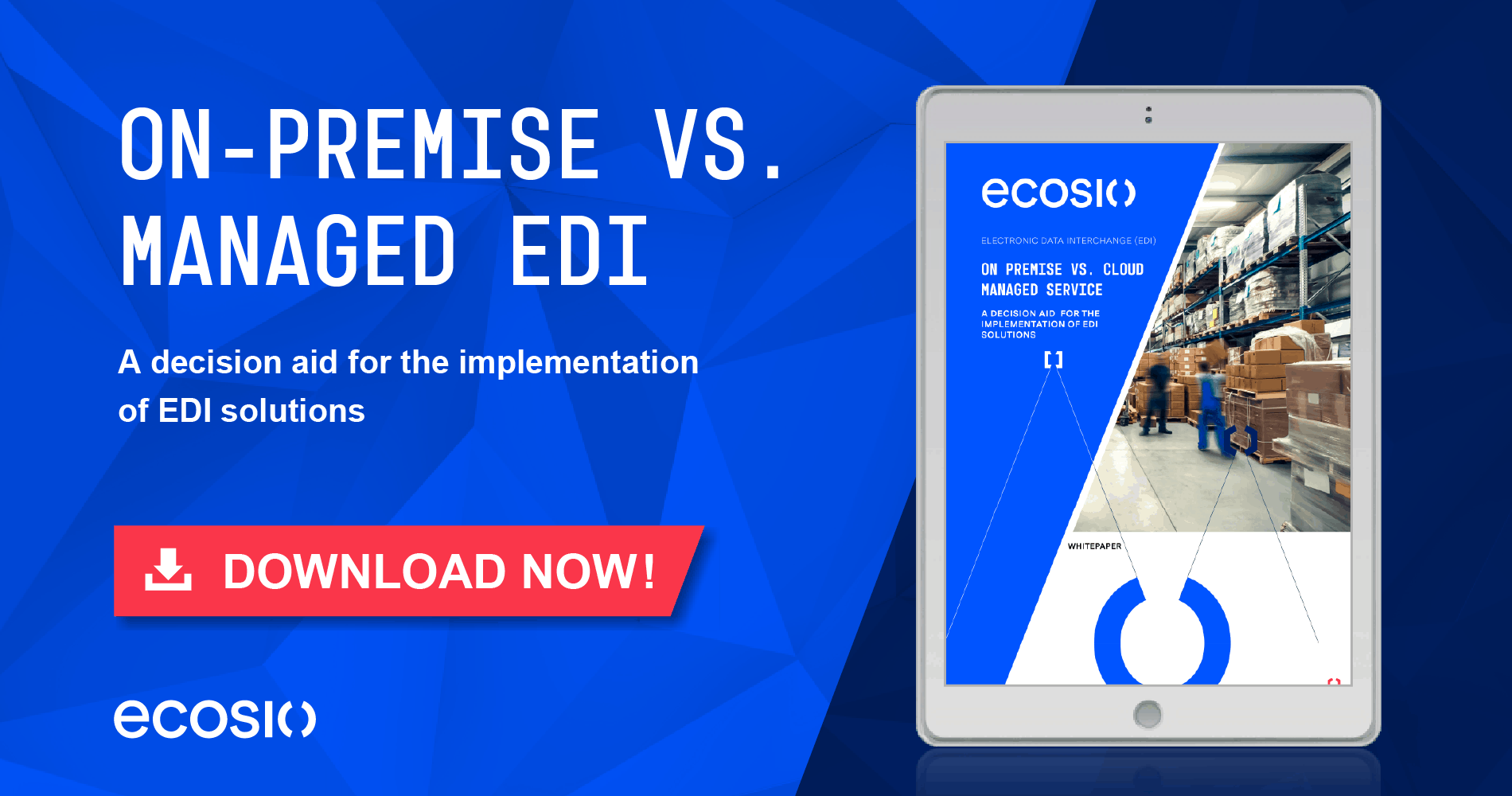 Our decision guide compares on-premise v cloud managed EDI services in detail
Tesco supplier onboarding process
Tesco's EDI team will work with your EDI partner to help you set up a connection.

After you have been able to set up the required EDI document mappings, Tesco will provide you with documents to test and validate the formats and content of the files. You will then need to send back the relevant documents. Tesco's EDI onboarding team should execute a variety of test cases, covering the specific message types required by your relationship with Tesco.

After successful completion of testing, your EDI process will be put into production and your company will be able to enjoy an efficient trading relationship with Tesco.
What EDI standards and document types does Tesco use?
Tesco uses both TRADACOMS and EANCOM standards and requires suppliers to be able to exchange orders, forecasts (product planning reports) and invoices/credit notes, as illustrated below.


Click to enlarge
Setting up EDI with Tesco
Before your business can exchange documents with Tesco, an exchange channel using an EDI protocol must first be established.
Tesco uses GXS as its EDI provider, meaning a connection to GXS Trading Grid must be established to allow suppliers to exchange messages with the retailer. As ecosio's Integration Hub already offers integration with GXS Trading Grid, one link between your ERP system and our Integration Hub will fulfil all exchange protocol requirements.
Connection timeline
It is tough to determine exactly how long it will take your business to establish a secure EDI connection with Tesco as this will depend entirely on your organisation's unique situation and how much mapping and routing is required. The simplest and fastest way to achieve a reliable connection is to use an experienced B2B integration partner. A good EDI service provider should be able to provide a dedicated expert to oversee the connection from start to finish, and even handle data monitoring after go-live.
A simple outline of the steps involved in setting up an EDI connection with Tesco can be found below.
How ecosio can help
With ecosio's help your business could be enjoying a connection in no time!
At ecosio we allow you to concentrate on whatever it is that your business does best by taking care of all routing and mapping for you. All you need to enable your business to exchange messages with Tesco in the correct format and via the required protocol is one connection to our Integration Hub.
ecosio's solution is different to those offered by other EDI service providers as ecosio's API is embedded directly in the user's ERP system. As a result of this deep API-ERP connection, visibility is hugely improved, with data processes seamlessly integrated into your ERP's user interface.
Benefits at a glance
All EDI needs met via one connection to our

Integration Hub

No EDI expertise needed within your business

All common EDI formats and protocols supported

Hassle-free connection of partners

Increased data visibility thanks to direct API-ERP integration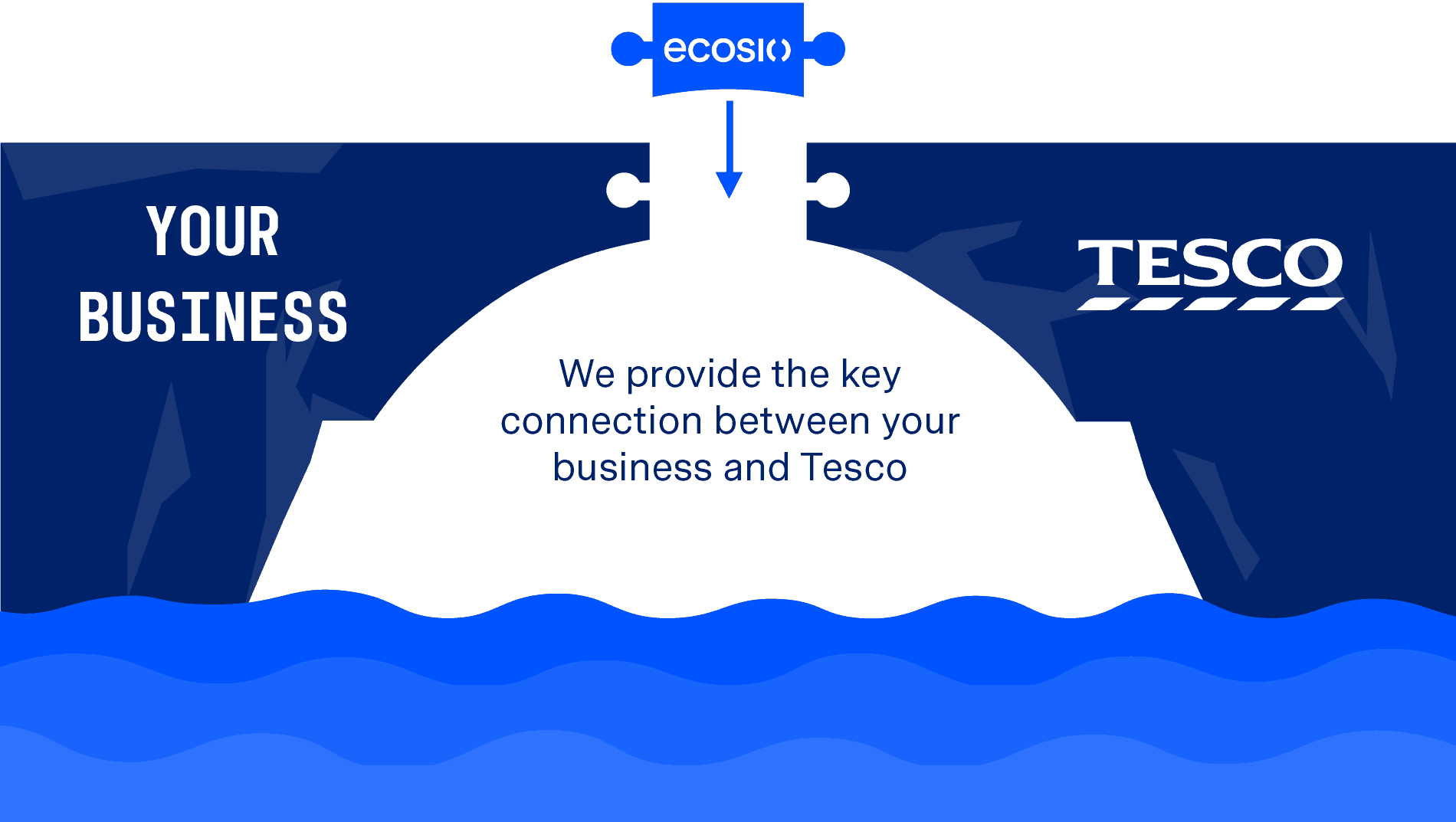 Get in touch!
Still have questions about doing EDI with Tesco? Feel free to contact us, we'd love to help!