Such is Ocado's market reach, it represents a potentially key connection for suppliers. If your business lacks experience with electronic data interchange (EDI), however, it can be tough to know how to approach becoming Ocado's EDI partner. In this article we cover the key facts you need to know to set up an EDI connection with Ocado.
Ocado at a glance
Despite the company's relative youth (it was founded in 2000) and lack of high street shops, Ocado is a big player Britain's current retail landscape. Relying entirely on online sales, Ocado was one of the first grocery retailers to bypass physical stores. Thanks largely to the savings they have been able to make by delivering straight from warehouse to customer, Ocado reported over £1.5 billion in revenue in 2018.
EDI with Ocado as a supplier
Suppliers looking to start electronic data interchange (EDI) with Ocado should understand Ocado's onboarding process, as well as what document formats and exchange protocols they use.
What is Ocado's supplier onboarding process?
Your EDI service provider (or in-house team) will be contacted by Ocado's EDI team, who will help you set up the EDI connection.
After you have set up the required EDI mappings, Ocado will send you EDI test orders over a test connection. You will then need to send various documents back in order to ensure all relevant types of delivery and message exchange are covered.
Following a successful test phase, your connection will be put live and you and Ocado will be exchanging EDI messages.
What EDI standards and document types does Ocado use?
Ocado exchanges invoices [INVFIL] and orders [ORDHDR] via the TRADACOMS standard.
Ocado does not accept credit or debit notes via EDI.
Setting up EDI with Ocado
To allow for an exchange of EDI documents with Ocado, an exchange channel using an EDI protocol must be set up.
Along with its EDI service provider, Ocado will set up two connections: a test connection and a productive connection. During the onboarding phase, Ocado's test system will receive documents sent by you via the test connection. After these documents have been validated, suppliers will be moved into a parallel phase. Go-live will then happen over the productive connection.
Ocado uses OpenText as its EDI provider, meaning that suppliers require a connection to Business Network from OpenText in order to exchange EDI messages with Ocado. As ecosio's Integration Hub already offers integration with Business Network, all exchange protocol requirements can be fulfilled via a connection between ecosio and your ERP system.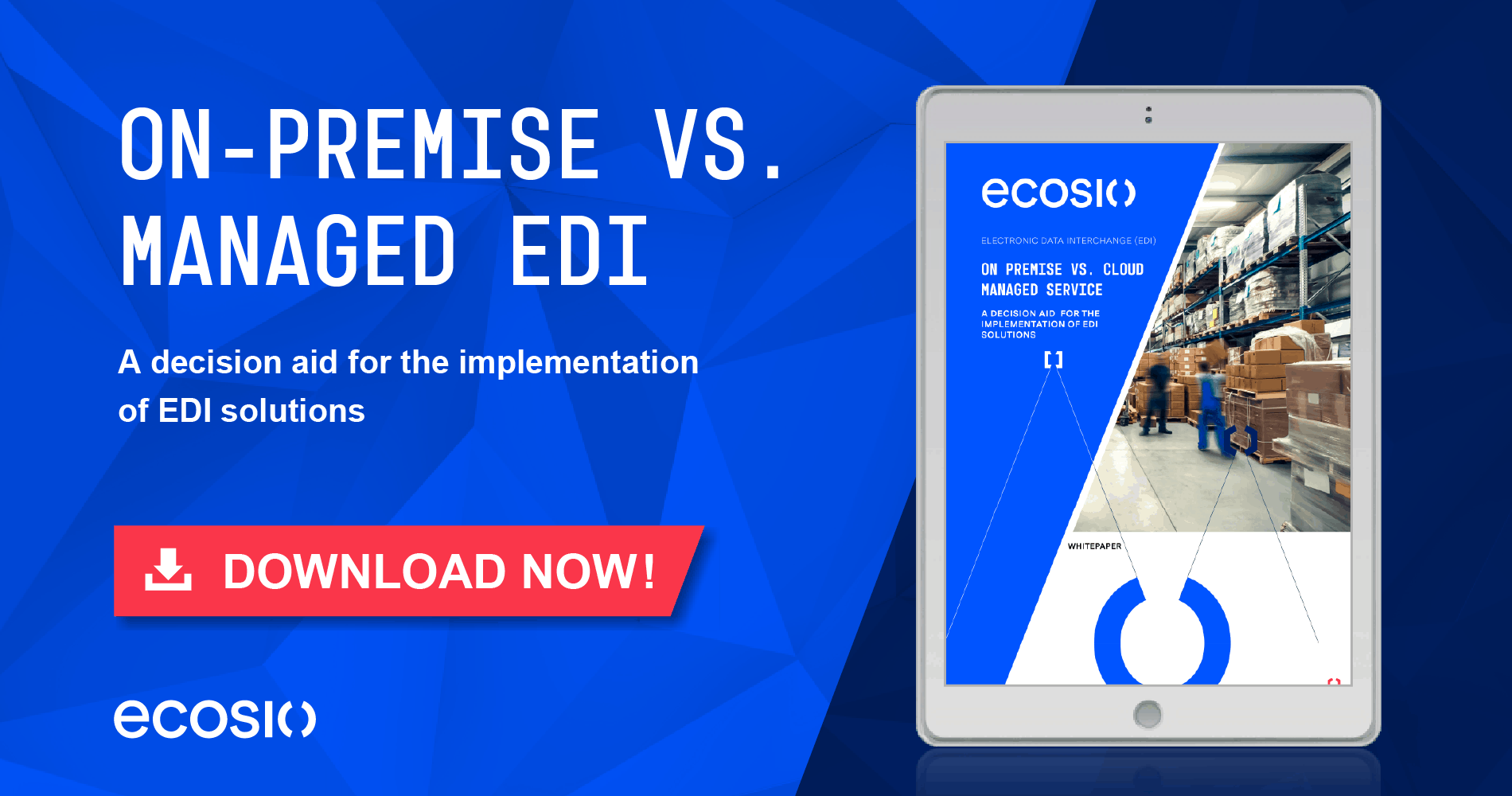 Our decision guide compares on-premise v cloud managed EDI services in detail
Connection timeline
The amount of time required to set up a connection with Ocado is directly tied to the amount and complexity of mapping and routing required. Those wanting a smooth and hassle-free connection should consider using an experienced B2B integration partner. They will provide an experienced project manager to manage the connection from start to go-live. Further, they will also be able to handle message monitoring following the connection.
Below is a visualisation of the steps involved in setting up an EDI connection with Ocado.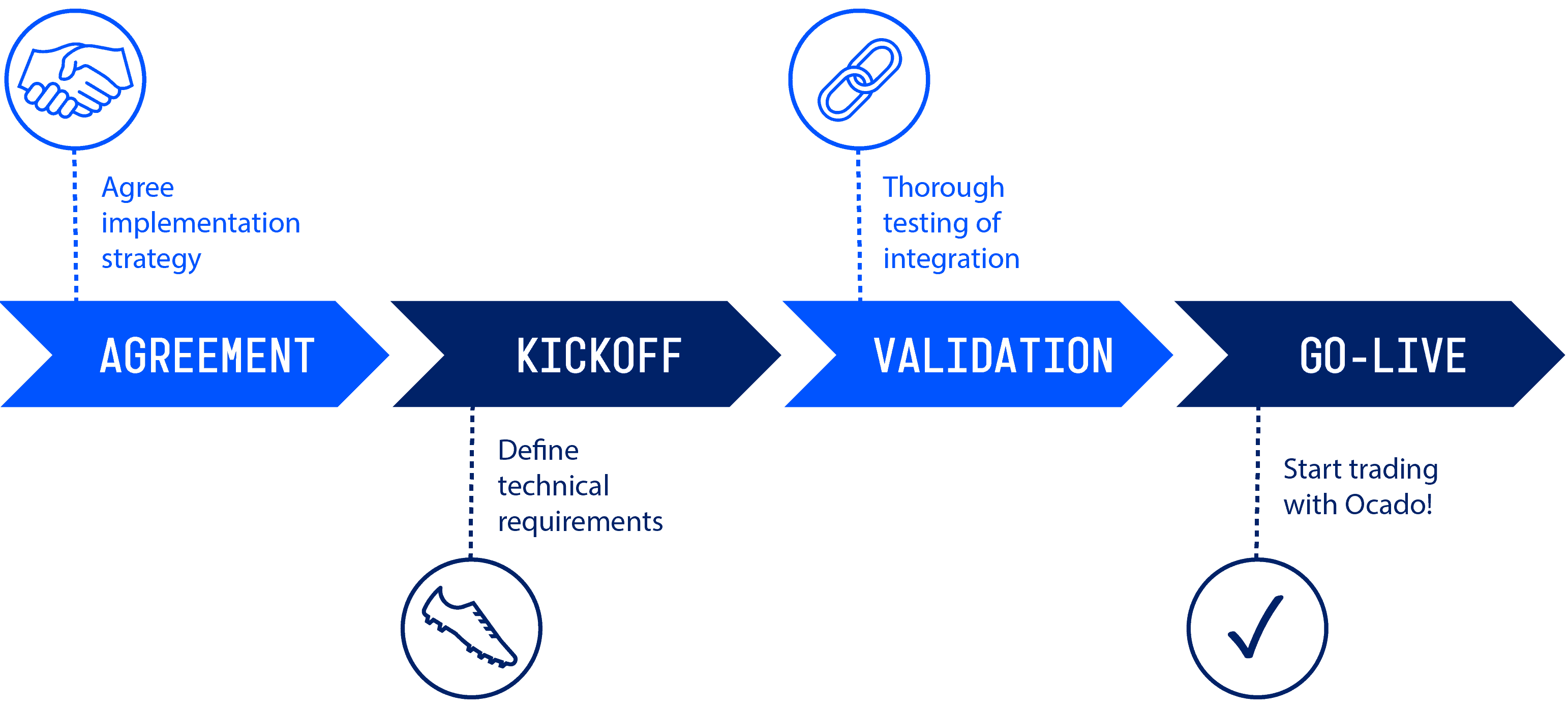 How ecosio can help
We will ensure that setting up an EDI connection with Ocado is a quick and simple process.
As a managed service we support all commonly used, secure EDI protocols and formats. Via one connection to our Integration Hub you will be able to trade messages with Ocado in the right format and over the correct exchange protocol.
Unlike other managed EDI connections, ecosio's solution is embedded as a native feature in your ERP. As a result, key processes are integrated into the ERP's user interface, granting users valuable data visibility.
Benefits at a glance
One connection to meet all your EDI requirements via ecosio's Integration Hub
No in-house EDI expertise required
Automatic delivery over the right protocols and in the correct formats
Easy EDI partner connection from start to finish
Deep ERP integration, meaning easy visibility of message statuses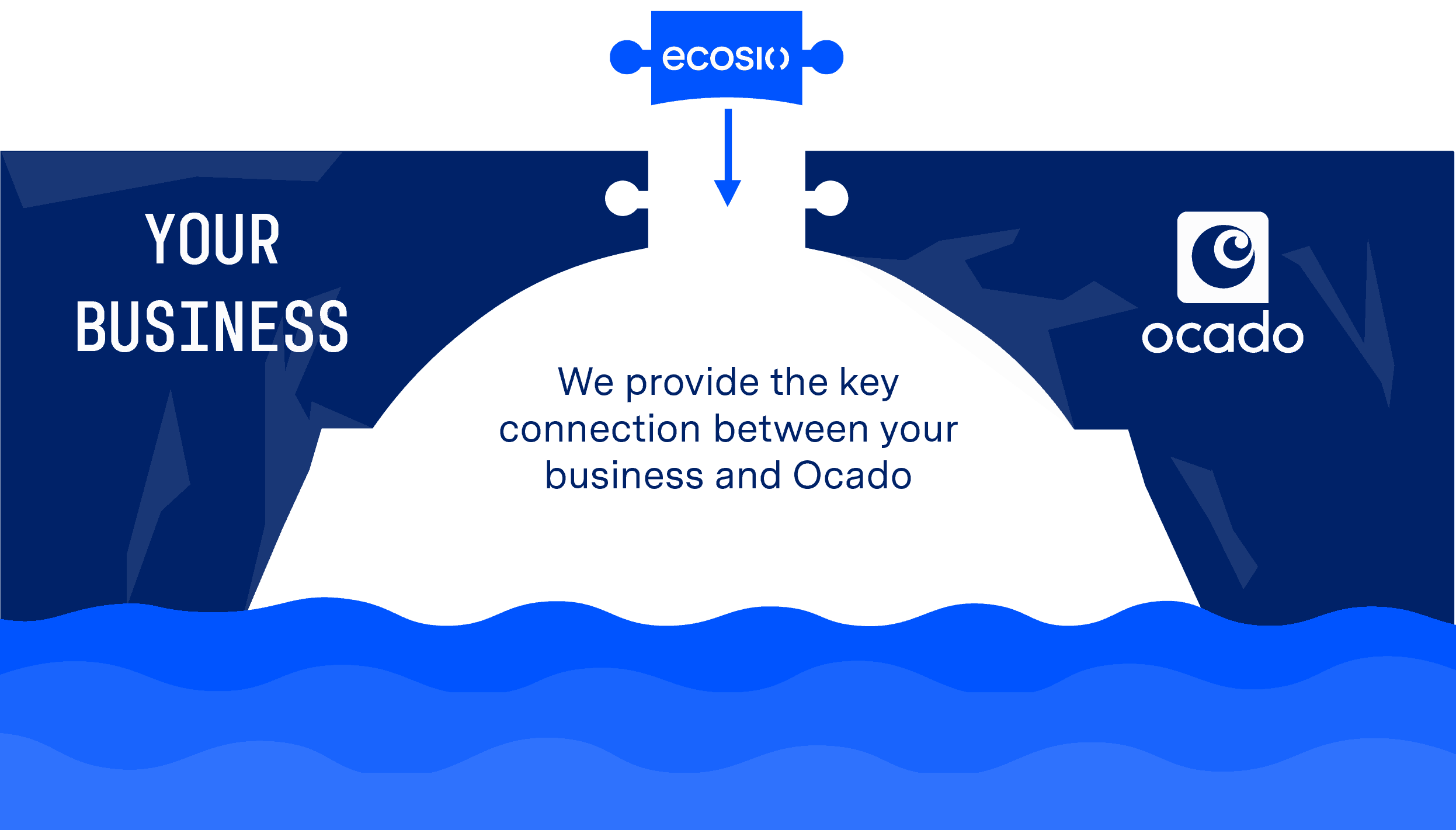 Do you have any questions?
If you have any additional questions about setting up an EDI connection with Ocado feel free to contact us, we'd love to help!