With a recognisable brand name, over 800 UK stores and a reputation as the leading UK retailer of frozen food products, Iceland represents an enticing prospect for suppliers – particularly those specialising in frozen foods and prepared meals.
Iceland at a glance
Founded in 1970
Over 800 UK locations
Stores in 3 continents (Europe, Africa and South America)
Over 20,000 employees
Three key aspects to doing EDI with Iceland
Before being able to trade EDI messages with Iceland, suppliers must understand Iceland's onboarding process, the document formats they prefer and what exchange protocol they use.
Iceland's supplier onboarding process
Your in-house team (or EDI partner) will make contact with Iceland's EDI team to set up the EDI connection.
After setting up the necessary EDI mappings, Iceland will exchange test EDI documents with you via a test connection. It is important during this stage to make sure that all relevant types of document and delivery are tested.
What standards and document types does Iceland use?
Although Iceland previously used the TRADACOMS standard, they now exchange orders and invoices over EDIFACT. Iceland's preferred document types for suppliers to use are EDIFACT ORDERS D96A and INVOICE D96A.
Starting EDI with Iceland
The first step in connecting to Iceland is setting up an exchange channel using an EDI protocol.
With their EDI provider, suppliers should establish two connections: a test connection and a productive connection. To be able to trade EDI messages with Iceland suppliers have to be able to communicate with OpenText's Business Network. Thankfully, as ecosio's Integration Hub offers integration with Business Network, one connection to ecosio can satisfy all document exchange requirements.
Connection timeline
As no two companies have the same requirements, it is difficult to say how long setting up a connection will take exactly. This depends principally on the mapping and routing that needs to be done.
The simplest and fastest way to establish a secure and reliable connection to Iceland is to use a service provider that offers a dedicated project manager to take ownership of the process.
Below is a diagram of the steps involved.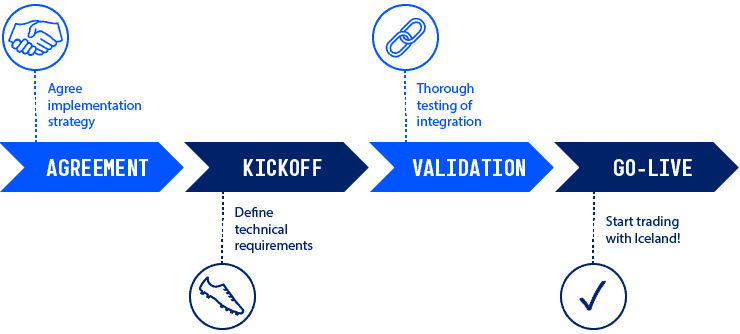 How ecosio can help
Ecosio has a wealth of experience in facilitating EDI connections to large retailers. Our EDI experts will ensure you benefit from an efficient and reliable connection as quickly as possible.
Our one-of-a-kind Integration Hub supports all EDI formats and protocols. As a result, a single connection to ecosio will enable your business to trade EDI messages with Iceland (and other retailers) with minimum effort.
Unlike other solutions, ecosio's EDI solution is embedded directly in your ERP system as a native feature. This deep integration allows for important processes to be accessed via your existing user interface and allows for useful end-to-end message visibility.
Benefits at a glance
All EDI requirements met via a single connection to ecosio's Integration Hub
No existing EDI knowledge required
Simple and fast partner onboarding
End-to-end data visibility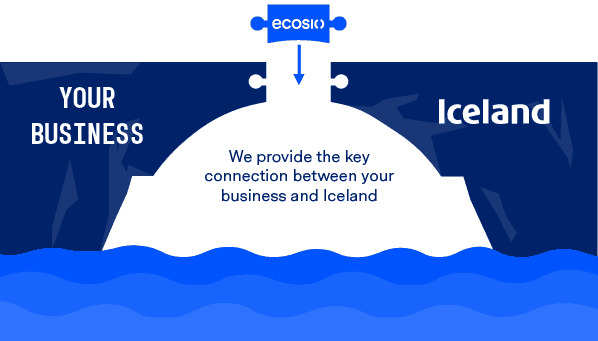 Do you have any questions?
If you have any questions about doing EDI with Iceland feel free to contact us, we'd love to help!
Please also see our other articles for the EDI requirements of similar retailers including ASDA, Boots, M&S, Morrisons, Ocado, Sainsbury's, Tesco and Waitrose.