Sainsbury's market share makes it a potentially key trading partner for food, homeware and even clothing suppliers. However, for suppliers without in-house electronic data interchange (EDI) expertise, setting up EDI with Sainsbury's can be a confusing process. This article provides a simple summary of the steps involved in establishing an EDI connection between Sainsbury's and your business.
Sainsbury's at a glance
Having been in existence now for a remarkable 150 years, Sainsbury's is one of the UK's largest supermarket chains, reporting over £28 billion in revenue in 2018. While a proposed merger with Asda in 2018 (which would have given the company control of almost a third of the market) was blocked by UK regulators, Sainsbury's alone holds over a 15% share in the supermarket sector and represents an exciting connection for suppliers.
Setting up an EDI with Sainsbury's as a supplier
Suppliers interested in doing EDI with Sainsbury's need to consider all of the following: their onboarding process, which document formats they use and their preferred exchange protocols.
Sainsbury's supplier onboarding process
Sainsbury's EDI team will work with your EDI supplier to help establish the EDI connection.




After you have set up the required EDI document mappings, Sainsbury's will send you test orders which you will be required to send back. Sainsbury's EDI team will execute various test cases to ensure all possible EDI interactions between your business and Sainsbury's are covered.

After testing has been completed, your new EDI connection will go live and you will be able to exchange messages with Sainsbury's.
What are Sainsbury's preferred EDI standards and document types?
The different document types and formats used by Sainsbury's can be found in the table below (outbound from Sainsbury's unless specified):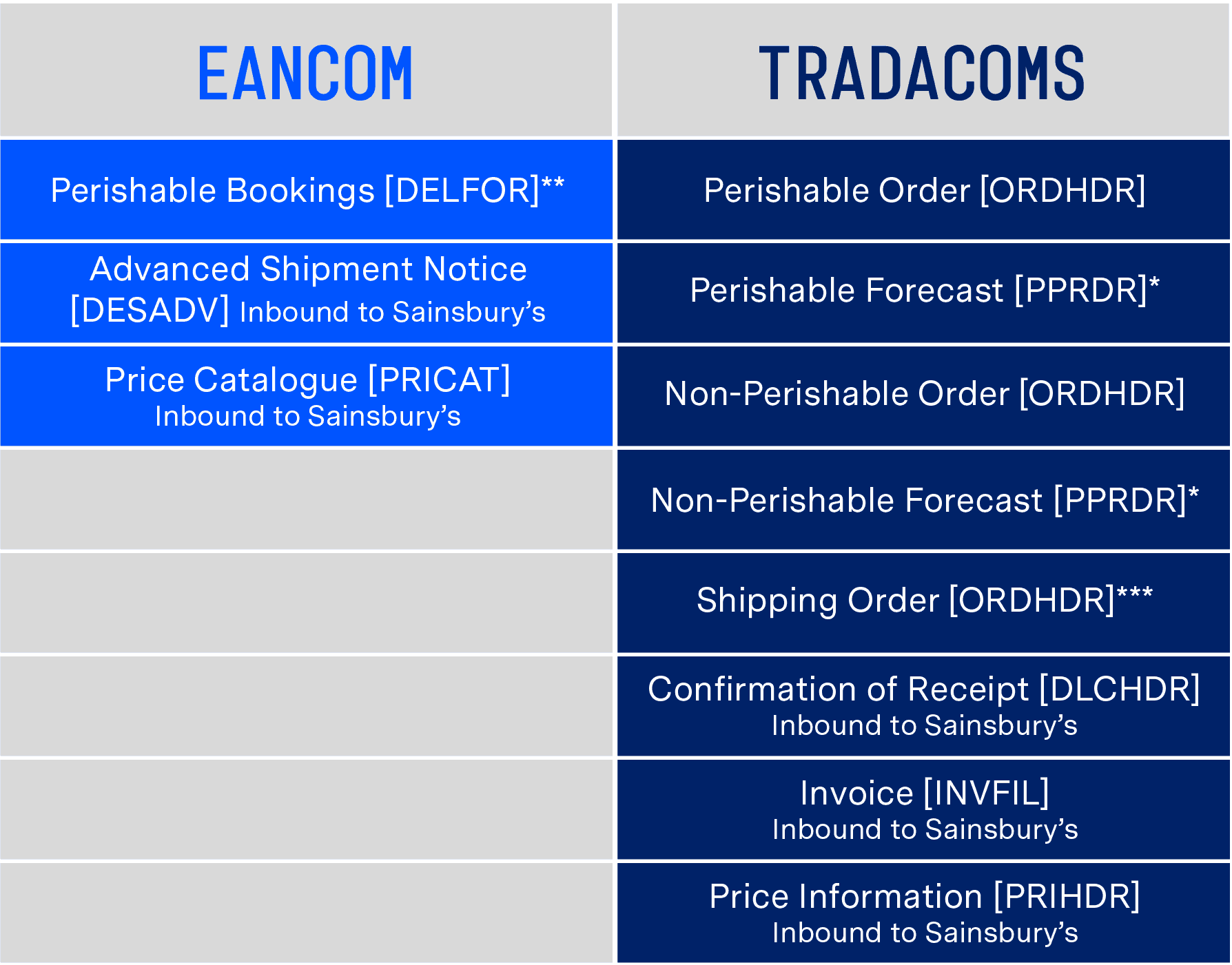 * Optional
** If supplier delivers direct to depot
*** If supplier delivers to second tier location, such as a bonded warehouse
Setting up an EDI connection to Sainsbury's
To enable an exchange of relevant documents with Sainsbury's via EDI, it is first necessary to set up an exchange channel using an EDI protocol.
Sainsbury's uses several different EDI networks. Their EDI setup is such that prospective suppliers have the opportunity to connect via a direct AS2 connection or via multiple VAN providers. ecosio's Integration Hub provides a direct AS2 EDI connection to Sainsbury's, fulfilling all exchange protocol requirements.
Connection timeline
Depending on each organisation's individual situation and the extent of mapping and routing required, the time it will take to establish a secure EDI connection with Sainsbury's will vary. The easiest and most effective way to achieve a connection is to use an experienced B2B integration partner. Ideally, they should be able to provide a project manager to ensure the success of the connection from start to finish. Ideally they will also be able to handle monitoring after go-live too.
Below is a brief overview of the stages involved in setting up a connection with Sainsbury's.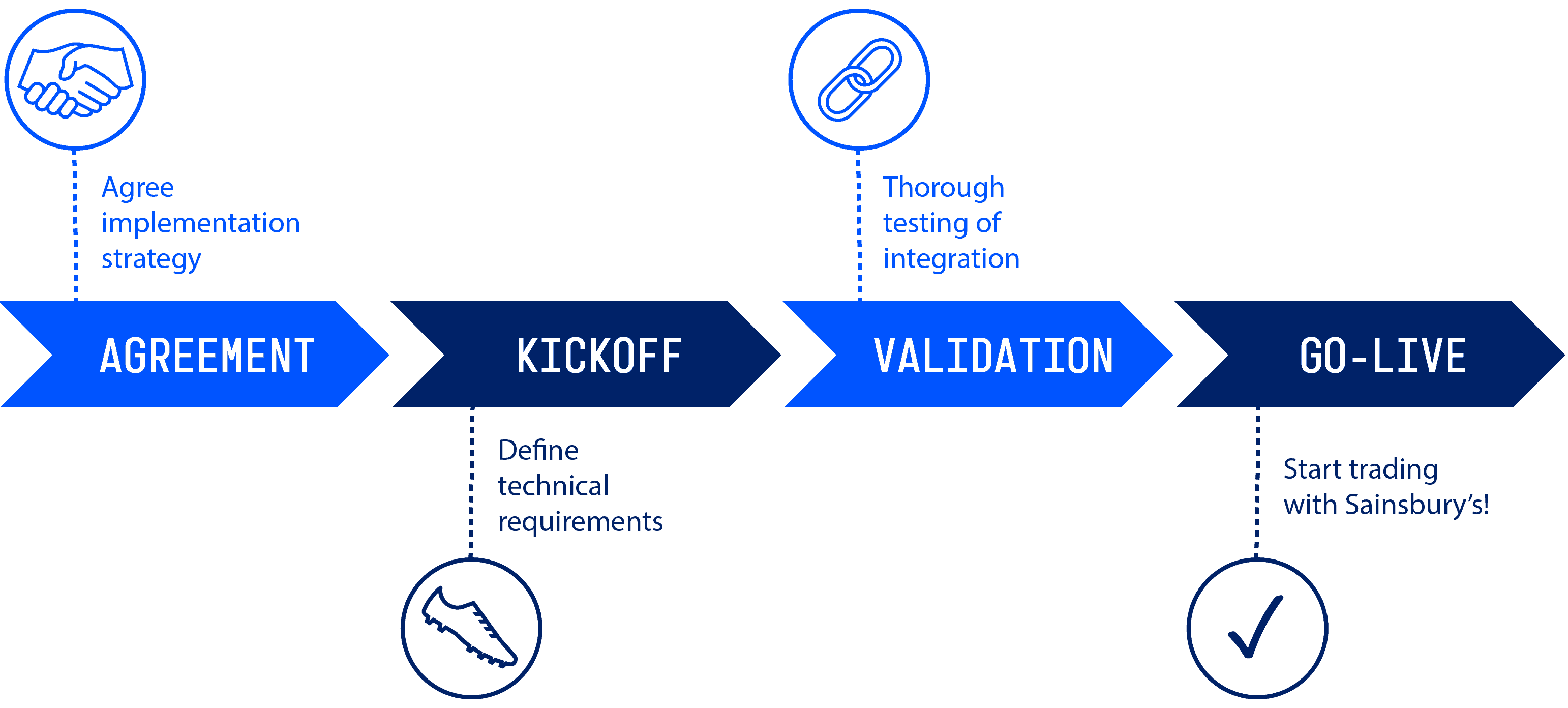 How ecosio can help
Setting up an EDI connection with Sainsbury's is a simple process with ecosio.
ecosio's managed EDI service supports all EDI formats and protocols. We take care of all routing and mapping so you can get on with what you do best! A single connection to ecosio's Integration Hub is all that is required to ensure information is automatically exchanged with Sainsbury's via the correct exchange protocol and in the desired format.
ecosio's solution is different to the managed connections offered by many other providers in that our API is embedded directly in your ERP system. As a result, you benefit from improved visibility, as EDI processes are seamlessly integrated into your system's user interface.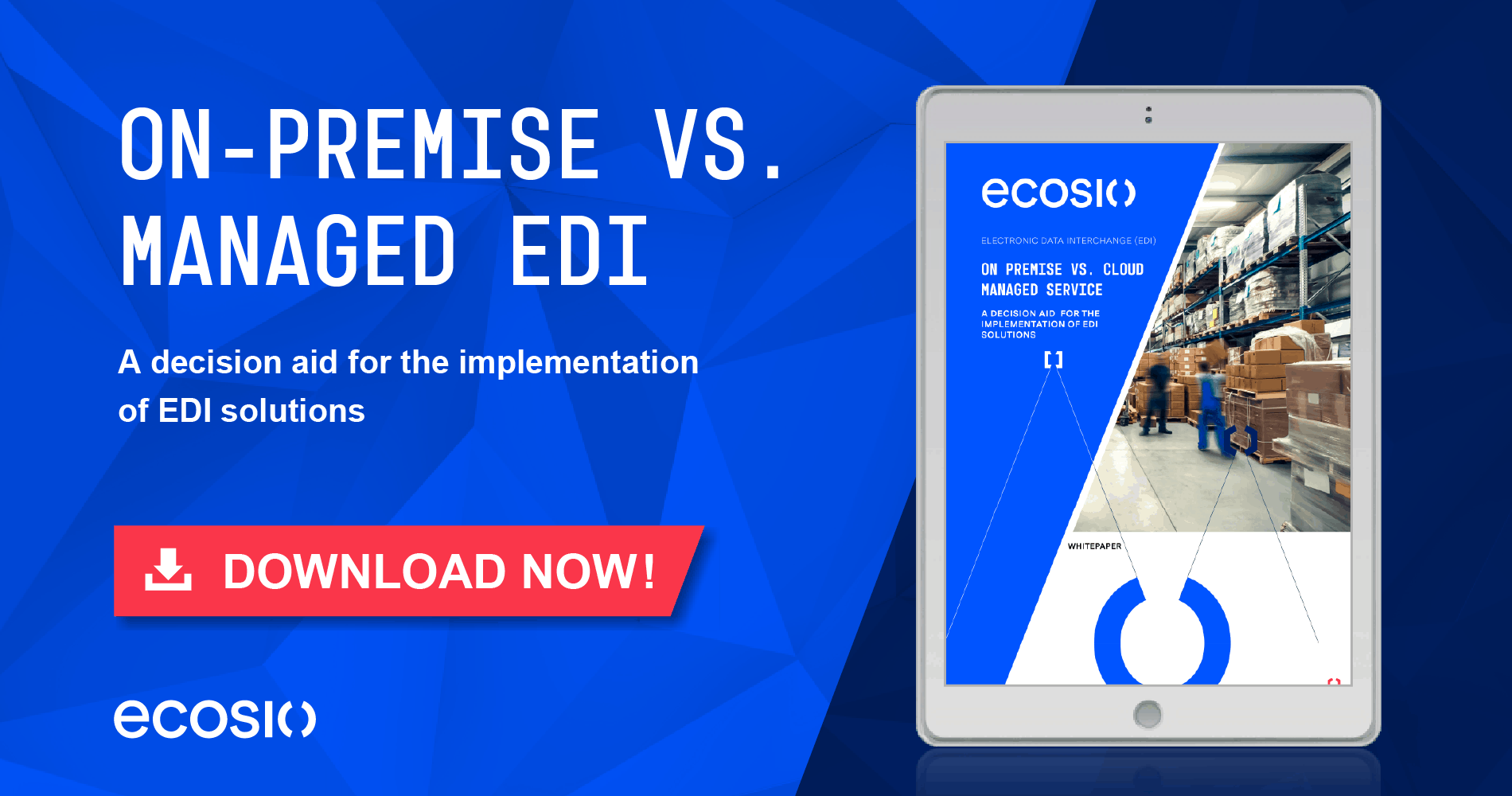 Our decision guide compares on-premise v cloud managed EDI services in detail
Benefits at a glance
All EDI needs met via one connection to our

Integration Hub

No EDI expertise needed within your business

All common EDI formats and protocols supported

Hassle-free connection of partners

Increased data visibility thanks to direct API-ERP integration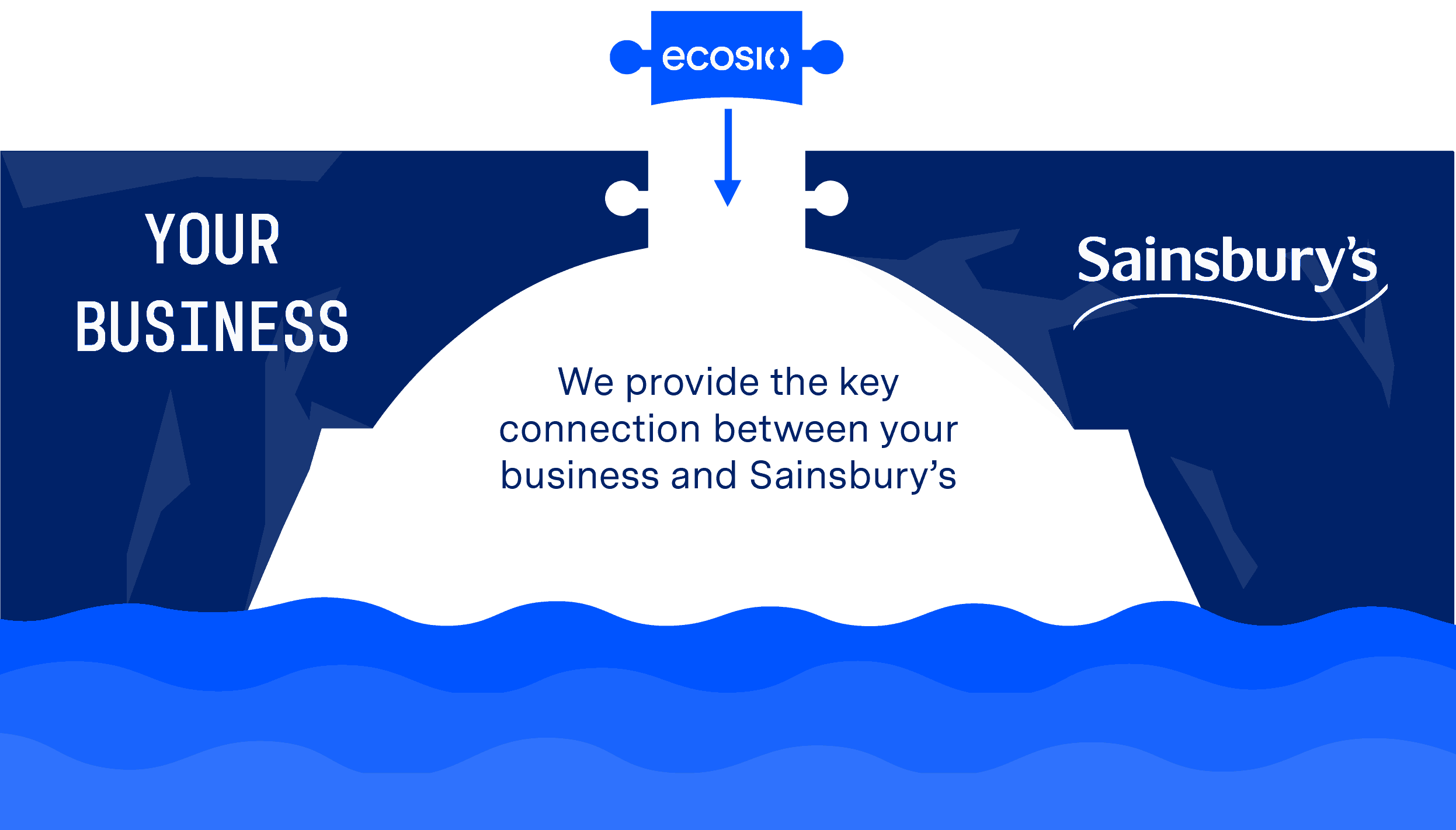 Do you have any questions?
Still have questions about doing EDI with Sainsbury's? Feel free to contact us, we'd love to help!