While 2025 may signal many things to different people, for those working in IT for supply chain organisations currently using SAP systems, it is synonymous with one key deadline. 2025 is, of course, the deadline set by SAP for businesses to migrate to their new and improved system S/4HANA, after which supposedly they will no longer provide support for older systems. Whilst this may seem a generous deadline, as we shall explore in this article, transitioning to S/4HANA is by no means a simple process. In addition to the time-consuming exercise of migration itself, for those considering the move to S/4HANA the next few years offers a unique opportunity to refresh and update other key business processes, such as electronic data interchange (EDI), to ensure their businesses are in the best possible position when 2025 comes around.
In this article we'll look at five key questions that anyone who is likely to be involved in coordinating a migration to S/4HANA should consider before proceeding.
1 – What iteration of S/4HANA is a good fit for your organisation?
Undoubtedly S/4HANA represents an exciting advance in ERP software and comes with considerable advantages. Key benefits include:
Simplicity –

The SAP Business Suite data model has been hugely simplified following the impact of the SAP HANA in-memory platform. Specifically, SAP has been able to remove (or reduce the number of) several table types from the data model. As a result, in addition to a significant reduction in your database's memory footprint, your new system should also run faster.

Ease of Use –

Thanks largely to the above simplification, S/4HANA users also benefit from an improved user experience. S/4HANA makes heavy use of SAP's new and improved user interface based on SAP Fiori apps.



Future-proof solution –

Another key benefit of transitioning to S/4HANA is the improved approach towards updates. Whereas previously new functionalities had to be manually switched on by in-house teams, with the S/4HANA cloud systems, updates will be implemented quarterly, removing the possibility of updates being delayed due to lack of in-house resources.



There are four basic options for businesses considering migration to SAP S/4HANA: self-hosted and on-premise, hosted by a hosting partner, private managed cloud and cloud ERP. The following Figure gives an overview of the different options.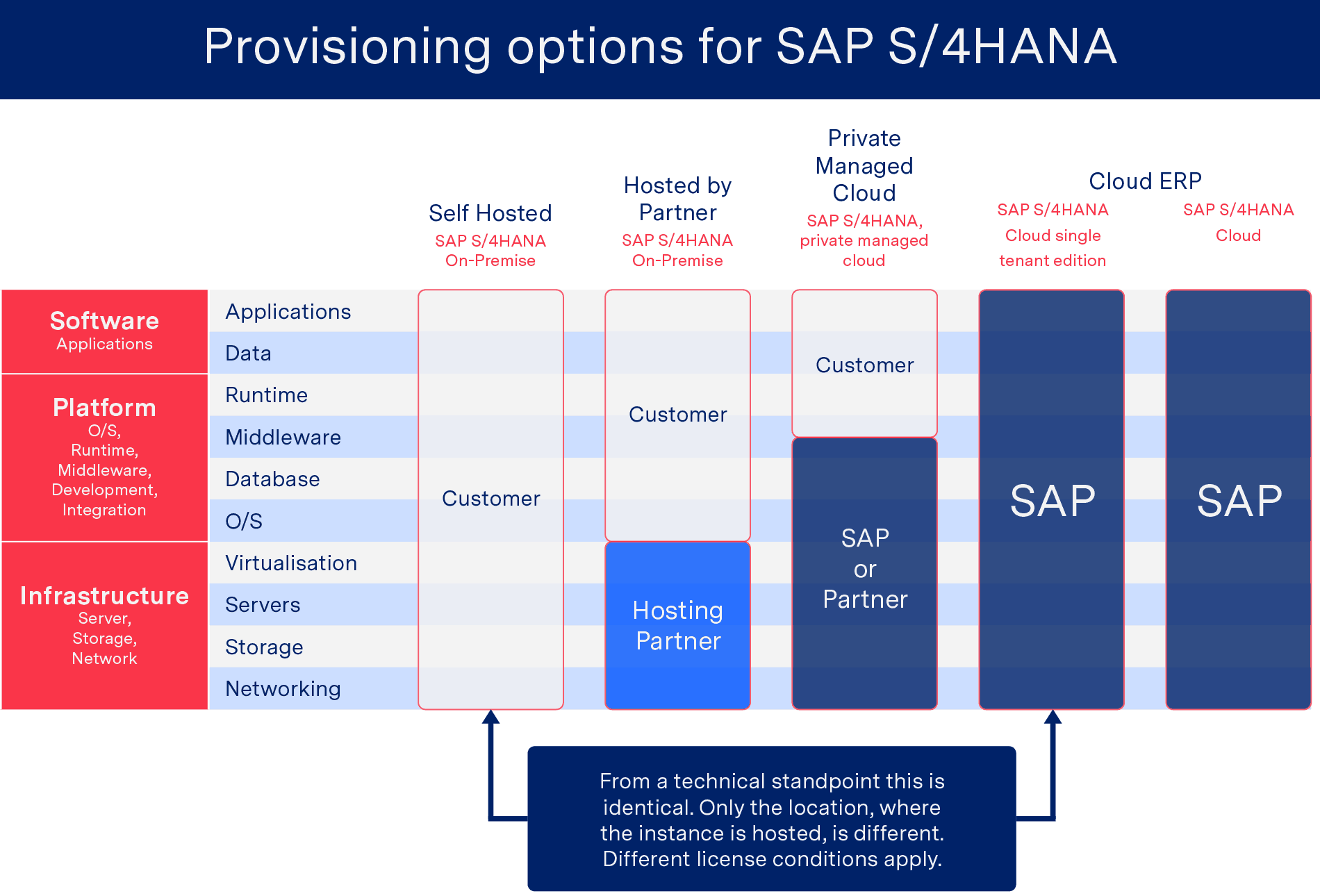 Migration to SAP S/4HANA – SAP Provisioning Platforms

The Cloud ERP solution is available in two different versions. The single tenant solution is hosted by SAP for a single tenant (= company), also allowing for company-specific code and system extensions. The SAP S/4HANA Cloud is a classic cloud-based software solution, where multiple different companies share the same SAP instance. The multi-tenant solution allows for less company-specific customisations than the Single Tenant Cloud edition. If a company seeks to implement custom adaptations or extensions to third party software solutions for the multi-tenant edition, they can be achieved through the SAP Cloud Platform.
It is important to remember, however, that every business is different and the most effective system for your company is unlikely to be any of the above 'out-of-the-box' solutions. Increasingly forward facing businesses are transitioning to so-called 'postmodern' ERP systems (those in which more suitable or tailored system packages from independent providers are integrated with standard ERP elements) in order to achieve the most efficient solution for them. Whilst postmodern ERP arrangements can prove complicated to set up and integration can, if handled poorly, jeopardise data integrity, intelligent integration of solutions better suited to your business's needs (such as managed EDI) will produce a flexible and future-proof ERP environment.
Regardless of what system you are currently using or what version of S/4HANA you are looking to move to, the switch to S/4HANA is less of an upgrade and more of a full ERP implementation project. As migration is likely to be extremely heavy on in-house time and resources, it makes sense to consider what an optimum ERP landscape would look like for your business in advance of progressing with implementation. After all, if you are going to invest a huge amount of effort into the transition to S/4HANA, you may as well aim to finish with a system as closely tailored to your organisation's needs as possible!
2 – "When should I start the migration process?"
According to SAP, moving from traditional SAP systems to SAP S/4HANA should take between 12 and 18 months. However, according to research from Gartner, companies that have already started the process have reported that migration to SAP S/4HANA can take far longer, with key steps potentially taking as long as the entire migration reportedly should.
"Migration" vastly underestimates the level and scope of transformation involved in adopting SAP S/4HANA. This is not a straightforward movement of your existing data and processes from one location to another. It's more like you're trying to relocate from the house you've lived in for the past 20 years to a more modern city apartment.
Wolfgang Platz – Founder & Chief Strategy Officer, Tricentis
With the above in mind, assuming you have identified the best ERP solution for you moving forward, it makes sense to start the migration process as early as possible. In addition to ensuring you have enough time to complete the transition to S/4HANA, starting the process earlier may save your business money, as implementation costs are likely to rise as the 2025 deadline approaches.
3 – Have you archived legacy data in preparation for migration to SAP S/4HANA?
Given the size of the task facing in-house IT teams, identifying effective methods of speeding up the migration process may prove crucial. With this in mind, perhaps the most worthwhile preparatory step a business can take in advance of transitioning is to archive legacy ERP custom code. Studies have shown that the majority of ABAP code is customer-specific code, a large proportion of which generally remains unused after being created. Migration to SAP S/4HANA offers a good opportunity to give your ERP system a spring clean. By completing this exercise in advance of migration you will benefit from a reduced migration volume and thus reduced financial and time costs. It really is a win-win!
4 – Should I move to a cloud-based EDI approach or will older EDI systems still be compatible?
With such a large-scale transition involving changing the source of EDI data (i.e. your ERP system) there will always be risks. Given the scope of the work involved in migration to SAP S/4HANA your EDI solution will inevitably be affected at some stage during the process. With this in mind it makes sense to use this as an opportunity to transition to a future-proof EDI solution. Moreover, thanks to the modern features of S/4HANA some older EDI solutions may simply not be compatible.
As explored in detail in our white paper in which we compare the benefits of on-premise and cloud-based EDI solutions, cloud-based EDI offers numerous advantages, such as flexibility, scalability and predictable pricing.
Significantly, while (as illustrated in the above diagram) the SAP S/4HANA multi-tenant cloud option offers only limited customisation, it is still possible for users with this system to integrate an external EDI solution into their ERP landscape. This means all users of S/4HANA have the opportunity to benefit from more efficient EDI in addition to the new features of S/4HANA, regardless of what system they opt for.
5 – Which cloud-based EDI approach shall I choose?
Thanks to the number of cloud-based EDI providers out there, selecting the right EDI partner can be a complicated process unless you know what to look for. Yet, much like deciding to upgrade your ERP to S/4HANA, selecting the right EDI solution for your business constitutes an important step towards future-proofing your organisation.
On the face of it, the most obvious candidate for a cloud-based EDI platform for businesses looking to move to S/4HANA is the SAP Cloud Platform Integration (or SAP Cloud PI for short). However, significantly SAP Cloud PI is an entirely unmanaged solution, meaning that everything is dependent on your in-house resources. Whilst this could potentially be a viable solution for businesses that have a wealth of in-house EDI expertise, for companies looking to optimise business data processes and streamline in-house resources a managed, cloud-based EDI solution represents a far more attractive option.
As we've already touched on, one of the common criticisms levelled at postmodern ERP setups is that the improved flexibility they offer comes at the price of additional complexity. However, when it comes to implementing a managed EDI solution with S/4HANA, whether your business opts for on-premise, private cloud or multi-tenant cloud, the end result will be a significant reduction in user complexity and required internal effort.
When considering potential managed EDI providers, make sure to consider the following:

Are they compliant with SAP Cloud PI? – If you opt for either S/4HANA's private cloud or multi-tenant cloud system, you will need to select an EDI provider (such as ecosio) that is compliant with SAP Cloud PI and can connect to your new ERP system. Unlike on-premise S/4HANA systems, where EDI connections can be set up via any channel (API, EPO Connector, SAP PI/PO, Business Connector, Local Converter etc.), with cloud-based S/4HANA systems, EDI integration must happen via SAP Cloud PI.

For businesses running both on-premise and cloud systems, SAP Cloud PI can be used as a gateway to connect all systems to the EDI provider.
Do they offer 24/7 monitoring?

– Undoubtedly the biggest benefit of choosing a managed EDI service is that it should relieve you of the responsibility of monitoring incoming and outgoing data. Choosing a provider that offers effective, round-the-clock monitoring will mean you will no longer have to check that messages have been sent and received, that certificates have been renewed, or that the correct e-invoicing protocols are being followed.

How comprehensive is their support?

– Unfortunately, the level of support offered by EDI solution providers often leaves a lot to be desired. Asking about the specifics surrounding the support you can expect may help you avoid frustrating and potentially costly situations when you experience issues further down the line.

How simple is partner onboarding?

– The key here is to select a provider who will manage the onboarding process from start to finish. With a dedicated project manager partner onboarding becomes a simple and streamlined process. Choosing a provider who offers Web EDI is also essential if you want to connect to partners that don't have EDI systems.

Do they implement ongoing updates?

– It makes sense that in order to future-proof your business you should select an EDI provider that is committed to implementing ongoing updates. For example, not every managed EDI provider provides access to Peppol, which can be disastrous when it comes to e-invoicing.

Do they have "price cliffs"?

– Again the key here is to think of your future needs as well as your current requirements. Many contracts include steep price rises (or "price cliffs") if your EDI usage passes a certain point which can prove very costly.
Summary
In short, while 2025 may seem a long way off still, as we have covered, the journey to S/4HANA is a long one, and should ideally not be started without the necessary research and provisions. Given the scale of the task facing teams responsible for coordinating a migration to S/4HANA, it makes sense for decision-makers to use this time to consider what their ideal ERP would look like and upgrade or outsource other processes as necessary. Hopefully those who consider the above questions and make the effort to identify and implement the best solutions for them will ensure that 2025 starts to look less like a dark cloud on the horizon and more like the dawn of a new, more efficient era for their business.
Find out more
For more information about ecosio's managed B2B integration solution and how it could help your business.
Alternatively, if you have questions about EDI and S/4HANA please contact us or use our chat – we are happy to help!
SAP ERP and SAP S/4HANA are the trademarks or registered trademarks of SAP SE or its affiliates in Germany and in several other countries.