SAP ECC 6.0 has officially ended. Until 2027, maintenance of the third version of SAP SE, which was introduced in 1993 (!) as R/3, will continue unchanged and without additional fees. Between 2027 and 2030 only core applications of Business Suite 7 are to be maintained, but at additional cost. The fourth and current version SAP S/4HANA has already been guaranteed maintenance until at least 2040. Now is therefore a good time to get serious about the update from an EDI perspective as well. In this article we cover what you need to know concerning IDocs in S/4HANA.
IDoc: the SAP standard format and its changes under S/4HANA
…or rather, from the IDoc perspective. IDocs are the standard format in SAP when it comes to exporting or importing data and this will not change quickly in S/4HANA. This means that most SAP integrations and implementations of automated message exchange will also continue to be based on IDocs.
The update to S/4HANA changes the structure of the IDoc format. Some descriptions of individual segments have been corrected (mainly upper/lower case), other elements have been added. However, IDoc is known to use a lot of rather short abbreviations for the available elements, so without documentation and the XML tree from the XML schema it is not immediately clear which are new and which have changed. The XML schema of an IDoc can be easily exported using transaction WE60 – and of course also to S/4HANA.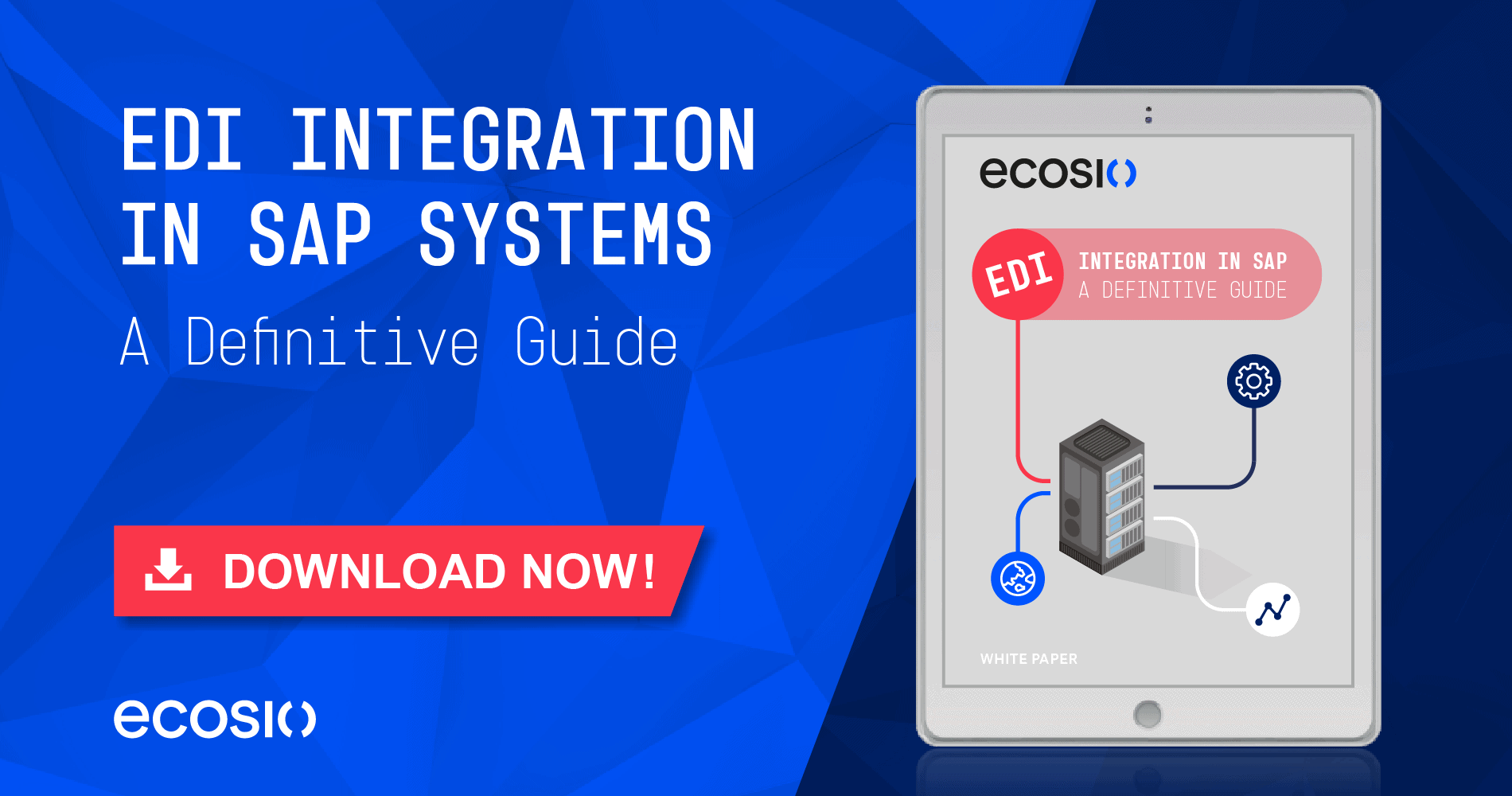 Below we'll examine an example to illustrate the changes more clearly. We use the IDoc basic type INVOIC02 IDoc, which represents the de facto standard export of all invoices under SAP (this is particularly interesting as XRechnung will soon have to be generated from IDoc in Germany).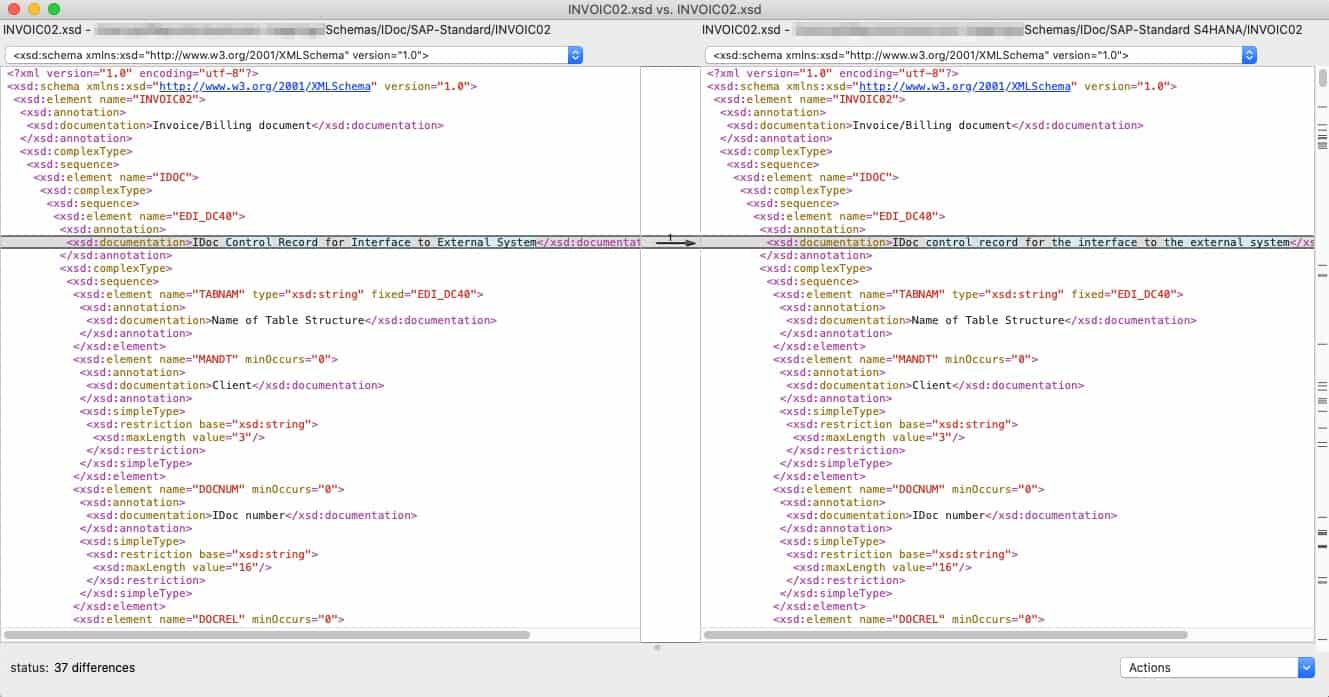 © 2020. SAP SE or an SAP affiliate company. All rights reserved. Used with permission of SAP SE.
IDocs in S/4HANA – the differences in detail
In total, there are currently 37 differences between an INVOIC02 IDoc in S/4HANA and SAP ERP ECC 6.0.
The first 33 differences are merely corrections to the description of the segments (mainly case-sensitive). The other four differences are more interesting:
1) E1EDP01 – general data document item
The IDoc segment E1EDP01 receives some new elements. Their names and documentation are as follows:
"SGT_RCAT" Requirement Segment
"SGT_SCAT" Stock Segment
"HANDOVERLOC" Location for a physical handover of goods
"MATNR_LONG" Material Number
"REQ_SEG_LONG" Requirement Segment
"STK_SEG_LONG" Stock Segment
"EXPECTED_VALUE" Currency amount for BAPIS (with 9 decimal places)
"LIMIT_AMOUNT" Currency amount for BAPIS (with 9 decimal places)
2) E1EDP02 – document item reference data
There are also three new elements in segment E1EDP02:
"RMA" Order Acknowledgment Number
"REASON" Order Reason (Reason for the Business Transaction)
"RSNTXT" Description
3) E1EDP19 – document item object data
A longer material number can now be specified for the object data:
"IDTNR_LONG" up to 40-digit material number
4) Generic IDoc type extension
A new element in the generic IDoc type extension has also been added:
"E1IDOCENHANCEMENT"
You can use this element to specify generic key/value pairs in the IDoc XML file. However, the length of the character strings in the value elements is limited to 970 characters.
The changes in the IDoc structure are therefore manageable, and should be recognised as useful improvements for the best possible handling of S/4HANA.
Want more information on IDocs and EDI under S/4HANA?
For more details about the changes in SAP from ERP ECC 6.0 to S/4HANA and what a seamless EDI/ERP integration into your company's SAP system involves, please contact us.
SAP ERP and SAP S/4HANA are the trademarks or registered trademarks of SAP SE or its affiliates in Germany and in several other countries.