Given the average length of electronic data interchange (EDI) contracts and the impact that selecting an effective EDI software vendor can have on the efficiency of key business processes, the importance of choosing the right solution can't be overstated. Unfortunately, thanks to the plethora of options available and the opacity of pricing structures, selecting a suitable provider can be a daunting process though.
With limited experience of EDI and faced with a choice between multiple different solutions, it is understandable that many people use the price of the solution as a key selection criterion. However, as we shall explore in this article, when it comes to EDI solutions, focusing principally on price is unwise. In fact, opting for a cheaper package that is less well suited to your current and future needs will almost always end up costing your business more than implementing a more comprehensive solution.
As we explore in our white paper on the subject, implemented correctly, EDI solutions can bring substantial long term cost savings and hugely reduce internal effort and associated complications. By opting for a substandard solution, however, many of the key benefits of efficient EDI (and attendant savings) are negated.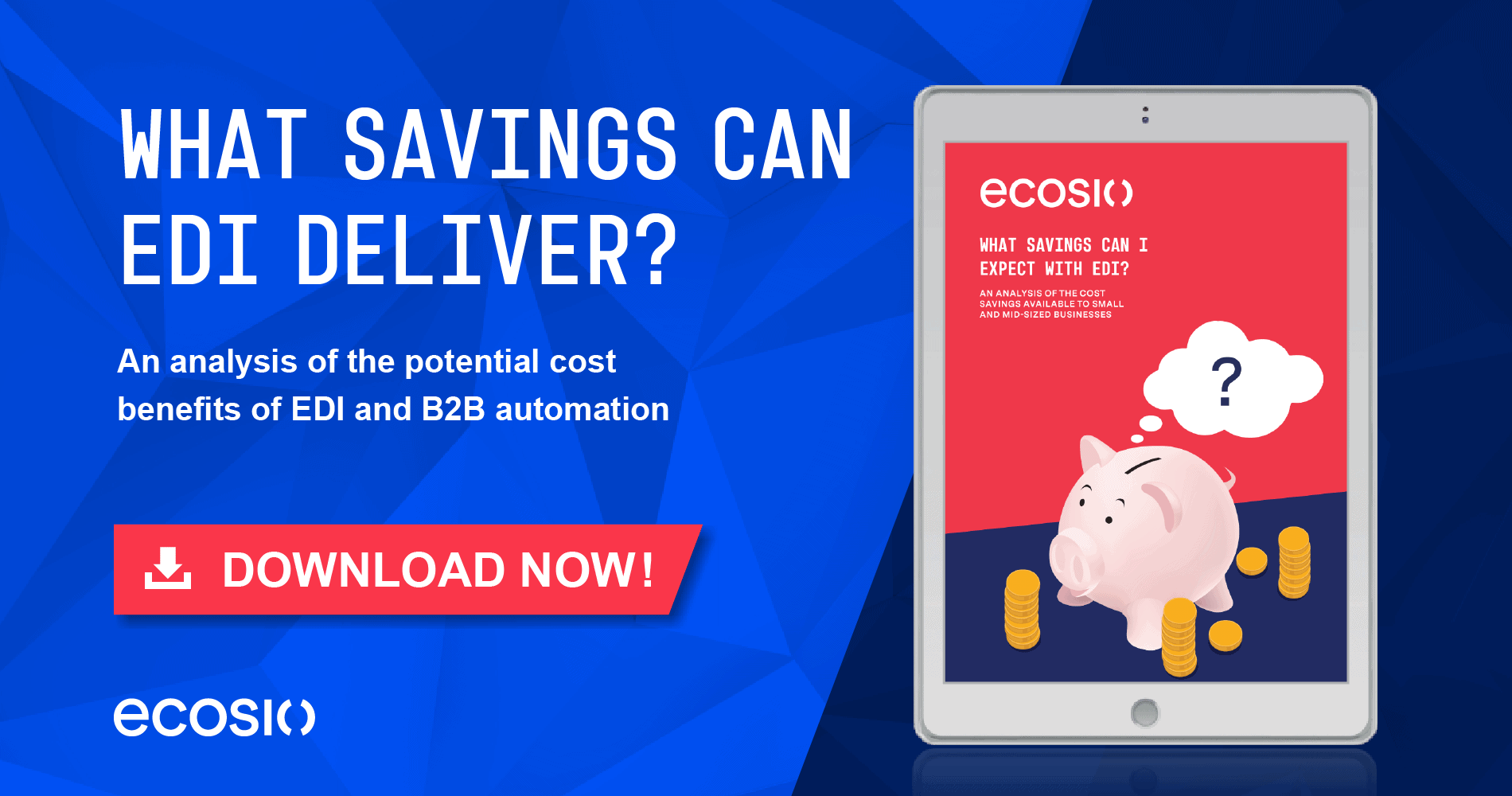 To see exactly where savings are lost, let's look at some of the common areas where EDI solution buyers typically experience problems.
Mapping / Routing
As mapping and routing is the bread and butter of EDI providers and something that everyone considering EDI requires, EDI users understandably do not expect to be charged extortionate amounts to test connections, to send/receive a new document type or to exchange messages via a new communication channel.
Unfortunately, however, this is exactly the situation many businesses face once tied into a contract. By failing to check exactly how much work their contract obliges their provider to do or what functionality their package contains, customers run the risk of encountering large license fees or activation charges. Despite the fact that activation of new functionalities (e.g. exchanging via AS2) often requires no effort on the part of the EDI software vendor, something as simple as gaining an license key to activate a new function can cost thousands of pounds! Obviously this quickly eradicates whatever savings a business intended to achieve by selecting the cheaper solution.
A common example of such a situation can be found below:
A supplier is faced with an immediate request to enable the receipt of purchase orders and the transmission of invoices over EDI. Due to their contract volume, this customer is very important and therefore needs to be satisfied or will otherwise look for a different supplier.

The supplier tries to fulfill this need with the least amount of effort involved and with little time left. The decision process therefore does not involve a true internal discussion of the real needs and capabilities of internal teams such as current IT backend systems, the sales department, logistics etc.

Due to this, often the lowest bidder wins the race. Issues are not identified before the solution is purchased, resulting in more problems down the line when a unfitting EDI solution needs to be implemented

As a result, EDI stakeholders are unhappy about the speed and quality of the implementation, encounter problems with its capability and ease of use and are faced with additional charges to bring the EDI solution closer to the real needs.
Partner onboarding
Like mapping and routing, partner onboarding is an essential part of EDI for growing businesses. Predictably, therefore, it is another key area where solution buyers become frustrated with substandard service from EDI software vendors.
As anyone who has had to onboard partners themselves will recognise, onboarding requires a huge amount of effort. In addition to sorting the technical details (e.g. setting up test connections etc.), liaising with partners to get the necessary connection information can be a very time-consuming process.
With a fully comprehensive EDI software vendor this process is handled by the solution provider. Ideally, a dedicated project manager will be assigned to oversee the connection process. This involves chasing partners for relevant details, validating information and overseeing document implementation. In addition to removing all internal effort, this drastically improves the speed of connections.
By contrast, some EDI software vendors offer remarkably little help when it comes to partner connections. Whilst they may claim to provide assistance with onboarding, the contract may only specify that they are obliged to send a single email requesting relevant requirements from your prospective partner, for example. Solution buyers therefore experience neither fast, nor hassle-free connections and are left having to chase both their partners and their EDI software vendor to achieve results. Obviously, as with extortionate costs for unlocking new mapping/routing capabilities, this can quickly erase whatever savings were made by selecting a cheaper solution.
Maintenance and updates
As EDI is constantly evolving, it is necessary to implement regular updates to keep a system functioning at optimum level. Updates can relate to many different things, such as document standards, EDI protocols or e-invoicing regulations.
For example…
In recent years there was a switch from OFTP1 to OFTP2 connections in the automotive industry. This involved all existing connections between thousands of suppliers and their OEM customers and other suppliers requiring work. Due to the changes involved in this many EDI solutions needed additional licenses or adapters to meet the requirements of OFTP2. Further, additional security options such as encryption and message signature meant that EDI users needed to be trained and capable of understanding the principles behind the communication protocol to correctly setup and troubleshoot OFTP2 connections.


Similar efforts and effects need to be assumed for changes in e-Invoicing for governments, such as with FatturaPA in Italy. As the systems are still relatively new they are subject to a significant amount of changes, on both the technology side and the regulation side. They may include smaller changes such as a renewed certificate, but can also affect business processes and regulations.
Therefore an experienced integration partner that knows about the business level as well as the technological implications should be selected.
The larger a business's partner network, the more updates have to be implemented, the more work is required to do so, and the higher the risk of failing to make the changes.
With the best fully managed EDI solutions such updates are implemented as required with zero effort needed from the customer. Cheaper and less comprehensive packages, on the other hand, will not include updates. Customers then face a choice between attempting to fix issues in-house (and running the risk of making costly mistakes while doing so), or paying for their service provider or an external consultant to update their system.
Further, by selecting a substandard solution which does not offer ongoing maintenance and automatic implementation of updates businesses may not even be aware of new and potentially crucial updates. Over time this can cause a significant reduction in process efficiency and security. Businesses in this situation also run the risk of experiencing sudden errors across a large proportion of their supply chain, which can be extremely expensive to rectify.
Error handling
As costly as issues relating to mapping, routing, partner onboarding and maintenance can be, arguably the area where EDI solution buyers experience the most frustration with non-comprehensive EDI software vendors is error fixing.
Although many solutions claim to offer support, the quality of this support differs hugely from one provider to the next. Whilst a fully comprehensive EDI provider may offer 24/7 support, cheaper providers' support will be limited. Often 'support' is limited to a single phone number or email address, via which it is typically extremely difficult and time-consuming simply to get through to anybody, let alone the right person.
Unfortunately, many businesses neglect to investigate the quality of their chosen provider's support prior to signing a contract. When errors then occur, valuable time is lost trying to fix the issue. Further, the longer it takes to resolve the issue, the more likely it is to escalate or for similar issues to appear elsewhere in your supply chain, a scenario that can easily result in spiralling costs.
How to secure a good value contract with an EDI software vendor
1 – Conduct a thorough requirement analysis
Possibly the single most useful step you can take before starting the process of selecting your EDI supplier is to conduct a thorough requirement analysis. Though this takes some time, it is well worth the effort and will ensure you don't get stuck in the wrong contract. Some key questions to ask during this stage might be:
Do we have sufficient EDI knowledge in-house to operate an on-premise system?

Are we able to develop effective testing processes to ensure the security of new connections?

What functionality are we likely to need in the future?

Are internal teams capable of protecting data security by staying on top of updates?

Do we need a provider that can respond quickly to resolve errors?

Is simplifying partner onboarding a priority?
2 – Don't underestimate the effort required to setup and operate effective EDI
Although fully automated EDI hugely reduces the amount of manual effort required to exchange business documents, there are still many processes even after setup, such as error handling and message monitoring, that require management by someone to keep your system running smoothly.
A common error made by those selecting an EDI software vendor is to focus on the capabilities of the software, without considering who will be in charge of making sure things function correctly. Ultimately, even if you purchase the most incredible software, if you don't know how to use it effectively or don't have sufficient internal resources, you won't see any benefit. Businesses in this situation are therefore forced to hire the required resources, change their EDI solution altogether or enlist the help of another third party supplier in the form of an EDI consultant (and in so doing commit to another contract).
With a comprehensive EDI solution these problems do not arise. Whilst operating an EDI solution in-house makes sense for those businesses with sufficient internal resources/knowledge and for whom EDI is a central part of the business, this is not the case for others. By far the most sensible option for businesses new to EDI or without EDI experience in-house is to opt for a fully managed solution. As opposed to the hands-off approach of other providers, a fully managed EDI solution provider will handle everything from the initial setup to ongoing operation, virtually eliminating the need for internal involvement. In addition to offering much better value, this approach ensures optimal system performance and frees up time for internal teams, allowing businesses to focus on what they do best.
A detailed breakdown of the differences between different EDI provider solutions can be found in our infographic on this topic.
3 – Consider future needs
Choosing a flexible solution is one of the best ways to ensure you achieve value over the course of your EDI contract. From a change in the amount of monthly messages you send, to needing the ability to send information in different formats and via different communication protocols, your EDI needs can easily shift over time. It is essential, therefore, that you select a solution that is able to help your business as you grow and requirements change. Sadly too few businesses consider this and are forced to pay through the nose to achieve simple functionality as their needs evolve.
Don't let that be your business! By considering future needs and choosing a flexible, comprehensive EDI solution you can ensure that your business avoids surprise fees and continues to benefit from efficient, hassle-free EDI for the duration of your contract.
4 – Make sure you know what your package does and doesn't include
Though it sounds obvious, clarifying exactly what your package includes can save you a huge amount in the long run. If a provider seems to be offering the same service for considerably less, this is very unlikely to be the case! By failing to identify the difference between the two before making your decision you are likely to pay for it later.
A concise list of five things to consider when selecting a vendor can be found here.
Can ecosio's comprehensive EDI solution help you?
For more information on ecosio's unique, fully managed EDI solution and to find out how we could help your business to benefit from efficient B2B document exchange with minimal internal effort, contact us today.