Today, more and more suppliers and customers are demanding a connection via EDI (electronic data interchange). If the chosen EDI solution is not deeply integrated into Infor M3, many of the advantages of such a connection are lost, however. In this article we explore what the advantages of a strong EDI connection are and how you can achieve deep EDI integration in Infor M3.
Infor M3 and EDI – stronger together
Infor M3 is a particularly flexible ERP solution that can be operated both in the cloud and locally. Thanks to its capacity to help users manage the requirements of complex supply chains, Infor M3 is particularly popular with large and mid-sized companies. For such companies, EDI – i.e. the automation of previously time-consuming and error-prone manual message exchange processes – is a key consideration.
However, in many companies EDI and ERP exist side by side rather than as a homogeneous whole. When a local EDI converter is used instead of a fully managed, cloud-based EDI solution, some essential advantages are lost, including:
Full end-to-end message transparency from sender to recipient.
Relief of internal teams, self service functionality for specialised teams, and the elimination of any need for internal EDI know-how.
Support of national e-invoice requirements across various countries (Italy, Hungary, Spain, etc.).
EDI solution flexibility/scalability.
Round-the-clock monitoring of data exchange and proactive troubleshooting by a specialised service provider.
The key to experiencing these benefits lies in deep integration of an EDI solution in Infor M3. But what is the best way to achieve such integration? Together with our Infor partner BE-terna, we have designed a particularly flexible and future-proof solution for this…
API as the game-changer
The best method to achieve seamless EDI integration in Infor M3 is via an API connection. API connections are characterised by the fact that access to data between your ERP and EDI service provider (e.g. ecosio) takes place directly via an integrated interface (i.e. the API) of the EDI service provider. This makes the B2B platform with the associated B2B network of the EDI service provider and the ERP solution a homogeneous whole. This in turn means, among other things, that the status of each message can be queried automatically and viewed in real time in your existing ERP system user interface. The potential for errors along the B2B message exchange is thus drastically reduced.
EDI via API offers true end-to-end data transparency, making it extremely easy for users to identify and resolve any errors that occur. For example, suppose you are waiting for a response from a supplier regarding an order you sent… With EDI via API, you can immediately see directly in your ERP system if an order was not received from the supplier due to an error. Such visibility is not possible via an alternative connection, e.g. via SFTP.
The use of EDI via API also offers the possibility of a full text search in Infor M3. This makes it much easier and faster to find documents when needed, as ecosio indexes all the content of a message as well as any associated metadata, such as AS2 message IDs, SFTP file name, etc. Furthermore, the newly updated ecosio Monitor (accessible via the familiar interface of Infor M3) allows users to track the history of any message.
As the data exchange takes place via ecosio's fully managed platform, all message traffic is continuously monitored. If there is a problem with a delivery, ecosio takes over the proactive troubleshooting and will carry out any required subsequent action, e.g. a new message dispatch. In the event that you need to intervene – for example, because something is missing from the message content – you will be proactively notified. No message is left stranded, meaning you can rest assured your message exchange is running smoothly and without errors.
An API connection makes EDI in Infor M3 more transparent, easier and, of course, more cost-efficient.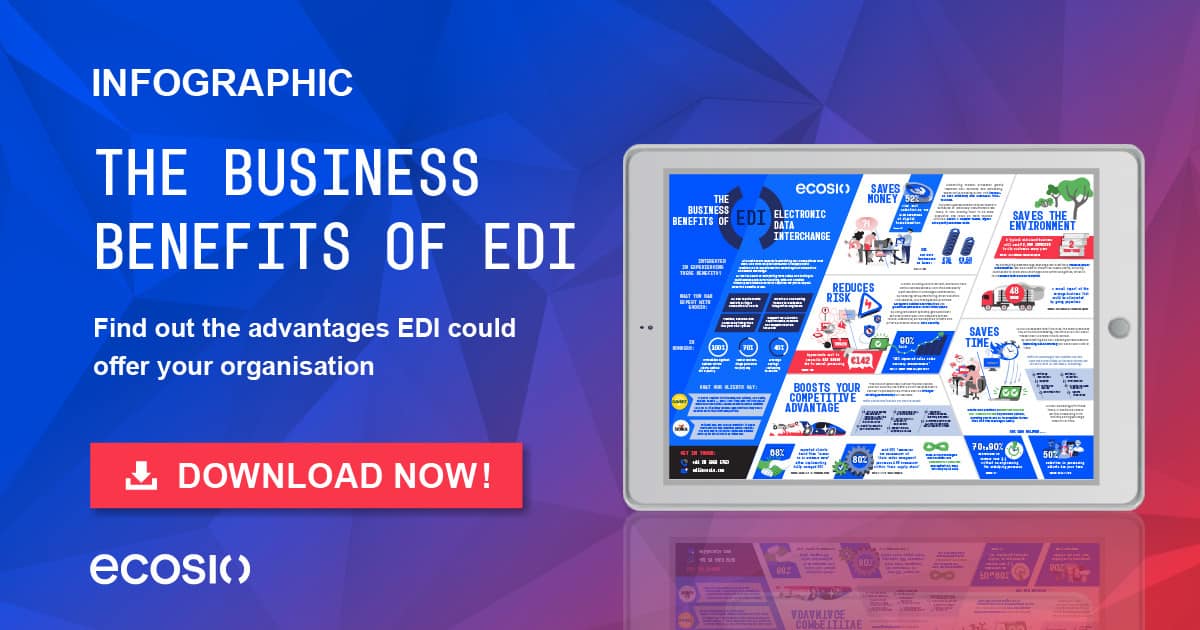 What do I have to do to achieve full EDI integration?
Not much – that's the best part! The best fully managed EDI service providers (such as ecosio) offer API integration of all EDI functions (as well as Web EDI and e-invoicing) as a complete package. With ecosio, all this is delivered via just a single connection to the cloud-based ecosio Integration Hub. This means that in addition to the benefits of seamless EDI integration in Infor M3, you also have the following advantages:
ecosio takes over all EDI tasks, relieving internal teams and eliminating the need for in-house EDI expertise.
The connection to the ecosio Integration Hub enables the fulfilment of all current and future EDI or e-invoicing requirements in a flexible and scalable way.
Dedicated ecosio Integration Engineers take care of all partner onboarding, monitor messages 24/7, and are always available as a clear point of contact for you.
Future-proof EDI – the ecosio Integration Hub is constantly updated and is thus always at the cutting edge of technology. ecosio's multiple redundant server infrastructure enables updates to be installed during operation without affecting the uptime.
The project implementation and EDI integration in Infor M3 is handled completely by ecosio – together with BE-terna as Infor M3 Customiser.
Still have questions about EDI, EDI integration and Infor M3?
ecosio is an exert when it comes to seamless integration of EDI and e-invoicing in ERP systems like Infor M3. If you are interested learning more about our unique solution or have further questions, please contact us without obligation – we look forward to enabling you and your company to realise the full EDI potential in Infor M3!