We would like to dedicate this blog article to a topic that has been dealt with indirectly, but is increasingly in the media in recent weeks as a consequence of Covid-19: Business Continuity Management (BCM), or how companies and corporations ensure (business) processes that are essential for survival.
An important part of BCM is the maintenance of supply chains. Depending on the business area, interruptions to supply chains can also have critical effects on social processes. For example, the continuation of food trade during various degrees of lockdown worldwide underlines the high importance of an uninterrupted supply chain. ecosio, as an EDI and B2B integration service provider, is jointly responsible for the smooth functioning of such supply chains across a wide range of industries. In this article we'll explore how EDI plays an essential role in BCM – even away from crises.
Automated message exchange as a core process of business continuity management
The primary goal of BCM is to ensure that the operation of a company's core processes is always guaranteed. This is important in everyday life, and even more important in the event of a crisis. Exactly which core processes are used depends on the industry, but the areas of procurement, production and/or sales are core processes in many companies. These areas are based on B2B partnerships with other companies (as supplier or customer). Good communication in such partnerships is essential, and the exchange of countless documents such as orders, delivery notes and invoices is an operational (and sometimes even legal) must.
The exchange of messages and data with partners leads to a complex system structure due to diverse requirements. To make this more efficient and resilient, many companies automate message exchange with EDI. A reliable EDI infrastructure in a B2B network makes it possible to communicate faster and more efficiently in case of errors or unforeseeable events. This helps to keep the supply chain operational. An important topic here is also the redundancy of essential IT processes. High-quality cloud-based EDI solutions are operated on the basis of mirrored servers at different locations and can thus continue EDI operations along the supply chain without interruption in the event of partial failures.
Operation and monitoring from home office
BCM has three key tasks to fulfill: protect, sustain and resume. Core processes are to be secured and protected in everyday operation, maintained in the event of a crisis and returned to normal operation after the crisis. This is where IT teams are often particularly challenged. EDI can support internal teams in all three tasks.
To protect everyday operations, constant management of the procurement and sales processes is necessary, from message monitoring to error handling. Companies with intensive B2B networks therefore support their internal teams with EDI solutions that make monitoring transparent and error handling processes simple. In this way, day-to-day operation success can be ensured at all times with minimal internal resources. In turn, this enables businesses to continue to function normally and maintain the monitoring of core processes in the event of special events – for example, if a home quarantine ensures limited team capacities.
Cloud-based EDI solutions also enable remote access to verify message exchange and processes, regardless of local conditions. With local EDI converters, this is more difficult because access from outside the corporate network is often not available to all employees.
The legislator as force majeure
In addition to diseases and natural disasters, however, another type of "force majeure" must also be taken into account – namely that of the legislator. Particularly in the field of accounting, new laws and directives are constantly being introduced and updated – e.g. relating to mandatory electronic invoicing. Maintaining compliance with current legislation in national and international B2B and B2G trade is a necessary part of the three core processes mentioned above.
Legal requirements, such as the current EU Directive 2014/55/EU, apply regardless of external circumstances or factors and must be implemented accordingly. Here, EDI is used to issue legally compliant e-invoices in various countries. This protects core processes and ultimately the operation of the supply chain.
It has become clear during the events surrounding Covid-19 that the digitisation and automation of formerly physical documents is not only a major pillar of BCM, it also helps in the long term to reconcile the requirements of employer and employee in different situations. For example, anyone required to process invoices and orders in home quarantine should not have to rely on a filing cabinet at the closed company office.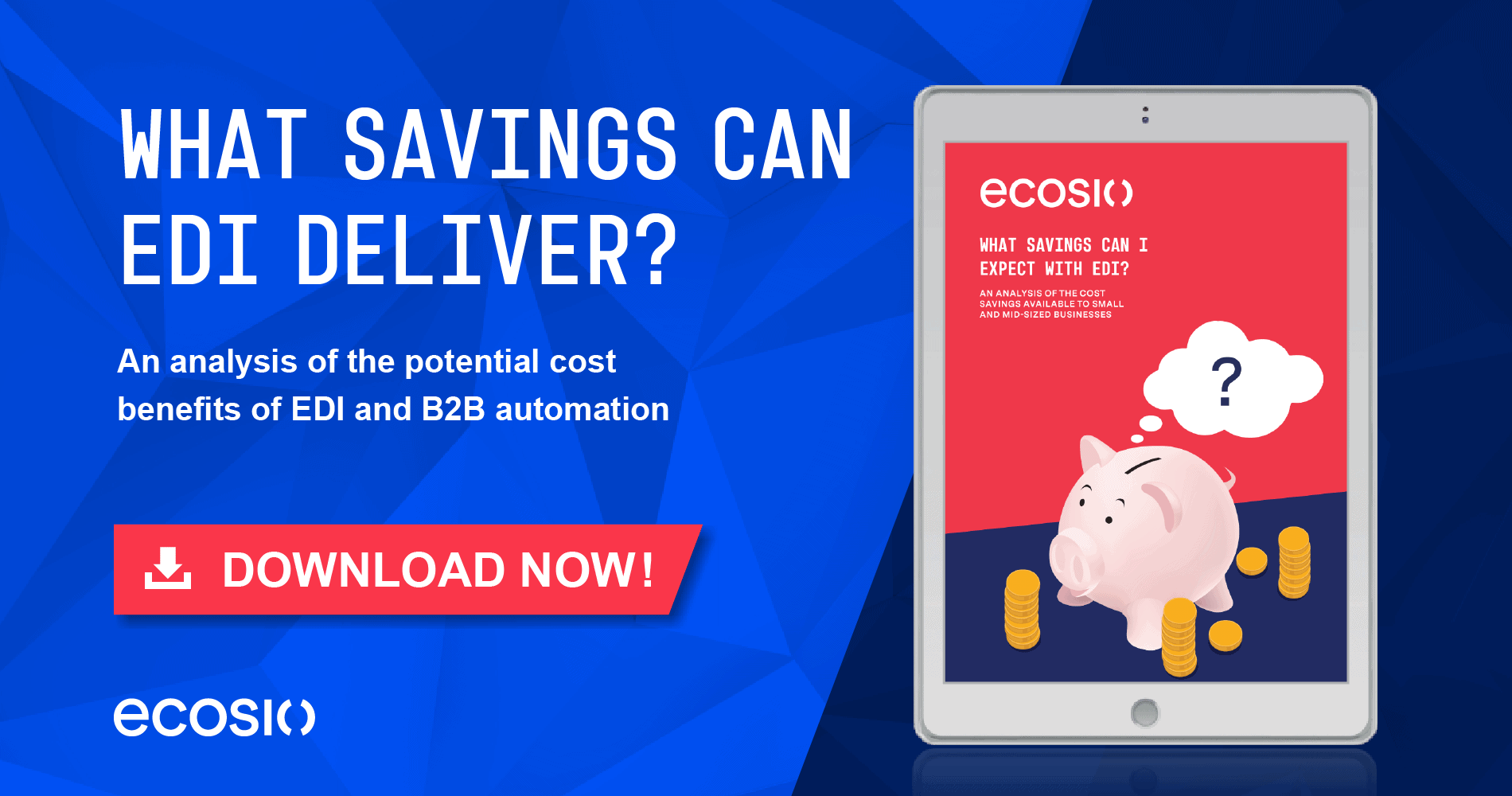 Conclusion: the role of EDI in business continuity management
In conclusion, EDI constitutes a core process of core processes in ongoing business continuity management. Companies need automated data exchange to be able to exchange messages efficiently and safeguard their supply chain. Both continuous monitoring of EDI processes and rapid error correction are critical to the smooth operation of supply chain organisations.
Finally, EDI also helps companies to meet legal compliance requirements and international regulations – particularly in the highly federated area of electronic invoicing. In short, EDI is necessary, with or without crisis, to optimise and maintain B2B communication along a supply chain and to protect it in its permanent operation.