Background of VDA and electronic invoicing
The German Association of the Automotive Industry (VDA) has for many years been publishing standards for processes found in the automotive and associated industries. VDA is the acronym of the association's German name Verband der Deutschen Automobilindustrie.
VDA has also, in addition to standards for logistics such as delivery call-offs, JIT delivery schedules, despatch advices, etc., published standards for electronic invoicing. The two familiar standards are VDA 4906 (EDI for invoices) and VDA 4908 (EDI for credit notes). Both standards are outdated today. VDA 4906 was passed in May 1993 and VDA 4908 in May 1996. The use of these standards is no longer recommended and the new e-invoicing standard VDA 4938 should be used instead.
VDA developed the VDA 4938 standard to meet current statutory and fiscal requirements for the automotive industry. The objective of VDA 4938 is a uniform design of electronic invoices and credit notes to allow the electronic exchange of information between companies using EDI (OEMs and tier suppliers etc.).
The VDA 4938 standard has four different parts, as listed below.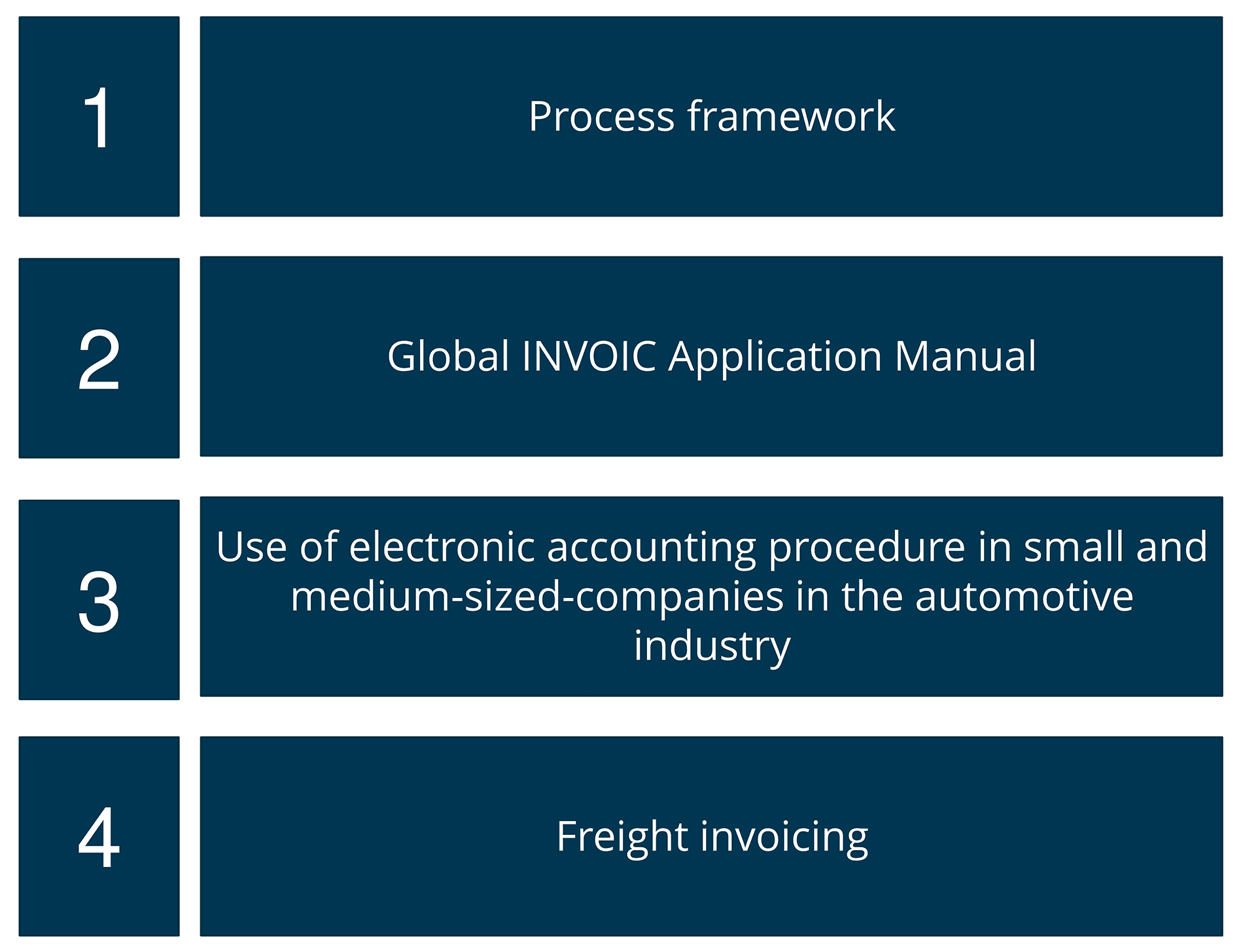 Overview of the VDA 4938 family of standards

The individual documents are available under the following links (in German):
4938 T1 – Process framework for the exchange of electronic accounting documents, using EDIFACT without digital signatures
4938 T2 – V 2.2 Global INVOIC Application Manual
4938 T3 – Use of electronic accounting procedures for small and medium-sized companies in the automotive industry
4938 T4 – Freight invoicing
Part 1 deals with the process framework for electronic invoicing. This includes a process recommendation, technical guidelines, and guidelines for the involvement of service providers. Agreement templates and checklists for VDA 4938 users are also included.
Part 2 contains the EDI definition, the so-called EDIFACT Message Implementation Guideline – MIG for short, based on EDIFACT INVOIC D07A.
Part 3 contains the invoicing specification developed by auto-gration, an EU-funded project aimed at supporting small and medium-sized enterprises in their participation in global automotive industry supply chains. The result of this project is an XML specification for electronic invoicing, now included as Part 3 of VDA 4938.
Part 4 contains specifications for the display of freight invoices based on EDIFACT INVOIC D13A.
Any questions?
You have further questions in regard to VDA standards, or would you like to introduce a VDA 4938 based solution? Please do contact us or use our chat — we're more than happy to help!