Regardless of what you think of them, Value Added Networks (VANs) are a central part of modern supply chains. In order to automate partner connections via electronic data interchange (EDI), routing via VAN connections is often unavoidable. How best to handle these connections and improve your VAN landscape is something many decision makers struggle with, however. Generally speaking there are three main options:
In this article we'll explore five reasons why you should avoid conducting EDI in-house via an EDI converter if you need to route messages through VANs.
1) The need for EDI expertise and internal resources
Undoubtedly the main hurdle stopping businesses from attempting to manage EDI in-house is the complexity of EDI processes. Unfortunately, given the way in which EDI has developed over the decades and the myriad of formats and protocols available to businesses today, managing EDI requires significant technical expertise which is rare among in-house IT professionals. Further, even when a business does have sufficient EDI expertise, they may not have enough resources to cope with system setup and/or ongoing operation. Unless you are willing to invest in new staff members to cope with the additional workload, you risk overloading your IT team and increasing the likelihood of errors as a result.
2) Maintenance of various different servers
When handling EDI via an EDI converter it is often necessary to maintain various different servers. These are needed to enable the transmission of certain document formats over different protocols to various VANs and partners. For example (as pictured below) you might easily need to maintain an X.400 mailbox as well as both an AS2 and an SFTP server to be able to reach all your business partners. In such a scenario you also need to monitor and maintain the connections to and from these servers, including any interconnects to different VANs.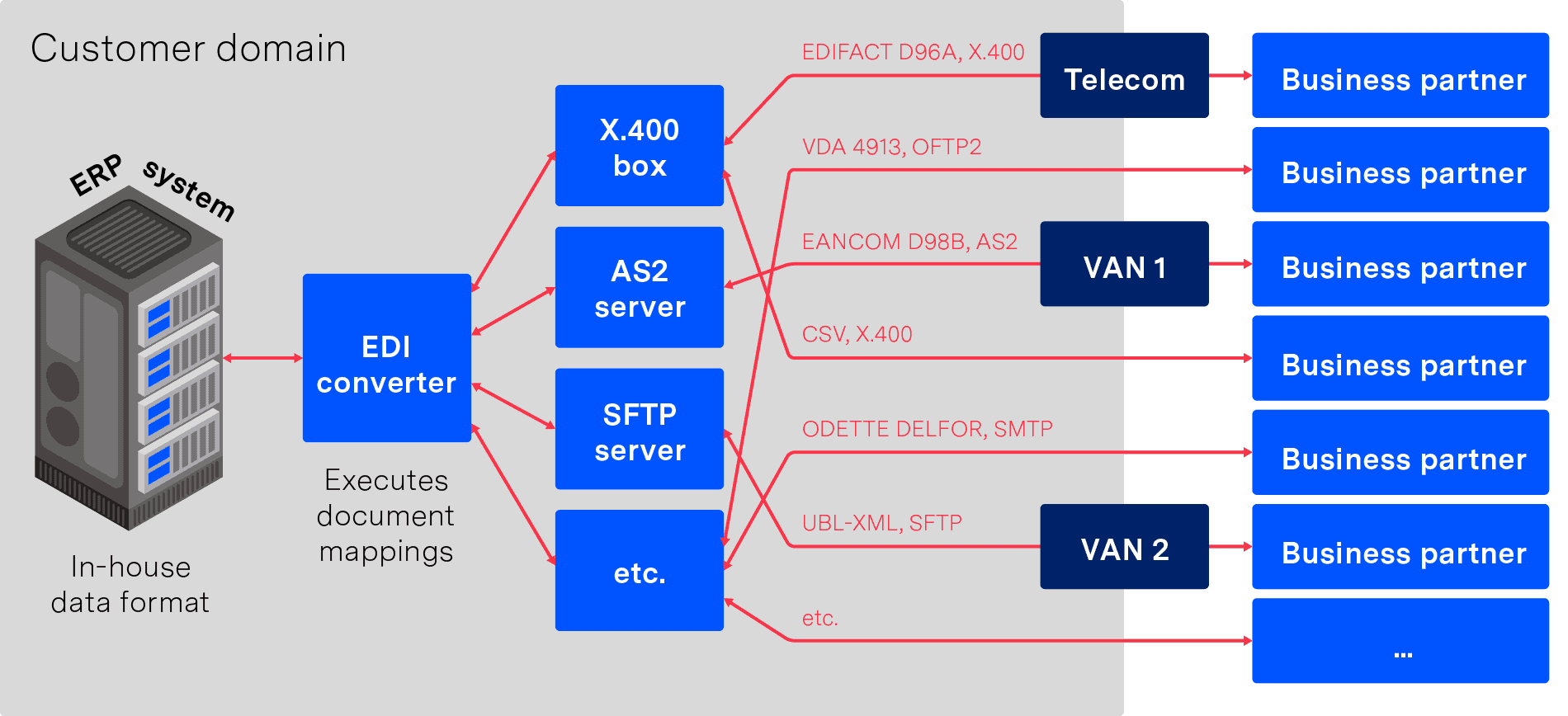 Click to enlarge
Further, as EDI enables the transmission of business-critical documents such as orders and invoices, it is imperative that total system failure is safeguarded against. The only way to do this properly is to maintain multiple redundant servers so that all message exchange and archived messages are backed up. However, as this involves investing even more on hardware etc. than the already significant amount required to maintain a single server, many businesses opt not to provide EDI systems in a redundant manner. In so doing, these businesses risk catastrophic financial consequences should total system failure occur.
3) Monitoring of connections and interconnections with different VANs etc.
There are many problems with having to juggle multiple VAN connections. In short, these issues concern the difficulty of message tracing, maintaining multiple VAN mailboxes and resolving errors (something made particularly hard by the fact there is often no clear point of contact). Unfortunately, these issues are unavoidable for companies that choose to handle EDI internally, as the only future-proof way to simplify messy EDI landscapes is to pass the management of VAN connections to an EDI solution provider such as ecosio.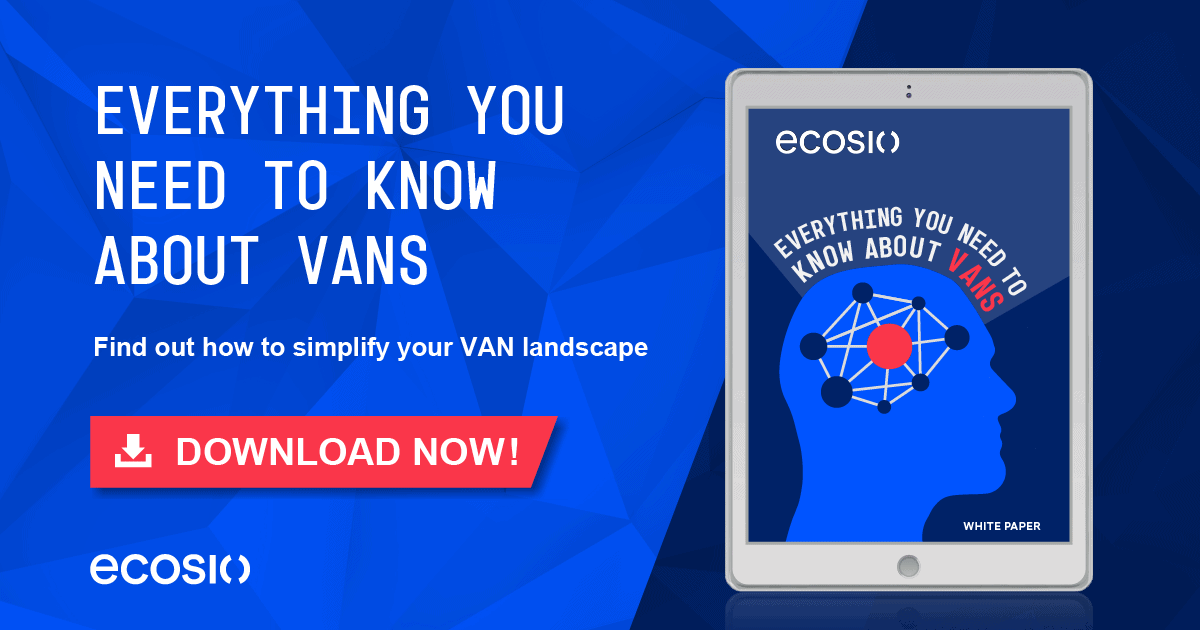 4) High likelihood of errors occurring
Whereas fully managed VANs will have rigorous and reliable testing, onboarding and verification procedures in place, this is often not the case with in-house arrangements. As in-house teams often have a large and varied workload it is easy for oversights to occur during system setup which are hard to correct further down the line (neglecting to test for every possible iteration of an invoice, for example). Also, the more VANs that are being used, the higher the likelihood of errors occurring.
5) The cost!
Unsurprisingly conducting EDI in-house is not cheap. Not only does purchasing the necessary hardware and software require significant outlay (particularly if multiple servers are required), the time and staff costs are also considerable.
Want to solve your VAN connection headache?
This article is a snippet from our white paper Everything You Need to Know About VANs. In this paper we explore the different types of VANs, the benefits of doing EDI via API and the practical steps you can take to improve your EDI landscape and minimise VAN costs (among other topics).
To download your copy and find out how you can optimise your processes, simply click here and fill in your details.
Alternatively, if you have any questions about VANs or anything else EDI related, feel free to get in touch. We are always happy to help!