Having recently become the 17th country to have a local Peppol Authority, Japan has confirmed that Peppol will be the mandatory infrastructure of the country's new e-invoicing system.
The new "Qualified Invoice" system is set to launch in October 2023, though businesses are being encouraged to start using Peppol-compliant e-invoicing software by October 2022.
In this article we'll look at the background of e-invoicing in Japan, what the recent developments have been, and what you need to do to meet the new requirements.
Why is Japan pursuing e-invoicing?
Japan's tax system has long been in need of an upgrade. Whereas other wealthy countries have steadily moved away from paper processes and embraced digital transformation over the past few decades, Japan has not, and still requires companies to keep records supporting all VAT claims. Generally, paper-based processes are still extremely prevalent in Japan, accounting for over 80% of administrative tasks in the country.
In recent years, however, the pitfalls of analog processing in the country have become too hard to ignore. In particular, the Covid 19 pandemic exposed the dangers of relying too heavily on in-person tasks, as offices were closed and people were required to work from home.
Recent research has also shown how Japan's reluctance to transition to digital processes could be hurting their potential for economic growth, with one report estimating the cost to be around €8 billion a year.
Recent developments concerning e-invoicing in Japan
In the face of growing awareness of the need for business processes to modernise, the E-invoice Promotion Association (EIPA) was established in July of 2020. Shortly after its creation, the EIPA announced its wish to introduce a national e-invoicing standard based on Peppol. The body also highlighted the need for a simple-to-use operating system to make e-invoicing as easy as possible for businesses.
In September 2021 Japan's government established a Digital Agency to assist in tackling the digitisation issue. The Agency identified its aims as follows:
Improving the ease of use of online public services
Developing certifications, IDs, networks, etc.
Improving digital coherence through training
Encouraging the introduction of new regulations concerning process digitisation
Building a thorough data strategy
Assessing the proposed digitization program
Making sure the program is secure and accessible.
On 14 September 2021, the Digital Agency was granted Peppol Authority status, with Japan in turn becoming the 17th country to have a local Peppol Authority.
Upcoming developments
At time of writing, Japan's proposed "Qualified Invoice" e-invoicing system is set to be launched in October 2023. Essentially the new approach is much like a VAT invoicing system and will enable taxpayers to claim input credit on Japanese Consumption Tax (JCT) from registered vendors. All Japanese vendors intending to issue e-invoices must register with their local tax office before 31 March 2023.
To ensure that businesses are fully prepared when this deadline arrives, the EIPA is encouraging businesses to start using Peppol-compliant e-invoicing software by October 2022.
What impact will transitioning to e-invoicing in Japan have?
The transition to e-invoicing in Japan should dramatically improve the efficiency of B2B and B2G processes.
While the transition will mean many businesses have to implement new solutions in the near future, those businesses affected should start experiencing the benefits of e-invoicing immediately. Further, these benefits will only increase as more and more businesses implement e-invoicing systems and a growing number of business processes become automated.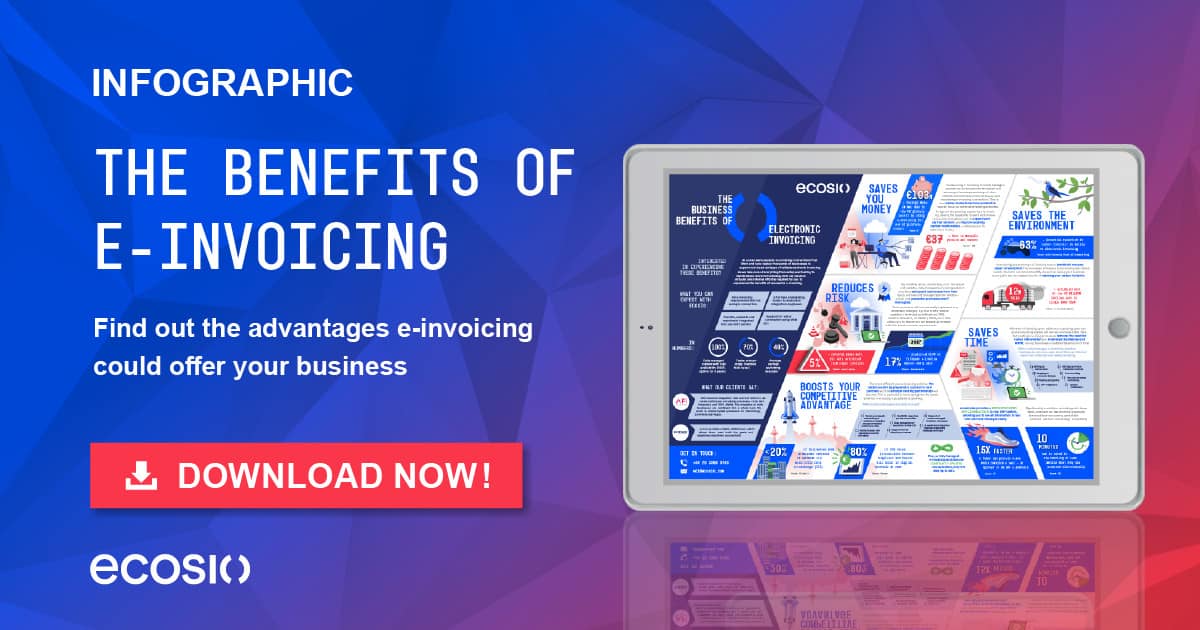 How to access Peppol
In order to gain access to Peppol and meet the upcoming requirements for e-invoicing in Japan or Singapore, businesses must either connect to a Peppol access point or become one themselves. As we cover in detail in our article on this subject, connecting to an existing access point is by far the simpler option and is thus the one opted for by the vast majority of businesses.
While there are many Peppol access points to choose from, not all offer exactly the same thing, however. For example, only a small minority of access points (including ecosio) offer Peppol connectivity via an API connection.
Get connected to Peppol with ecosio
At ecosio we're Peppol experts. In fact, ecosio was one of Europe's first Peppol access points!
Thanks to ecosio's unique API, connecting to Peppol with ecosio provides unparalleled end-to-end data visibility. This allows you to see the status of messages and whether or not they have been received by your partners in real time.
At ecosio we also provide e-invoicing as a service. This means we not only set up all your connections for you, but also handle the ongoing operation of your system. This way you get all the benefits of automated invoicing with none of the stress!
Contact us to find out more about how our solution could benefit your business. We're always happy to answer any questions!
Are you aware of our free XML/Peppol document validator?
Do you need a simple way to validate formats and file types like CII and UBL? If so, you might find our free online validator useful.