With more and more governments worldwide mandating the use of e-invoicing for transactions involving public bodies, the use of Peppol is growing rapidly among supply chain businesses. As an ever-growing number of companies become Peppol-enabled, Peppol in turn grows increasingly attractive for those businesses not yet connected.
In this article we'll explore what connection to Peppol requires, what an efficient connection looks like and the many benefits of connecting to Peppol via API.
Connecting to Peppol: what's required?
In simple terms, all a business needs to be able to connect to Peppol (in addition to the capability to send and receive automated messages) is a connection to a certified Peppol access point, such as ecosio.
Whereas before Peppol, trading with partners may have required connections to several service providers, with Peppol this is not the case. To ensure exchanging key B2B data with partners is as simple and cost-effective as possible, Peppol uses a four corner connection model. Unlike two and three-corner models, this model means that a single connection to a Peppol access point is sufficient to exchange automated documents with any other Peppol-enabled companies.
The two-corner model
Also known as point-to-point transmission, the two corner model requires time-consuming set-up and is usually handled by inhouse IT teams. Due to the high maintenance effort and setup time this model does not scale well. As connections are not reusable for multiple partners, each partner needs a new setup.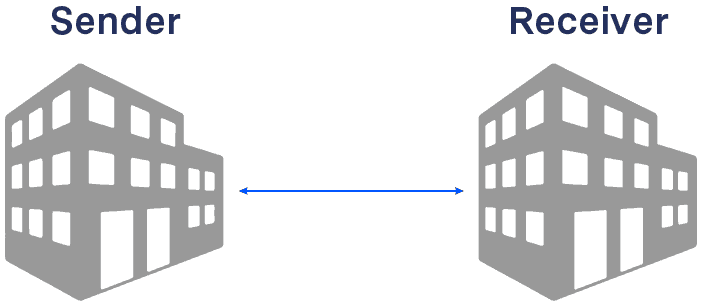 The three-corner model
In this model message routing is done via a central hub offered by a service provider. The main downside is lack of flexibility, as both sender and receiver must have the same service provider, meaning it is badly suited to large supply chains such as those for which Peppol was created. In addition there is a 'lock-in' effect in regard to the service provider – i.e. one of the parties is usually forced into a contract with the service provider of the buyer or the seller (depending on the market dominance of the party).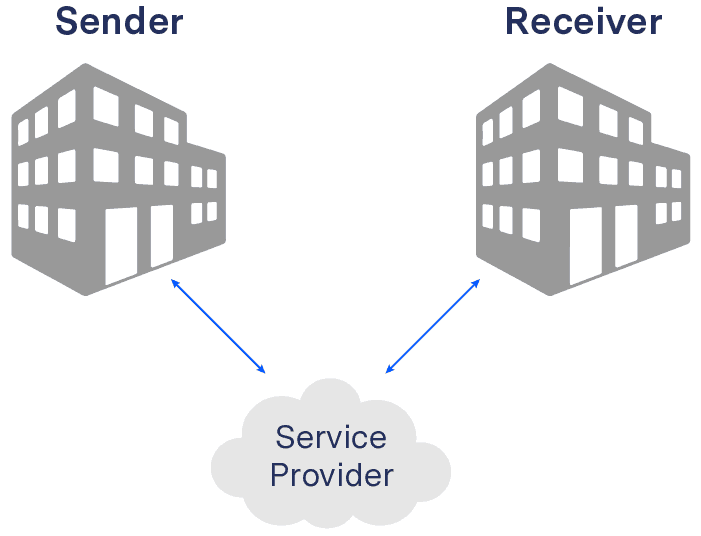 The four-corner model (used for transactions via Peppol)
This connection model requires both sender and receiver to send and receive messages via a service provider (aka access point), with document exchange also taking place between these providers, as shown below.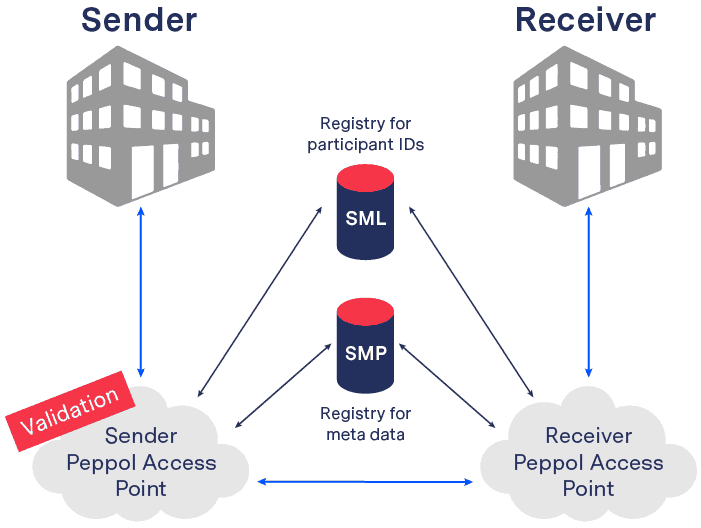 This has several advantages over the two corner and the three corner transmission models. Unlike them, the four corner model offers simplicity and flexibility, allowing for quick and cost-effective connections to partners. To exchange information, sender and receiver aren't required to set up unique point-to-point connections or use the same service provider.
Once a connection to an access point has been established, the Peppol Participant ID is sufficient to send an electronic message to any Peppol partner of choice. Vice versa, after connecting to Peppol a company can be reached by any other Peppol sender.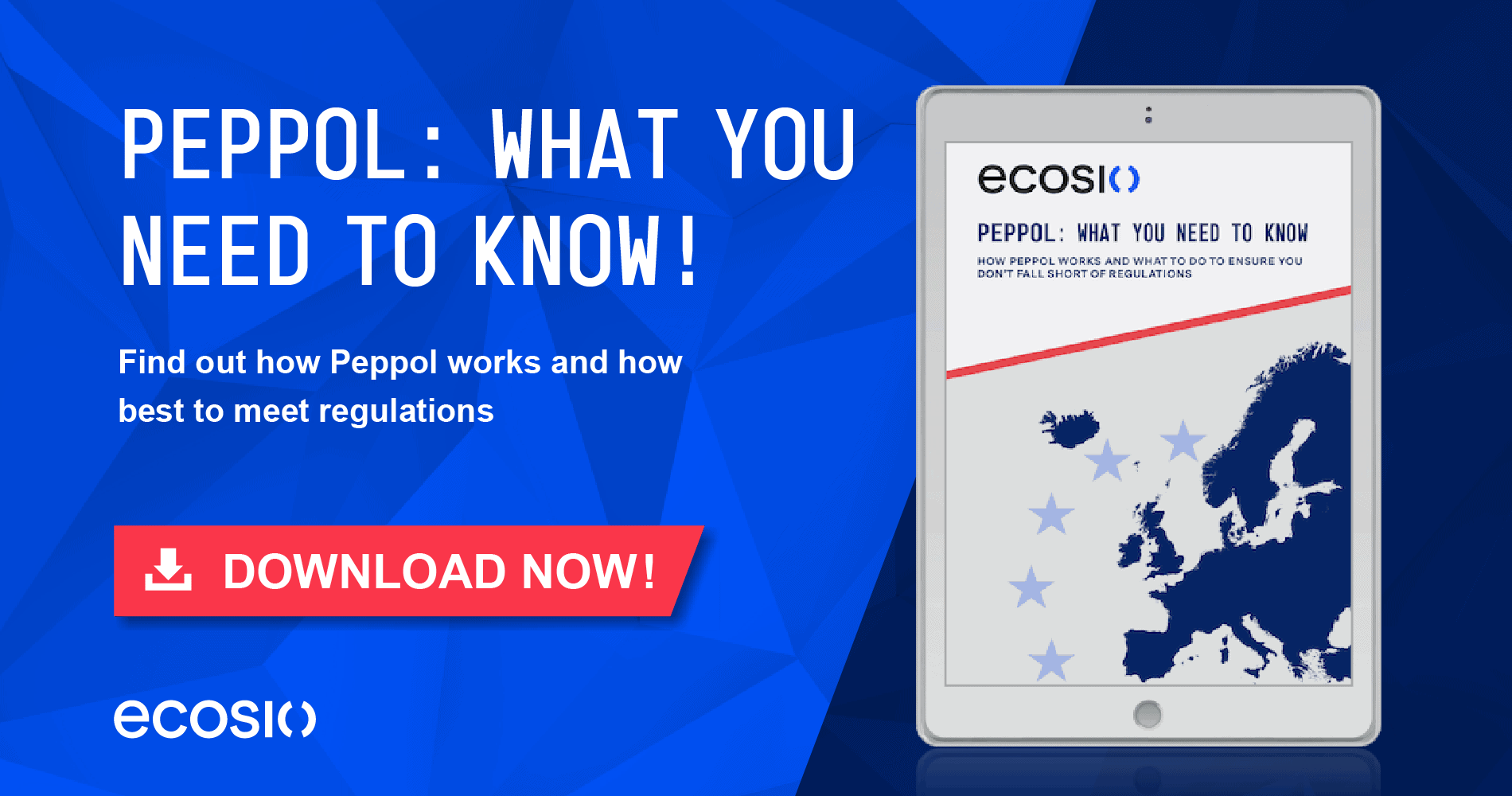 Not all Peppol access point connections are equal!
Although access to Peppol can be achieved through connection to any certified access point, it is important to note that not all providers offer the same thing. For example, despite the fact that Peppol now requires access points to be AS4 compliant (AS2 having previously been Peppol's preferred exchange protocol), many providers are still not set up to conduct document exchange via AS4. Similarly, the level of help provided by access points with regard to setting up new mappings and monitoring messages etc. varies wildly from one provider to the next.
Perhaps most significantly, however, very few Peppol access points provide APIs to help their customers achieve the best possible connection to their partners…
What are the benefits of connecting to Peppol via API?
Peppol as a whole has been developed to streamline B2G and eventually also B2B transactions. Conducting Peppol with the help of an API connection simply takes this streamlining to the next level (just as an API connection is able to boost the efficiency of traditional EDI).
An API basically specifies how different applications shall interact with each other, by defining the exchange format, exchange protocol, security requirements, etc. Thereby, APIs can help businesses connect their own internal IT landscape to other third party services. While Peppol perfectly solves the interoperability challenge between heterogeneous B2B networks by introducing a common exchange infrastructure, it does not define the "last mile". As in telecommunications the last mile refers to the connection piece between the network hub and the end user's system (e.g. the telephone).
In case of Peppol the network hub is the Peppol access point and the end user's system is the ERP system of the company. The ERP system is usually the main system, where invoices, orders, despatch advices etc. are being created and consumed. If a Peppol access point provider offers a dedicated API, the ERP system can be seamlessly connected to the access point.
Using such an API for Peppol transactions comes with a number of significant advantages for the customer, including:
End-to-end message monitoring
With an API connection, Peppol can be seamlessly integrated in your ERP system. This enables users to see the delivery status of messages from within their existing user interface, eliminating the need to log into independent external software to check that a partner has acknowledged a message.
Accurate delivery/fetching of messages
Once connected to your Peppol access point via API, requests can be set up at regular intervals to check for new messages. Alternatively, new messages can be transferred proactively from the Peppol access point to the recipient.
Full text search
Thanks to the depth of the integration provided by the API, messages can even be searched directly in the ERP system. For example, users could locate invoice messages by inputting any relevant invoice data such as article number, reference to the underlying despatch advice, etc.
Error handling
Unlike with traditional protocols such as SFTP, where it can be difficult to ascertain where and why sending failed, thanks to the unparallelled data visibility achieved with an API connection, users can immediately see where the issue occurred and what should be done to resolve it.
ecosio: Your trusted Peppol access point provider
At ecosio we are well positioned to help you experience the benefits of Peppol. In addition to being one of the very first Peppol access points in Europe, ecosio has also successfully passed Peppol AS4 testing and European Commission AS4 interoperability testing.
In addition, unlike other providers, ecosio's unique API enables customers to experience remarkable data visibility, allowing for e-invoice processes to be further streamlined – meaning lower costs and less stress!
Contact us to find out more about how our solution could benefit your business. We are always happy to answer any questions!
Are you aware of our free XML/Peppol document validator?
To help those in need of a simple and easy way to validate formats and file types, from CII (Cross-Industry Invoice) to UBL, we've created a free online validator.