Looking at the benefits that Electronic Data Interchange (EDI) can bring to an organisation, implementing an EDI solution seems like a no-brainer. But EDI integration in modern ERP systems is a complicated process. As a result, implementing and operating in-house EDI solutions is becoming less and less attractive for those seeking improved supply chain automation – with a growing number opting instead for a fully managed solution. The reason for this shift? Principally because fully managed EDI solutions offer the simplest way for businesses to overcome the four main hurdles of EDI integration…
Hurdle 1: Standards
EDI document standards were created to make supply chain automation easier by providing a set structure for commonly used B2B documents. However, as EDI has evolved over the decades, more and more standards have been created to cater to increasingly specific requirements across different industries and geographical areas. The image below, for example, illustrates how the need for increasingly specific formats has led to the creation of a multitude of subsidiary standards under the umbrella of the EDIFACT core standard.
Faced with this ever-growing maze of standards and formats, businesses require the ability to send messages via various protocols and convert messages easily between multiple different formats.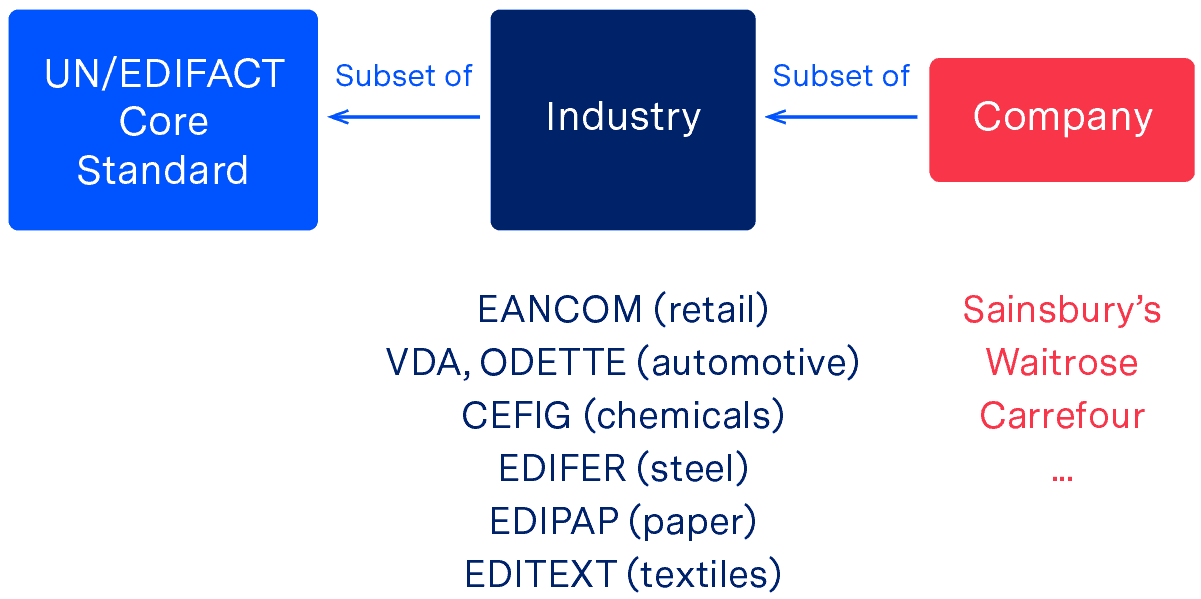 Hurdle 2: Technology
Thanks to recent innovations such as APIs and common import and export interface standards of ERP systems (e.g. based on XML or JSON), businesses have ostensibly never been better positioned to achieve widespread supply chain automation.
Unfortunately, however, many businesses are hampered by extremely complicated legacy IT landscapes and are therefore unable to experience the benefits of streamlined EDI. As illustrated by the diagram below (which shows the genuine IT landscape of a large retailer pre-upgrade), often legacy systems include several separate information silos and connections to multiple service providers. With no central governance and such a wealth of areas where errors could occur, internal teams are often scared to touch anything in case they disrupt or break mission critical processes.
Similarly, some ERP systems are so basic that they are unable to exchange structured files. This capability must therefore be implemented before EDI functionality can be integrated.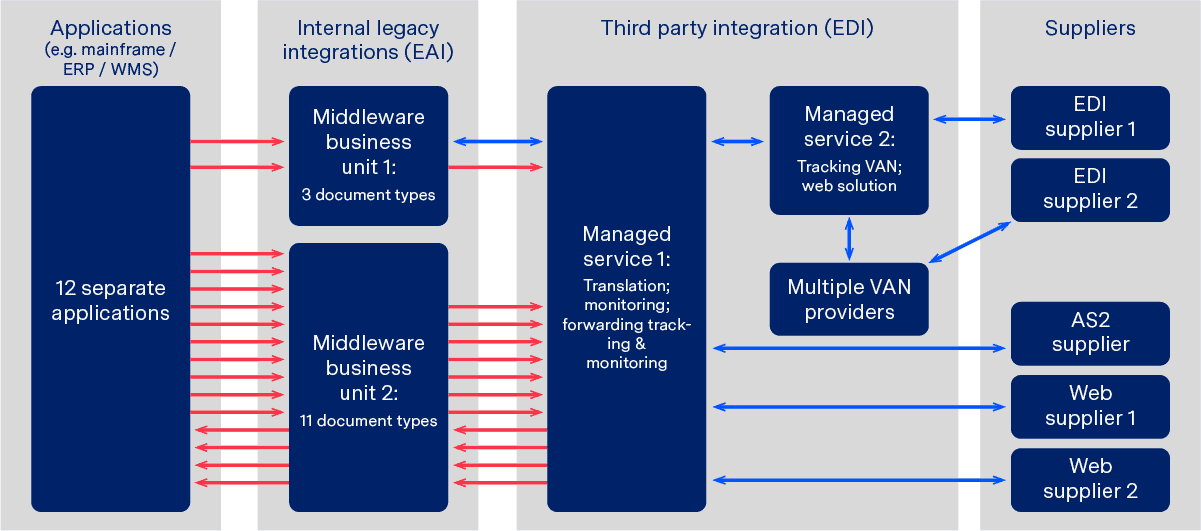 Hurdle 3: Processes
Whilst selecting middleware that can handle your business's technical requirements is obviously important, even more important is establishing the right processes, as without these lasting success is impossible. Though integration admittedly requires expert knowledge, the technical aspect of integration is often the easiest part, with Gartner noting that:
"Only 5% of the interface is a function of the middleware choice. The remaining 95% is a function of application semantics."
Successful supply chain automation via EDI relies on efficient processes. For example, monitoring and support processes are essential if errors are to be identified and resolved before they impact partners.
Generally, successful EDI processes rely on the following key factors:
Deep application and domain know-how of the business involved
Technical capabilities
Available resources
Project management skills
Project management support (e.g. onboarding tools)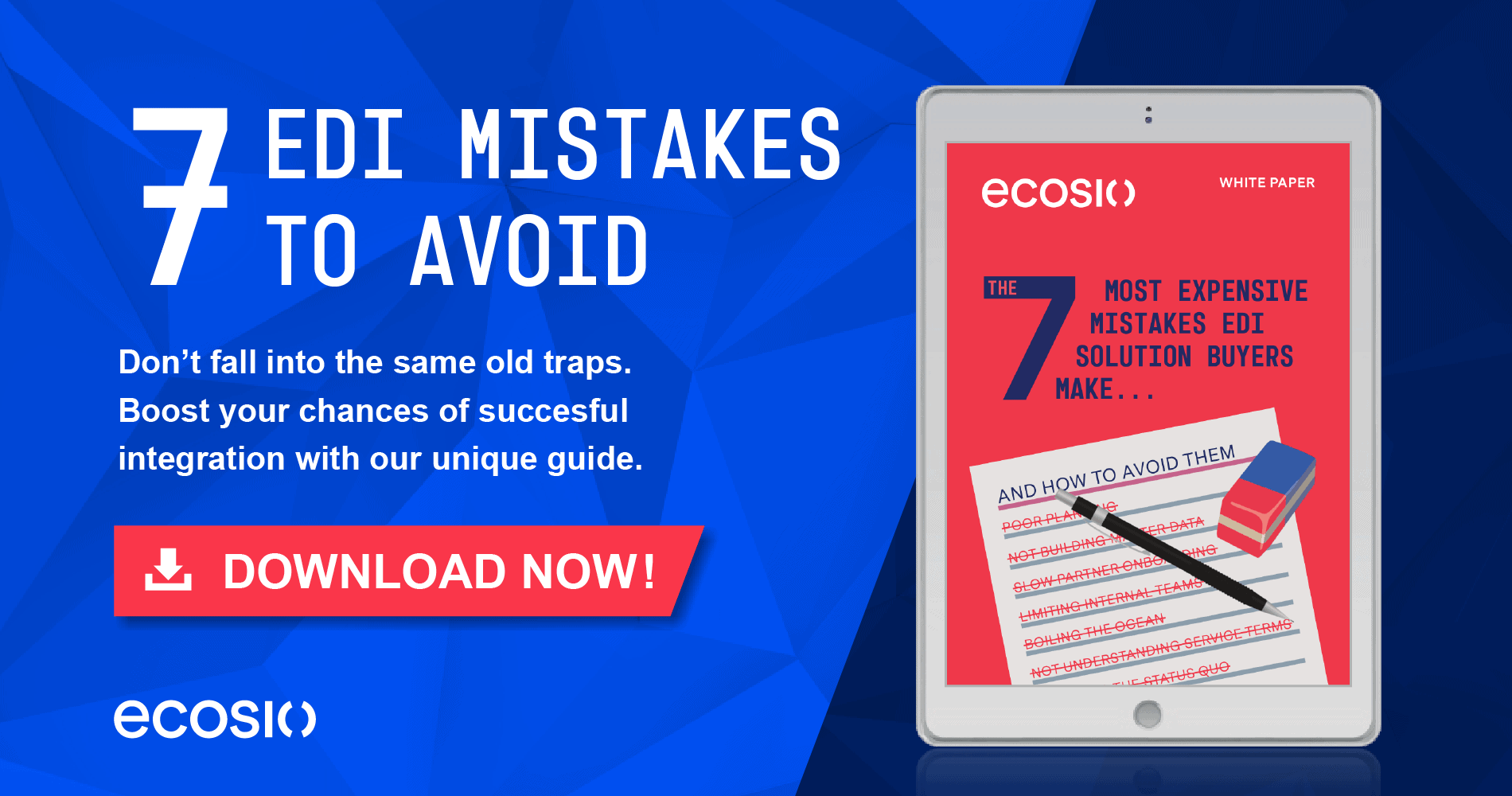 Hurdle 4: Legal requirements
In an effort to save costs and gain more transparency regarding B2G invoices, many governments have introduced legislation dictating how companies should format and transmit structured electronic invoices (a subject we cover in detail in our e-invoicing white paper). Since April 2020, for example, the majority of European government bodies have been required to accept electronic invoices. Further, from November 2020, suppliers will no longer be allowed to send German public bodies unstructured invoices (such as PDF or paper invoices). The introduction of regulations relating to the transmission of B2B e-invoices and orders may also not be too far away in some countries.
Given the geographic reach of most modern supply chains and the pace at which e-invoicing legislation in particular is being created and amended, staying on top of regulations is no easy task. Non-compliance with regulations is not an option, however, as it can bring large fines.
Want more information on how to overcome these hurdles?
This article is a snippet from our white paper Unlocking the Secrets to Successful EDI Integration. In this paper we explore the development of ERP systems, how EDI fits into modern systems, how to avoid common integration headaches, the benefits of full EDI integration and how to ensure your integration project is a success.
To download your copy and find out how you can implement (and benefit from) a solution that is able to overcome all four of the hurdles discussed in this article, simply click here and fill in your details.
Alternatively, if you have any questions about supply chain automation or anything else EDI related, feel free to get in touch! We are always happy to help!