On 15 September 2021 it was confirmed that France will introduce continuous transactions controls (CTC) from 2023. This means that e-invoicing in France will soon be mandatory for domestic B2B transactions. In this article we examine the facts when it comes to B2B e-invoicing in France. For a general overview of e-invoicing in France in relation to B2G and B2B, you may also be interested in our other article here.
B2B invoicing in France – all upcoming changes
France will introduce continuous transactions controls in the form of e-invoice clearing from 2023. Following a report published in October 2020 and the establishment of a special service with "Mission Facturation Électronique" (MFE), the plan to move towards CTC was confirmed on 15 September 2021.
As a result of the recent regulation we now know that e-invoicing will become mandatory for B2B transactions within the country. For this purpose, L'Agence pour l'Informatique Financière de l'Etat (in short: AIFE) was established as an authority with national responsibility for e-invoicing.
Who is affected?
For several years now, all French companies supplying a public entity (i.e. B2G) have been required to send structured electronic invoices via the national invoicing portal Chorus Pro (read more here).
From the start of 2024 e-invoicing will now also become mandatory for all domestic B2B transactions – i.e. all French companies that conduct B2B transactions in France with other French companies will be affected by this regulation. Together with CTC, e-Reporting regulations for cross-border transactions will also be introduced.
What are the deadlines?
The current timetable for compliance with the new regulations regarding B2B invoicing is as follows:
1 July 2024: Compliance deadline for all companies (receiving e-invoices) and Compliance deadline for large companies (issuing e-invoices)
1 January 2025: Compliance deadline for mid-sized companies (issuing e-invoices)
1 January 2026: Compliance deadline for the smallest companies (issuing e-invoices)
What standards are used and how does delivery work?
The following principles have already been established:
Message delivery takes place via the "Y approach" (explained below)
France provides a registration system for platforms to ensure secure exchanges
France offers a public platform that provides a minimum set of services for the exchange of e-invoices and acts as a hub for e-invoicing and electronic transmission of data to the administration
Alternatively, companies may decide to enlist the help of a service provider (such as ecosio) to manage the e-invoicing for them
EN 16931 CIUS is required as the technical format
The choice of the "Y approach" is very interesting, as it leaves some options open and offers important advantages for companies in France with regard to B2B e-invoicing:
The "Y approach" for B2B invoicing in France
The "Y approach" was created for B2B invoicing in France in order to cover the following scenarios:
Both supplier and buyer use the public platform
One of the parties uses a private certified platform (i.e. via a service provider such as ecosio) which handles the transfer to the public platform, while the other party uses the public platform directly.
Both parties use private platforms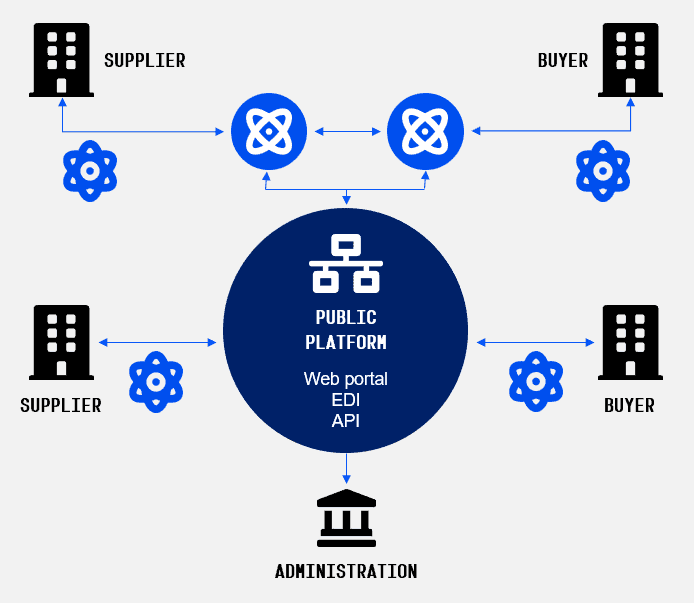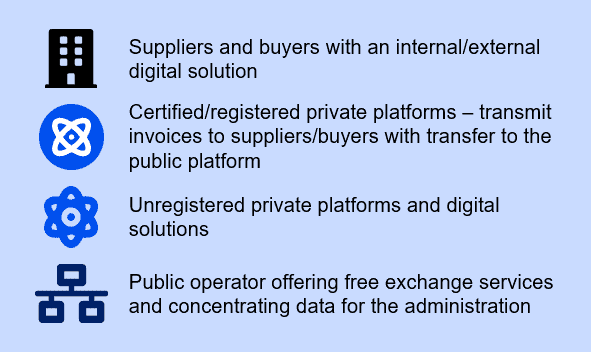 According to the Y approach, invoices can therefore also be exchanged via private platforms, which are responsible for extracting and transmitting the data to the public platform. The public platform then transmits the data to the tax authorities.
This offers the following advantages:
Free choice of e-invoice service provider
Continuation of established structures for certain sectors (e.g. the automotive industry and retail can continue to use their existing systems)
Autonomy in case of failure
Flexibility depending on the type of business
Complementary services of private platforms can be used
What is still unclear?
In principle, all the important rough points have been clarified, as explained above. However, there are still many questions about the details. For example, will there be a list of service providers? What technology will be used for the transfer? …and so on… Further consultations and workshops will take place in France before the final implementation of the new regulations. However, final details on the regulations are expected as early as mid-2022.
Helpful links
L'Agence pour l'Informatique Financière de l'Etat (AIFE for short) has been set up as the authority with national responsibility for e-invoicing – here you will find useful information and all the links to the required platforms (although so far only in French).
The official regulation published on 15 September 2021 can be found here (you will need French language skills).
How do I stay technically compliant?
Since both French e-invoicing regulations and e-invoicing regulations elsewhere are constantly evolving, implementing a future-proof and flexible e-invoicing solution is wise.
To ensure technical compliance and to implement all the requirements and benefits of e-invoicing, companies can either implement and manage e-invoicing processes internally or outsource them to a specialised service provider such as ecosio.
However, implementing and managing e-invoicing processes internally usually requires a lot of effort and time from companies – not only does the technical expertise around e-billing and electronic data interchange (EDI) have to be available and up to date, the e-invoicing processes that are ultimately used also have to be constantly monitored and in the event of errors, they have to be reacted to quickly accordingly.
If a specialised service provider is used, ideally they can take care of all e-invoicing issues. In this way, companies relieve internal teams of all tasks related to e-invoicing, such as monitoring exchanged invoices or technical updates or changes in requirements, and offer proactive troubleshooting in case of incorrect invoicing – not only in France but also in many other countries where e-invoicing has been (or will be) introduced on a mandatory basis.
How ecosio can help
As a fully managed EDI service provider, ecosio makes e-invoicing effortless.
To find out more about our e-invoicing services, please click here. Alternatively, if you have any questions why not contact us directly? We are always happy to provide assistance however we can and look forward to helping you implement a successful e-invoicing solution.